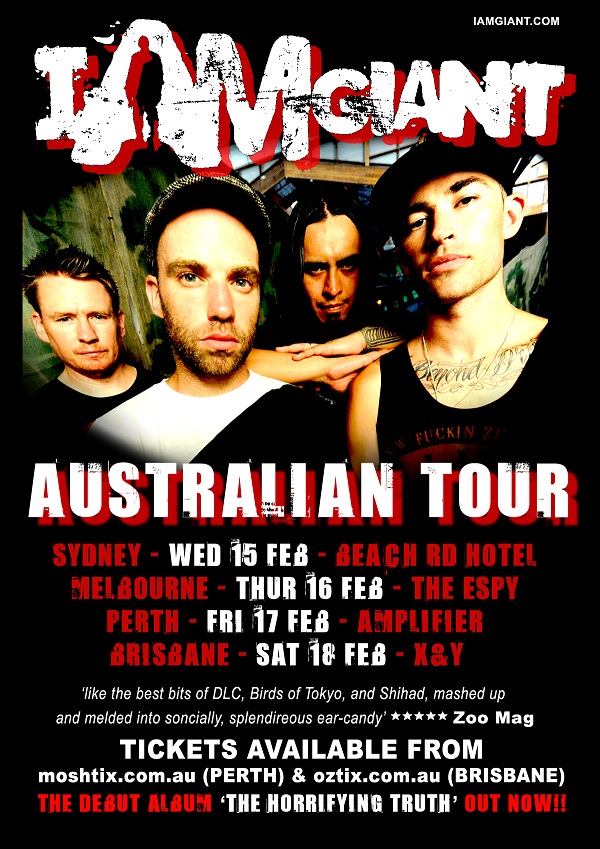 I Am Giant started 2012 with the awesome news that the video for their first single 'Neon Sunrise' made it to NUMBER FOUR in the Rage Top 50 videos of 2011!
Then a few days later they found out that their debut album, 'The Horrifying Truth' ,was No 5 in the Fist2Face Top 10 Rock albums of 2011.  To top it all off influential US website RCRD LBL also featured the single 'Neon Sunrise' (just quietly the video features world champion surfing legend Kelly Slater).
I Am Giant have spent most of 2011 touring through Australia, New Zealand, Asia and the UK supporting the release of their critically acclaimed debut album produced by Forrester Savell and released via Sony Records.
'like the best bits of DLC, Birds of Tokyo, and Shihad, mashed up and melded intosoncially, splendireous ear-candy' 5 stars Zoo Mag
After touring through Australia last year with Dead Letter Circus and Trial Kennedy,I Am Giant are returning to Australia to play their own gigs in Sydney, Melbourne,Brisbane and Perth.
Artist Voice and CRS Management presents
I AM GIANT 'THE HORRIFYING TRUTH' AUSTRALIAN TOUR
Support bands to be announced.
Wed 15th Feb – Sydney – Beach Road in Bondi71 Beach Road, Bondi Beach NSW 2026 – (02) 9130 7247
Thurs 16th Feb – Melbourne – The Espy11 The Esplanade, St Kilda VIC 3182 – (03)9534 0211
Friday 17th Feb – Perth – Amplifier383 Murray Street, Perth 6000 – (08) 9321 7606
Saturday 18th Feb – Brisbane – X@Y648 Ann Street Fortitude Valley QLD 4006 – (07) 3257 1259
Both Sydney and Melbourne shows are free entry.
Tickets for Perth and Brisbaneshows available now.
Perth show from moshtix.com.au and Brisbane from oztix.com.au
For more details check out http://www.iamgiant.com
Also check out our Best Thing You've Never Heard feature on I Am Giant here…
Comments
comments