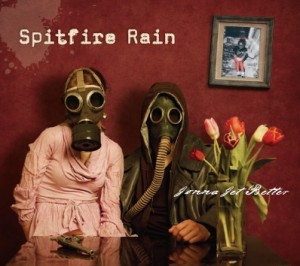 Band Bio: "Spitfire Rain are a new Melbourne based band, fronted by the mercurial Suzani Rain. Roaring,dynamic guitars lock in with the big block rhythm section, providing the backbone for Suze's distinctive vocals and super sized melodies. Taking the DNA of great Australian acts such as The Divinyls,The Baby Animals and Rick Springfield then welding it to their unique songwriting style, Spitfire Rain are proving that "radio friendly" needn't mean "sans cojones".."
Let's start with the basics first, how long has the band been together and what is the inspiration behind the band name?
This lineup has been together for about 12 months, Suze and I have been writing together on and off since 2003.  In typical original band tradition, we've had our fair share of players come and go.  Nature of the beast really, everything is pretty settled now and we've managed to get some momentum happening.. Hence the EP finally materializing.
Can you introduce each member of your band and give us a rock "n" roll fact or myth about each of them?
Suzani, Vocals-  The ringleader, lyricist, big-hook writer and metaphorical planet around which the rest of us revolve, her hairstyle changes on an hourly basis and has more tattoos than can be counted on 10 hands.  That is no myth.
Danny, Bass – Has luxurious thick long hair and a reluctance to lift heavy bass equipment. If he had it his way, they'd invent an amp made of cotton candy and helium. And then have a roadie lift it. He's a lovely man even at the worst of times. Apparently if you catch him in the right light he bears a striking resemblance to Gene Simmons. Never seen it myself..
Rob, Drums –  Definitely the tallest in stature by some margin in our band of merry folk, his super disciplined approach to playing is something to behold.  Is an avid fan of the Lefsetz Letter and the philosophies it espouses.
Zakk, Guitars/Vocals – Has only very recently joined the "Rain Train", a master guitar stylist and a songwriter "par excellence". His abilities definitely add a widescreen perspective aurally that I felt the band needed to fulfill our lofty ambitions. Great set of Bryan Adamseque pipes too.  He's my hero.
Ben, Guitars/Vocals – A tired, bitter old man way past my use-by date.  Fortunately, I'm super-charismatic and handsome 'cos that's all that matters in the heady world of rock n'roll.
You have twenty seconds in an elevator to try and convince someone to listen to your music, what do you tell them?
If you don't listen to my band I will lock the door, drop my pants and defecate…and did I mention last night's curry was spectacular?
You have just released your EP "Gonna Get Better" which is an explosive cocktail of awesome rock. What did you find to be the biggest challenge during the whole process?
Thanks Scotty, I'm very happy to hear that you dig our cocktail.  Sometimes you feel like no-one will get to sample our tasty beverage (or so we think).  There were challenges aplenty really, but I suppose the biggest one was getting the band lineup stable and enthusiastic about the prospect of playing shows so we could actively promote it (and ourselves) in the process.
Although the landscape has changed immeasurably for bands/artists these days, I still think you've got to get out and gig because that's the beating heart that keeps you focussed and off the couch.  Danny and Rob are lifesavers in that regard.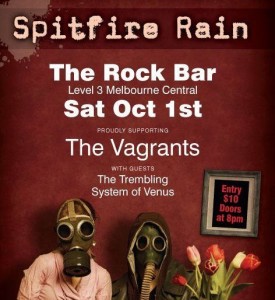 My favourite track on the EP is the title track 'Gonna Get Better', can you explain a bit more about the meaning and sentiment behind the song?
I spoke to Suze about this because she wrote the lyrics and melodies. It's about being responsible for your own happiness when you're at those low points in your life, even though it feels like circumstances are out of your hands. Just remind yourself that everything is transient and ever changing and that "this too shall pass".  It's a great message that seems to get lost these days.  She's a bit of a genius, and often strays from the usual" rock lyrics 101" guidebook.. In fact, I don't even think she owns a copy!!!
You have chosen a unique album cover, which I am assuming ties in with the "gonna get better" theme, can you explain a little more behind the concept?
Craig, the graphic designer just showed us the picture as a potential cover and we really dug it. It's sort of bleak yet humorous and to be honest, using Gonna Get Better as the title added some levity to it.  I thought the disc would be self titled till I saw that picture and it just seemed to work.  Also, the picture on the wall is of a young Suzani in a time of deep reflection.
In terms of your songwriting, what do you consider to be the most important ingredients that make up a Spitfire Rain song?
Melody is most important, but also some sort of tension that counter balances it so things don't get too sugary.  An element of toughness or fire.  All our favourite artists, have those qualities and its something we strive for too.  Whether we achieve this is for the audience to decide.
How is a typical Spitfire Rain song written, does it start with a guitar riff, a melody or a lyrical idea?
Mostly it's a guitar riff or even full song demo that we present to Suze and she weaves her magic.  Often I'll be noodling away and she'll pick up on an idea and run with it.  She always has a better idea melodically and lyrically than I could ever come up with.  A few of the newer songs have been written in rehearsal with everyone contributing and it's pretty cool, I must say.
What or who inspires or influences your music the most?
Being massive fans of music in general and just trying to add your two cents to the whole picture keeps you going, along with trying to improve your songwriting skills as you go. I love playing music anyway and actually creating it takes the experience to a whole new level of enjoyment. 
What bands did you grow up listening to and how did they help create the style of music that can now be heard throughout your music?
Personally, I grew up listening to AC/DC, Iron Maiden, Queen, Ozzy, Bryan Adams, Midnight Oil and then went thru a massive hard rock/AOR kick in my teens with the likes of Dokken, White Lion, Extreme, Harem Scarem and Danger Danger.  Now it's all that, plus your modern rock stuff like Jimmy Eat World, Biffy Clyro, Motor Ace, Weezer and Butch Walker, even Tom Petty and Don Henley.
As far as song writing goes, they pretty much all influence me in some way or another, not like you're lifting riffs verbatim, but getting a similar type of sound when you're creating. The conversation would go like thus, "Man, that's a got a mega Leppard vibe.. Unreal, it's in!!!"
What kind of movie do you think your music would be best suited to and why?
Some sort of John Hughes meets Todd Phillips/ Judd Apatow car chase flick with Peter Fonda, Burt Reynolds, Will Ferrell, Vince Vaughn and Eva Longoria. That shall suffice.
I know you have played a bunch of gigs around Melbourne town supporting the likes of Michael Paynter, Baby Animals and even Ted Poley from Danger Danger. What can one expect from one of your live shows?
Hopefully one would get a big dose of beefy guitar fuelled melodies sung by a beautiful woman who can melt the hardest heart.  I'd like to think that we do offer a unique slant on the "Rock Chick" paradigm.
I gotta say supporting Ted Poley was one of those "pinch yourself" moments, I used to crank D2 in my V8 Monaro when I first got my license and still am a massive fan to this day.  I never, ever thought I'd be sharing the stage with him and must thank Jules from White Widdow for making that a reality. You're a Champ!!
For those reading this in galaxies far, far away, what do you have to say about the Melbourne rock music scene at the moment?
It's pretty healthy at the moment with a lot of ace and varied bands around, playing regularly. It's a good time to be a rock fan.
With 2011 already over half over, but still plenty of time to be conquered…here's a chance to gaze into your crystal ball. By the end of 2011, Spitfire Rain will have:
1. Launched the E.P.. Details coming soon
2. Will have some killer new songs in the set
3. Honed our new twin axe attack to a lethal edge.
Check out our review of Gonna Get Better right here…
Essential Information
From: Melbourne, Australia
Sounds like: A melodic hurricane….but way tighter (Spitfire Rain, 2011)
Band members: Suazani – Vocals, Ben – Guitars, Danny – Bass, Rob – Drums, Zakk – Guitars
Website: Spitfire Rain Facebook
Latest release: Gonna Get Better (2011, Independent)
Spitfire Rain Photo's Date: Friday August 13th, Venue: Pier Live, Frankston, Melbourne, Photo's by: Lens Of Rock (www.lensofrock.com)
Comments
comments