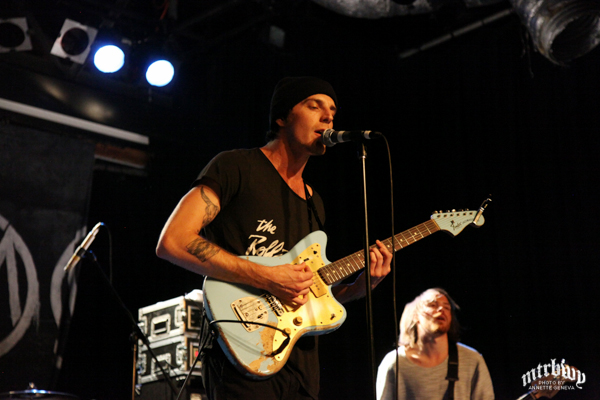 I've been looking forward to this show, as a band like The Maine may not get the radio play or attention they deserve but there are plenty here tonight that know who they are and in the end that's all that matters…
With Confidence certainly know how to warm a crowd up as they with their way through a set of pop rock goodness they impress the all ages crowd here and it's always fun to see a band have a really receptive crowd. Now I'm not sure if they're already fans or not but I tell you what, if they're not then they will be after this. I'm loving this big ballad they're playing at the moment I believe called 'Take Me Away' with some great crowd participation they're onto a winner. Nice one boys.  Cover time and since I saw these guys last with Tonight Alive and You Me At Six they played 'Mr Brightside' then too, and it really does get the crowd going to this day. Great song, good work. Time for the bands single, 'London Lights' from their newest EP followed by 'Godzilla', and with work currently on a new album taking place I really look forward to continuing to watch these guys grow. They've got good songs and there's no reason they couldn't get picked up and be the next big thing in Australia and it'll be gigs like this that make me thankful I saw them when I did. Keep it up!
The Maine… back in Australia for their first headline tour take to the stage with 'Another Night On Mars' and sound great straight out of the gate. What I love is already the crowd are into it full throttle, they know this one and it was a great way to start the set, and I was hoping they'd play this one and it was first up and before it even faded out 'Right Girl' from 'Black and White' got a whole lot of love indeed and not even a dropped tambourine could stop the momentum of this song and the band. What a great start to the night. 'Diet Soda Society' takes us back to the new album and man the screams are deafening in here, it's crazy.
'My Heroine' keeps it rockin' and after a ridiculously loud scream response to a simple "How you doin?" it slows down a little with a single guitar kicking off 'Misery' as it explodes into an almost arena rocker the guys can do no wrong up there, it's fun to watch. Ooh riff rockin' goodness with 'When I'm At Home' and the band gets to jam this one out a little and that was great. Let's go old school Maine with  the one that name drops their debut album 'Can't Stop Won't Stop' with 'I Must Be Dreaming' and it's really cool hearing how this one transcribes to the stage as with anything it takes on a rockier edge and I for one welcome it. I'm a big fan of this album so I'm happy at the moment, as are many here. From the old to the new with 'Miles Away' the opener to 'American Candy' has arms waving and a lot around me singing along. I love that these guys have this following here, I've been watching some people near me singing every word of every song back so far and that's pretty rad indeed.
Stories of stage injuries lead into 'Everything I Ask For' which was another I was hoping they'd play and it looks like I'm not alone. This song is perfect for the stage and they smashed it out of the park, I honestly can't help but smile because the crowd energy is so infectious, it's fuelling the band for sure and they're having a ball. 'Am I Pretty' is a fun one and 'Some Days' keeps it rockin' as the band leave the stage leaving only John up there with a guitar for a killer version of 'Into Your Arms' from the debut and I have to mention the beautiful chorus singers of the crowd, it sounded really nice and that was a cool moment.
No more of that quiet stuff, the band comes back to rock it back up 'Like We Did' complete with finger claps that made it awesome, followed by 'Sad Songs' worked but 'English Girls' one upped is and after some thank you's and love to the crowd 'Growing Up' rips it up perfectly at this end of the set as I feel like we're pretty close to the end of the night and a great message too "Growing Up won't bring us down" as it builds and builds to rock out until the end.
Closing out the set with the title track to their newest, 'American Candy' it was the perfect choice for what has been a great night of live music with probably the most receptive crowd I've seen in a long time. Great work audience and great work The Maine. See you again soon. Listen to this band if you haven't, trust me.
Essential Information
Venue: The Factory Theatre – Sydney
Presented by: Destroy All Lines & Chugg Entertainment
Support: Far Away Stables & With Confidence
Date: December 1, 2015
Website: http://www.wearethemaine.net
Photo by: Annette Geneva – Full gallery HERE
Set List:
Another Night On Mars
Right Girl
Diet Soda Society
My Heroine
Misery
When I'm At Home
I Must Be Dreaming
Miles Away
Everything I Ask For
Am I Pretty
Some Days
Into Your Arms
Like We Did
Sad Songs
English Girls
Growing Up
American Candy