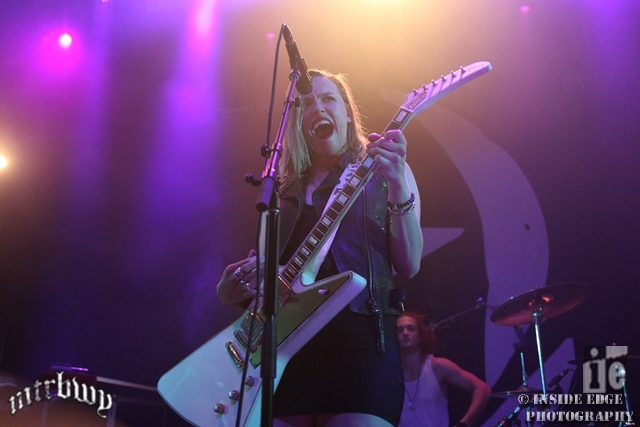 OK, it's fitting that it's my last show of the year because this is also my most anticipated gig of the year, mostly due to the fact that I'm a huge fan of Halestorm and have been for around six years now. So to say I'm a little excited is an understatement, just a warning…
Bellusira back from LA for the tour open tonight's show with 'Cachango' as they do and even with some guitar sound issues they still belt this one out with gusto. Crystal is as energetic and passionate as ever as they head straight into 'Redemption Queen' and "are you ready" indeed. Powering through the set they rock it  out with the next one but then slow it down for Closer To Me' but as quick as I can say it's a slower one it blows up into a huge rocker and it's always been one of my favourites of theirs from my many times seeing them live. 'Sister' from their newest album fits in nicely as they rock through their set they get more and more love from the crowd and it's awesome seeing how far they've come and are going. They are a great live band and with the line-up they have at the moment with some great players, I hope they come back and see us again soon!
Lights go down and in summer the Halestorm begins… 'Sick Individual' opens the show tonight and it's on. The band sound as good as I'd hoped they would and to open with this one is great in my opinion as they can do whatever the fuck they want for sure… Sticking with the new album and 'Apocalyptic' is the perfect song to watch Arejay on the drums as there are sticks flying everywhere and Arejay is too, man he's as intense as I'd heard about and the song is a monster in this environment. Oh man that voice, as 'Scream' kicks in the power just comes through, I love this one as the opener of the album and I was hoping it would get a run, four in a row from 'Into The Wild Life' now with 'I Am The Fire' and well that was damn impressive I must say as it gets the lighters and phones out to light up the place and it also let's Joe shred the outro which was killer.
Another new one in 'I Like It Heavy', you know, the one with my favourite song line of the year, "hallelujah mother fucker take me to church" and I have to make mention that this really is a tight band up there on stage. Oh yeah!! It's the Grammy winner 'Love Bites (So Do I)' and it's as big as you'd expect with Lzzy taking the solo, it's a song I've been waiting a few years to hear on stage and tonight I was not disappointed. We get 'The Reckoning' for the first "slowed down" part of the evening and one of their big songs which they do so well. We sure as hell are at a 'Rock Show' tonight and this one gets the crowd jumping as it should, then as Lzzy takes a quick break, the guys stay out to jam in 'Bad Girls World' as Lzzy returns and moves to the piano and really slows it down which is a perfect spot for this one. The outro for this one is as smooth as the intro that brought it in as Joe soulfully plays this one out he gets a whole lot of lovin' from the crowd. 'Mz. Hyde' was one that had to be played tonight and here it is thankfully. It's a whole lot heavier on stage and I'm so ok with that. What a tune! Ok, right now the band want an Amen and we gave them one and they gave it right back with a bitchin version of well Lo and behold, 'Amen'. I have to say how great the new album is transcribing to the stage, it's making me enjoy it even more than I already do.
Ok! YES!!!! Before the show I interviewed Lzzy and Joe and asked if they took requests, seems they do… Right now Lzzy solo on the keys is playing part of 'Beautiful With You' and the crowd knew it and loved it! Amazing. It's one of, if not my favourite Halestorm song and tonight I got to hear Lzzy Hale sing it live. I'm happy and if that stays in the set I'll claim that ha ha. Staying on the keys she takes it into 'Dear Daughter' which meshes perfectly with 'Beautiful With You' and is just as emotional. Josh returns to the stage to take over the keys as Lzzy shreds out the solo in this one and nails it. The band are a well-oiled machine up there as they go to and from the stage and hit all their parts without missing a beat. Just like the album they take it straight into 'New Modern Love' featuring great harmonies from Arejay and it's as smooth as you like.
Speaking of Arejay, it's time for that crazy man to give us as drum solo, and he's just a pleasure to watch him with his craft. He even gets in on a bit of crowd sing along as he somehow jumps while he plays, practically beats his kit like it owes him money and hardly even looks tired. Oh man, ok that was fucking impressive, I've never seen a drum solo like that before and probably won't until I see Halestorm again. So, from the mayhem of that drum solo to the 'Mayhem' of the track of that name, and it's actually close to the heaviest of the night, but I think we're getting towards the end of the set and that makes me sad.
Yeah, as 'It's Not You' blows up, even though the cowbell was missing (damn it) this was still six years I've been waiting to hear that song live, it's almost an epic in its style and everyone was loving it and it didn't disappoint at all. Neither did 'I Get Off' as they stick with the debut album and that went off like a frog in a sock and I'm glad some of these ones are coming out at this end of the set. As the horns get raised for 'Freak Like Me' it just shows me and also the band just how much love there is for Halestorm here and I'm hoping that they saw all the Sydney Freaks tonight and remember us so they come back to bigger venues next time. With only one to go I'm hoping it's what it is… And yes! Sure is! 'I Miss The Misery' is thankfully in there and was the perfect closer! Man, that outro was amazing, they just jammed the hell out of the end of that one. The band so gracious stay up on stage to soak in the love they just got thrown at them for the last ninety minutes, and a well-deserved love. Picks, set lists, even drum skins are thrown out to the crowd and as they take a final bow the house lights come up and everyone is smiling.
So, my last gig of the year turns out to be one of, if not the best. A Halestorm gig was everything I hoped it would be and more, an absolutely rockin' show from the nicest band on the planet. Absolutely Outstanding.
Essential Information
Venue: Manning Bar – Sydney
Date: December 13, 2015
Website: http://www.halestormrocks.com
Support band: Bellusira
Presented by: Live Nation
Photo by: Peter Coates – Inside Edge Photography – check out our full gallery HERE.
Set List:
Sick Individual
Apocalyptic
Scream
I Am The Fire
I Like It Heavy
Love Bites (So Do I)
The Reckoning
Rock Show
Bad Girls World
Mz. Hyde
Amen
Beautiful With You
Dear Daughter
New Modern Love
Mayhem
It's Not You
I Get Off
Freak Like Me
I Miss The Misery