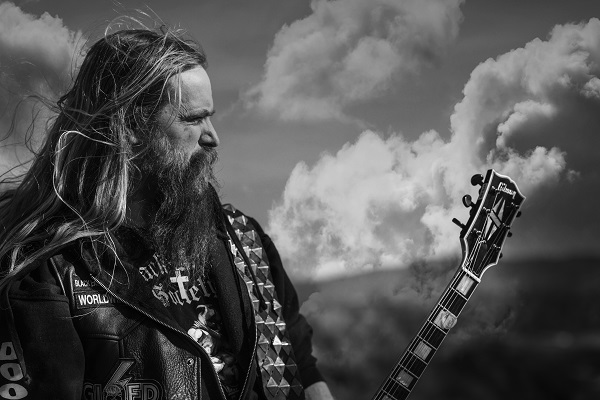 "It'll be great family entertainment, I wrestle a great white shark and then after that we have dancing bears, grizzly bears and then we introduce everyone to the Black Label fall fashion line of men's lingerie, so it's a very exciting evening *laughs* there's also a lot of choreography going on, it's just a delight to the senses. *laughs*"
From release: Since their late 90's inception, Zakk Wylde's Black Label Society, formed by guitar legend Zakk Wylde, have been at the forefront of their genre. Their taste for hard riffs and blazing solos has resulted in a slew of hugely successful albums and a reputation as one of the most powerful live bands of their generation. Fuelled by fiercely loyal fans and signature merchandise Zakk Wylde's Black Label Society have stamped themselves as an established brand in today's music culture and one that continues to grow.
With his best "Hello Dear" I knew this was going to be a fun chat, Zakk gave us an insight into what we can expect when he hits Australia, as well as new music, a message to guitarists and much more…
It's been almost ten years since your last headline tour here, after so long away what can expect at this run of shows?
It'll be great family entertainment, I wrestle a great white shark and then after that we have dancing bears, grizzly bears and then we introduce everyone to the Black Label fall fashion line of men's lingerie, so it's a very exciting evening *laughs* there's also a lot of choreography going on, it's just a delight to the senses. *laughs*
With five albums out since your last tour, have you thought about how you'll put the sets together for these Australian shows?
Well it is a lot of work, it's a lot of production and we've always got a lot of problems with the dancers, because it's all about the art and the sacrifice you make for the art…
Being here before, what's your fondest memory of touring Australia?
We've been down there with Ozzy and then our shows and we've just got so many friends down there it's a Black Label family, it's always a good time when finally get down there, man. Every time we come down there we have a blast for sure.
There's just something about Black Label Society and the level of dedication of your fans. What do you think it is about BLS that commands this amount of love?
I don't know, I mean it's the truth, we don't have fans, we have friends and a gigantic family, and then it's like the family get together and we're just a house band. So it's definitely always a good time, man.
With so many chapters around the world too, it just keeps growing…
It's cool, the whole thing is you can ran into in Australian in a bar in New York with Black Label stuff on and say I'm just going to a bar to see some friends and the next thing you know they're buddies for the last ten years and go to shows or whatever, but the band brought them together. It's definitely cool.
In terms of new music, with 'Catacombs of the Black Vatican' out now for eighteen months or so, has there been any thought of new music?
Well we recorded a batch of stuff in between when we have a break from being out on the road. So I have maybe twenty eight ideas, so for 'Book of Shadows 2', and that game plan is once we get done doing the Australian run and New Zealand, and I think we've got some shows over in Asia, and then we come back and we track Book of Shadows to finish this one off.
You've been in the industry for a long time, after so long what keeps you motivated to create music?
I don't know, there's just always something new to create and something new to do you know what I mean? As far as music goes it's limitless, it really is, at the end of the day you just do different things and it's never ending. That's the beautiful thing about it.
Other side of that, Black Label has been a band for seventeen years, what for you is the biggest and most notable change in the way the band works since its beginnings?
I mean the whole thing with the band is that it really isn't determined, there is no arguments or piss ant little arguments, we don't have any of that. The whole thing is guys you want to get together? This is what it is, let's go out and have a good time and that's it. It's like a bunch of Navy Seals getting together, we all know we're getting together to kill some bad guys and then we're all coming home and that's that. So there isn't piss ant arguments, we always enjoy each other's company and just hang out with each other, so if nobody wants to go out one night it's like it's late or I've got stuff I have to do, that's it, nobody has any time to deal with pissy ant little arguments. That's about it, man.
You're not only very active but also entertaining on social media, how important to you is this medium in this very digital day and age?
I mean for me I think it's great in regards I can keep in touch with my Black Label family all the time, and I mean half the time we're bullshit goofballs anyway, so I love having fun with that. That's me! I mean it's just a chance to let everyone know what you're doin'.
Wylde audio has been in effect for a little while now, what has this allowed you the freedom to do?
For me it's just a natural progression, I mean I was blessed to be with the companies that I was with for all those years and I have great relationships with everybody over there and now it's just a matter of me taking, like if I ran an amazing steakhouse form Ozzy to now and now it's just a matter of us getting our own steakhouse we've just got to bring the same quality control and the same craftsmanship, I'm just saying the level of quality we just bring it to now in our own company. It's just fun, like moving out of your parent's house, now you have your own place, so we can do whatever we want and anything like that. So it's just a matter of I don't know, for me I enjoy working, so the whole thing is like Richard Branson, it doesn't matter how much fun you have or what you do, you have to have a reason why you get up in the morning before your feet hit the floor, so it's just like it's something new to do and I love my situation, man. It brings so much joy to me.
I do love some of the guitar bodies so far, have you got any in the works?
No, like I said there's always some new things you can tweak, you can do, and then all the knowledge from touring, it's the pedals, the strings, and every other thing. Then after that because it's Wylde Audio, take it from everything from outdoor gear in the studio, pro tools stuff, and plugins to microphones to everything.
Will the range of men's lingerie be available off the site soon too?
Yeah *laughs* yeah like Seinfeld, you've got the 'manzier', 'the bro' you're only taping into half the market *laughs*
What's your message to aspiring guitarists out there?
Play what you love without a doubt it's a lot harder and easier said than done, you have to play the music you love and the proof is in the pudding, just look at all the bands you love and all the successful bands, whether it's Led Zeppelin, Black Sabbath or Guns N Roses or Alice In Chains, Soundgarden, Pearl Jam, Nirvana, like any when all that was going down, or any of the hair metal bands and all that stuff, RATT, Motley Crue and all that stuff, Bon Jovi, anybody, all those bands I just mentioned are playing the music they want to play. That's that hands down you know what I'm saying? None of them are playing what was popular at the time or what they think they should do, no you just play what you like playing, you should do that. Look at the Sex Pistols and The Clash when they came out I'm sure people were telling them they should be more like Led Zeppelin, that's what's really popular, they're the biggest band on the planet right now, but they don't like Led Zeppelin, you know what I'm saying? *laughs* Go fuck yourself, this is who we are, this is what we do. Then on the other side of the boat, I came from New Jersey, before I was blessed and got the opportunity to play with The Boss, I remember our band was like 'oh you've got to be more like Bon Jovi' in the meantime I loved Black Sabbath and Oz with Randy and everybody in the band is into Zeppelin or Sabbath or Bad Company or Skynyrd and I go "Why are we playing Bon Jovi music? None of us even listen to this stuff" *laughs* it's just like and I kid you not, it was a learning lesson… you have to play what you love playing, man, that's the truth any aspiring guitar players, just play what you love but like I said it's a lot easier said than done.
Of course many would know you from your time with Ozzy, and Black Sabbath have just announced their farewell shows, what are your thoughts on such a legendary band hanging it up?
I mean if they decided to get back together and make another record and tour I would never argue it *laughs* another day of more Black Sabbath is always a good day *laughs*. We did some shows with them on the last tour, I saw some of the shows on the last tour and then ended up doing the shows with them, they sound phenomenal you know what I mean?
I personally want to thank you for being a part of the movie Rockstar…
*laughs* I had a great time doing that, it was hysterical.
Well as many bands from the 80's are getting back together and touring, think we could ever see a Steel Dragon reunion show?
You never know *laughs* like I said I had a great time when we did it and I'm buddies with everybody that was in that movie and the guys in the band, so you never know for shits and giggles man.
Lastly let's look ahead to the future, so I want you to finish this sentence for me. In 2016, Zakk Wylde will…
*laughs* in 2016 Zakk Wylde will continue sniffing glue and lifting weights… and convincing himself when he looks in the mirror that his rump roast is still as sexy as J-Lo's…
Gotta go, but wanted to say thanks for the laughs, Zakk…
Alright my brother, we'll see you in a little bit, tell the Australian chapters I said stay strong, keep bleeding Black Label and God bless and we'll see you guys in a little bit.
Zakk Wylde's Black Label Society Australian Tour Dates 2015
Wednesday 25th November – Metropolis Fremantle 18+
Friday 27th November – HQ, Adelaide 18+
Saturday 28th November – Roundhouse, Sydney 18+
Sunday 29th November – The Tivoli, Brisbane 18+
Monday 30th November – 170 Russell, Melbourne 18+
Tuesday 1st Dec – 170 Russell, Melbourne 18+
Essential Information
From: USA
Band Members: Zakk Wylde – Vocals, Guitar, John DeServio – Bass, Jeff Fabb – Drums, Dario Lorina – Guitar
Website: http://www.blacklabelsociety.com
Latest Release: Catacombs of the Black Vatican (Out Now)