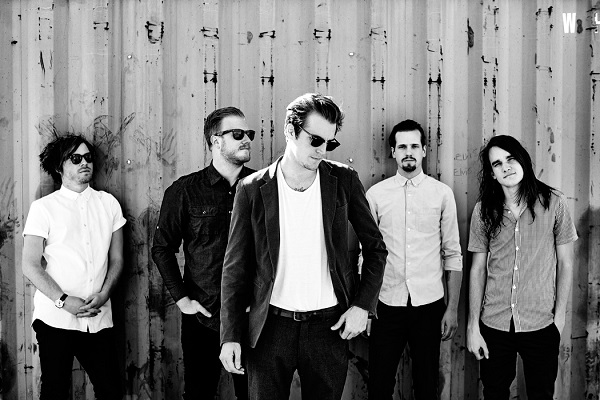 "I think that our love for music has just substantially grown, exponentially it's grown and at this point it's really, really special that people are still allowing us the opportunity to make records and giving us the chance to see where it goes and I think that's something that we certainly don't take for granted."
From Release: THE MAINE, Arizona's alternative pop punk darlings are not afraid to redefine their sound and continue to push the boundaries delivering unique music and push their sound to new dimensions. They return to Australia this November and December for their first headlining tour. Earlier this year, they released their highly anticipated follow up to 2014's Forever Halloween, with their fifth studio record titled American Candy. The album debuted in the Top 40 on Billboard, and #3 Independent Albums.
In my first ever Skype video chat, front man John called in to fill us in on the upcoming Australian tour from The Maine, their newest album, evolution within the band, and much more…
You're heading back to Australia but this time for your first headlining shows, in being here a few times before what can fans expect this time around at a headline show?
You know what's great well first and foremost the opportunity to play in a headlining kind of instance, I think that when you're on a support tour you have to condense the set and you have to keep things brief but exciting the whole time and I don't think that you get as much of a liberty to kind of play maybe something that appeases your interest and the people coming to the show. So just knowing that the folks are buying tickets just to go see us it just excites us that we're gonna be able to play a substantially longer set first and foremost and a heavy balance of old and new because not ever headlining over there it's now the opportunity to make up for lost time and to hopefully satisfy the people that are paying for the show. We're just excited to get out there and to be doing it for the first time is really sweet.
Do you have a favourite memory of a previous your down here you can share with us?
Oh man, I think just the obviously the first time visiting I think it can be overwhelming but in a place like Australia it has a similar coastal feeling to that of maybe California or something like that, to then kind of submerge yourself in the culture and just try to pick up on the cuisine or the night life or the slang or what have you, I think that experience is something we'll never forget. We had the pleasure of doing Soundwave a couple of years back and I just remember that being kind of overwhelming because there were bands that we really look up to that we were playing next to and I think Third Eye Blind were on the year we were on so it was really special for us because I got to go see them in a really small club, like a three hundred cap club on one of the off nights. It's just a beautiful place and we're super hyped to be revisiting.
I saw you here on your last run with Anberlin, you guys have so much energy on stage, what is it about the live show that you thrive on?
You know I think it gives us the opportunity to realise our tunes may be a little bit beyond what we even did in the studio, kind of maybe bring about some new or nuances to the tunes, maybe reimagine some of the tunes. I think after touring after almost nine years now we view it as an opportunity to get better and to try and broaden our musical horizons as a dynamic, as a band, so it's really an opportunity that we try to make the most of because we don't get to do it that often. I mean we do for all intents but I think what's really important is that we try to put on and exude the same amount of energy regardless of where we're playing, I think we have to be very cognisant in knowing that somebody in Australia obviously hasn't seen our headlining set before so we can't fall into the monotony of saying routine things or kind of falling into the routine ok let's run through the motions of things, we feel like it's an obligation to deliver the same energy every night and try to really leave it all out there I guess.
You're of course heading back in support of your newest album 'American Candy', which is a great album by the way, in the two years since 'Forever Halloween' what helped shape the songs that became 'American Candy'?
I think just the passing of time obviously, every time you're allowed to see another day I think that's just a chance to correct maybe a mistake you made in the past. I think for us as a band it allotted us the opportunity to maybe where we felt like we faltered and to really expand on where we felt we did well from 'Forever Halloween'. I think the mindset going into 'American Candy' was just creating some sort of record that sonically felt more optimistic than 'Forever Halloween' we didn't really want to promote messages of despair and helplessness and I think that was a really huge topic of emphasis on this album. Other than that just again being 26 at the time and making the music that felt right in the moment and I think that's really important.
In the just under nine years you've been a band, what for you has been the most notable evolution you've seen take place within The Maine?
I really feel like it's just been our passion for music I suppose, I know that sounds weird and I don't mean we weren't passionate about music from the get go but I think that our focus is much more concentrated at this point, I think that our love for music has just substantially grown, exponentially it's grown and at this point it's really, really special that people are still allowing us the opportunity to make records and giving us the chance to see where it goes and I think that's something that we certainly don't take for granted.
So let's check the opposite of that. What for you has been the most constant thing that has been maintained in your time together?
I think it's just the camaraderie I think we try to surround ourselves with like-minded people and I think that just keeps you grounded. I feel like there have been so many opportunities for us to develop egos or stray from what the point of what we're all doing is and I think at first I guess the point of what we're doing is supposed to be just making music and feeling good about the things we're doing and being true and creating earnest material. Authenticity has definitely been at the backbone of this thing even at the very beginning, so I think that surrounding ourselves with great support systems and being there for others along the way has been kind of the constant that has held it all together.
I was introduced to you back in 2008 on a trip to the States, and have been a fan since, looking back, what are some of your best memories of releasing 'Can't Stop Won't Stop'?
You know that I think it was all happening so quickly, especially for me, this is the first band I've ever been in so I think that it was all happening at once so rapidly that it's kind of hard in retrospect to I guess understand it all, but I just remember, I vividly remember even before the record came out, some of my fondest memories are those of the real struggle of it all, being in a Suburban and touring the country and playing shows that we set up ourselves and playing for nobody and being in rooms where nobody cared. I have some of my most fond memories from those early days because that's when things were most pure and most innocent I guess like there was just the notion that we're just doing this because it's summer and we don't have school and this is like fucking incredible you know… It's really cool because I feel like we're reverting to that now and that kind of spark is coming back within and we're breathing that back into what we're doing and it feels really, really great so I'm excited.
Lastly let's look ahead to the future, so finish this sentence for me. In 2016, The Maine will…
Be on the road *laughs* it's usually our mantra and I guess I'm not really a fortune teller and I can't really predict the future but we have enough tours planned out to where I kind of can *laughs* and I know we're gonna be on the road, so I kind of cheated on that one…
So before we go, I do have a request, any chance you can play 'You Left Me' from the debut album in Sydney, it would be much appreciated but I'm not sure if you do it or not…
*laughs* We  could maybe do that… we actually kind of reinvented that one for a n acoustic run that we did. Actually that song is if you asked probably all of us, that might be up there for one of the ones that we like the least but the version that we played I actually kind of dig. So I'll throw it in the hat, we start rehearsal on Thursday so I'll make sure I throw it in there…
If only for Sydney, I don't care about the other shows *laughs*
*laughs* OK, cool *laughs*
DESTROY ALL LINES AND CHUGG ENTERTAINMENT PRESENT LIVE IN AUSTRALIA
THE MAINE PLUS SPECIAL GUESTS WITH CONFIDENCE
MONDAY 30 NOVEMBER – THE BRIGHTSIDE, BRISBANE (18+)
TUESDAY 1 DECEMBER – THE FACTORY THEATRE, SYDNEY (LICENSED ALL AGES)
WEDNESDAY 2 DECEMBER – THE CORNER HOTEL, MELBOURNE (18+)
TICKETS ON SALE NOW
Tickets from www.tickets.destroyalllines.com
Essential Information
From: Tempe, Arizona, USA
Band members: John O'Callaghan – Vocals, Garrett Nickelsen – Bass, Pat Kirch – Drums, Kennedy Brock – Guitar, Vocals, Jared Monaco – Guitar
Website: http://www.wearethemaine.net
Latest release: American Candy (Out Now)