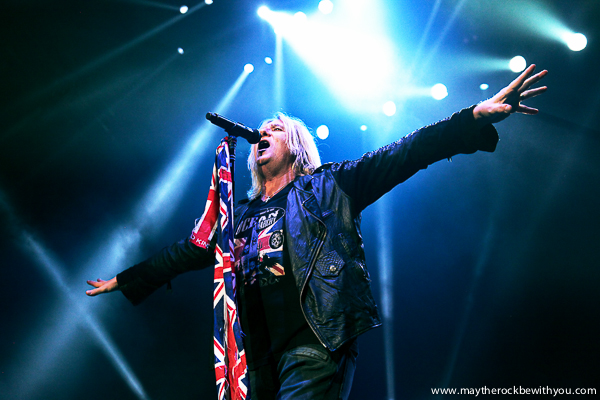 Def Leppard are back in Australia, and what can you say about a band that has been doing it for almost forty years? Everything… but where to start? Let's get to that after The Baby Animals and Live…
The Baby Animals open with a newer one tonight. 'Under Your Skin' and it's great hearing these guys in a big arena like this, wasting no time as it fades out only to explode into crowd favourite 'Rush You' and I say this every time but Suze's voice is still one of the best in the country and with 'Painless'… hang on, need to join in… "and I need that like a hole in the head" ok, so as the band power on they show how good they are through a set of hits and 'One word' is one more of them. 'Got It Bad' let's Dave Leslie rock it out and show off his talent which he has in droves. Looking around, the crowd is starting to fill up nicely which is great this early. Made even better by the cheer when 'Early Warning' starts, of course this being our introduction to the band back in the early 90's it's fair to say that this was the favourite tonight. Closing with 'Ain't Gonna Get' the Baby Animals show us they've still got it and more. Awesome start to what will be an even better night.
Live are back with new singer Chris Shinn, and you know when sometimes the new singer just doesn't work? Well let me just say… this works. From the opener 'All Over You' this just sounds great! I'm impressed with his pipes and I mean Ed may have been Live but now THIS is Live. 'Selling The Drama' keeps it going and I'm so impressed with these guys so far. I'm intrigued as to what else will feature in the set. These songs floe and fit perfectly into the set as does new one 'Siren's Call' and they're kicking ass right now. I've always loved seeing this band play live and they are still as tight as ever and it's killer. Shinn is well loved by the crowd, like really loved and that rules. Oh but as soon as I say that, 'Dolphins Cry' begins and they all know this one for sure and it of course gets the biggest reaction so far. As Chad Taylor rips into the riff of 'Lakini's Juice' and stomps the ground, every time he hits it I'm a happy rocker as I was hoping this one would get a run. This is probably Live's heaviest and one of my favourites in their catalogue and the power it was given tonight was perfect. Ok, so everyone else's fave 'Lightning Crashes' takes its place in the set and the justice this song was given tonight was unbelievable. Ed I felt was un-replaceable but wow. Just wow with many afterwards standing to give their appreciation for it, and rightfully so. We stick with 'Throwing Copper' for 'I Alone' and man this sounds heavy in here tonight, it's a song made for the stage and it shows that tonight. An impressive return for Live
'Let's Go'… Literally! Def Leppard take to the stage with their newest and the crowd are on their feet as this what already feels like a Def Leppard classic is the perfect way to start the night. The guitar work of Phil and Viv trading solos is just such a Def Lep thing and I'm absolutely already loving it. Oh man! I'm instantly eleven years old again as they blast into 'Animal' and I have goose bumps. Total fanboy moment, what a brilliant song that is, fuck me they sound great tonight, tight as you'd want from a band doing it for this long. 'Undefeated' is up and has that trademark Lep groove and that middle 8 is where it's at. Sticking with the new album Phil kicks off 'Dangerous' and it's chunky and straight up Def Leppard, another new one this early is ballsy but the new album is their best in years and fits in so well with their catalogue that it's not a 'let's go get a drink' moment at all. Joe's voice stands the test of time and blows it away. Oh yeah! It's ballad time, and BIG BALLAD time. How is 'Love Bites' allowed to be this early in the set? I'm glad it is as these songs are made for being played in front of thousands of people, and watching Vivian Campbell nail the solo was a highlight indeed.
Ok here's my fave as we stick with 'Hysteria' and it's 'Armageddon It' and we sure as hell are getting it… I've always loved the way the big sound of Def Lep transcribes to the stage. This song shows just how good the band is for me as I watch all members do their thing and nail it. What a song. Bass solo… leads into their cover of 'Rock On' which is an odd choice for the set, wouldn't have picked this one to be in there, and the slowed down almost groovy version of it sounds good but oh man when it blows up into a huge rocker I'm happy! Even though there are so many others that could've gotten a run it did sound good. Joe takes to the end of the catwalk with an acoustic and we all get to join Def Leppard for four minutes as the entire place joins in with 'Two Steps Behind' and hearing it this way is a treat. I feel it's just going to be hit after hit now, and I know that because I peaked at a set list… Oops.
Guitar! Drums! 'Rocket'!! The video wall behind the band makes this song even more visually awesome, hang on… "ROCKET! YEAH!" you have to join in with that one… as they throw out song after song from 'Hysteria' it truly makes you realise just how spectacular that album really is. Oh yeah! Another big ballad! And if there's one thing Def Leppard do well it's these. 'When Love and Hate Collide' is an unexpected one for me tonight and oops, bit of a word mix up but covered nicely. That can be forgiven purely for the tone on Phil's guitar for the solo. That was magic. Ahhh a bit of 'Switch 625' in all its instrumental glory is chunky and played note perfect. Viv takes to the end of the catwalk followed by Phil to absolutely nail it. Wow as we get the feeling that Rik Allen never misses leg day as he beat the crap out of his kit, amazing what he does. Simply amazing.
Time for 'Hysteria' the song now, and yep, ballad. Tick. Oh this one is awesome, as it features classic photos and vision on the screen and it's so cool looking back at the band, what they looked like, what they did. This album as I've said is a monster and that title track from it even more so. Let's just stop for a second. R.I.P. Steve Clark. That was almost the highlight of the night for me. "Sydney… Do you wanna get rocked?" And of course it was a resounding yes as it's time for 'Let's Get Rocked' and it almost took the roof off the place, I mean they're knocking this place down soon so it's cool that they gave it a helping hand. Now, if it started to come off then as we step inside, walk this way… You know the rest… It's 'Pour Some Sugar on Me' time… man what a song. Just watching the video screen and the crowd belting this one out is awesome to see, and I think a lot of people consider this their favourite Def Lep track, well, it's not hard to tell by the reaction.
They leave the stage only to return for an encore and we go way back for 'Rock of Ages' and it still kicks ass and that chorus!! Just massive. Boo that there's only one more to go! Phil and Viv harmoniously begin 'Photograph' the bass kicks in and I can feel the drums in my chest. They mean this song and like every other song they look like they're up there enjoying it. This is testament to a band that has stood the test of time, trends and musical awefulness.
I love that Def Lep are always full of questions that have great answers "what do you want?" I want rock and roll! Damn fuckin' right I do! And I got it tonight!! If I have one complaint, it's that I would've loved a longer set, but what we got was ninety minutes of perfect arena rock. I'll take that any day of the week… Plus when music can transport you back to that first time you heard it, a specific moment that cements you still have that love for a band after so long, tonight I was eleven again for a while and I loved it. Thank you Def Leppard for what you do.
Essential Information
Venue: Qantas Credit Union Arena  – Sydney
Presented by: One World Entertainment
Supports: Live & The Baby Animals
Date: November 17, 2015
Website: http://www.defleppard.com
Photo by: Annette Geneva – Every Day Is Saturday  – Check out our full gallery HERE
Set List:
Let's Go
Animal
Undefeated
Dangerous
Love Bites
Armageddon It
Rock On
Two Steps Behind
Rocket
When Love and Hate Collide
Switch 625
Hysteria
Let's Get Rocked
Pour Some Sugar on Me
Rock of Ages
Photograph