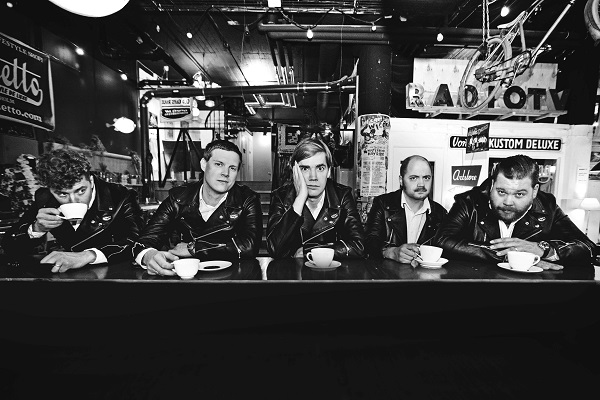 "…I mean it's basically if you think about  rock concert that you've been to and you multiply it by ten, it's kind of more, it's louder and faster and more jumping *laughs* cooler clothes, better guitar playing, you know, the usual… it's the same thing, just more and better *laughs*"
From Release: Australian audiences require no introduction to The Hives. The five-piece Swedish rock n' roll force are returning to Australia after captivating audiences at last year's Big Day Out. The Hives shot to superstardom in 2000 with their second album, Veni Vidi Vicious, featuring top selling singles 'Main Offender' and 'Hate to Say I Told You So'. Their fourth album The Black & White Album introduced now fan-favourite 'Tick Tick Boom'. Their latest offering, Lex Hives came in 2012 and The Hives are currently at work on their sixth studio album.
At home in Stockholm, the universe, the world… as he put it, we chatted to Howlin' Pelle of The Hives ahead of their return to Australia to support a new up and coming band called AC/DC… he fills us in on it all as well as new music and some looking back at the history of The Hives…
In the best news of the year, The Hives are headed back to Australia, and not only that but to support AC/DC! Tell us how this pairing came about?
Yeah! Well I hear that the promoter for the show got in touch with our management and said that someone from AC/DC or their camp has said 'go get The Hives' and they did… so they asked us to do it and we said yes. I think that's the short answer.
So being one of, if not the best live band out there, will it be tough for you showing up AC/DC every night?
Yes, some stuff competition *laughs* but that's good though, I'm hoping it keeps both of us on our toes *laughs*
I have seen you guys a number of times and it's always such a high energy show and it's such a great pairing, but there may be some AC/DC fans not familiar with The Hives, for those uneducated people can you describe a Hives live show and what they can expect?
Oh that's hard, I mean it's basically if you think about  rock concert that you've been to and you multiply it by ten, it's kind of more, it's louder and faster and more jumping *laughs* cooler clothes, better guitar playing, you know, the usual… it's the same thing, just more and better *laughs*
Have you ever played with AC/DC before?
No we have not, we've seen AC/DC but never played with them.
So what's your first memory of AC/DC?
Well, it was when our neighbour played the 'For Those About To Rock' album for us when we were like five years old and it was the first music that we wanted to listen to ourselves, we had a cassette player at home and you'd rewind it and play it again and listen to it again, so they've sort of been our favourite band since we were five or six years old.
So that must be a buzz that you actually get to play with them now…
Yeah it's really great, it really feels sort of full circle in a way.
You have of course been to Australia before, do you have a favourite memory of a previous tour here you can share with us?
Oh so many, we love touring in Australia, I mean the shows are great and stuff but we just genuinely like being in Australia. Usually we go on tour in Australia at the perfect time to leave Sweden like when summer hits Australia winter is here, we like to sort of like birds, book a tour somewhere hot in the winter. Every time we go there we've done Big Day Out there a bunch of times, that's always great.
Let's get onto new music, album wise we had Lex Hives in 2012, and then new single 'Blood Red Moon' in February, but is there a new album on the horizon?
Yeah we're working on it, we're making music and arguing about it you know *laughs* as bands do, can't agree and try to finish some songs. We have a lot of good stuff but we haven't really decided what goes on an album, we haven't decided who to record it with, and we haven't decided a bunch of things. So there's a lot of music but we haven't really decided what to do with it yet.
'Blood Red Moon' was very different from your previous works though…
Yeah that was for a movie, it was a song for a soundtrack, so it's not that indicative of what The Hives are, it's kind of a one off thing. Kind of like when we did that Christmas song a while back if you heard that with Cyndi Lauper… that also doesn't sound like The Hives, but it just shows you the width of our talent *laughs* when it's not something we consider nuclear Hives.
'Veni Vidi Vicious' turned fifteen this year, and I remember 'Hate To Say I Told You So' just being everywhere. What do you remember about when it all started to take off for The Hives?
Oh there's a lot of memories in that… you know, running from fans outside Radio City Music Hall, I remember being on tour in America, but two times doing a tour we had to fly to The UK to do TV shows and fly back the next day. It was kind of crazy, but it kind of felt more gradual to us than to the outside world, because for us it was basically we did a show every day, and there'd be a hundred more people every day. So it felt like building but I guess for everybody else it felt like we were away for six months and all of a sudden we were a big band, you know?
Well the song still gets played today which is great!
Oh yeah, it's a classic *laughs* I guess it's our 'Smoke on The Water' *laughs*
You've also been doing this for a long time, what for you is the biggest difference in The Hives of today compared to when you started out?
Wow! In a way it feels the same, we've done it for longer, it sounds a bit different, but as far as the band, it's kind of always been the same guys and stuff, I don't really know, it's pretty tough to answer. I guess I'm saying it's very similar… it's what I want to do, so I just keep doing it.
On the other side of that, what for you is the most enjoyable thing about being in The Hives?
I think the live concert, playing to people, the feeling right after, the feeling during and after… not the feeling right before in the first couple of songs, that's usually hell *laughs* before the juices start flowing and start working again, but yeah, I think that's my favourite part, I love it.
Looking back at your career and other than talking to me, have you had one moment that stands out above all the rest that cannot be beaten?
Wow, I mean there's so many moments, everything seems like a moment to me, I think that maybe sometimes when you play really huge things, like 110,000 people and stuff like that, or if you play a small show where you just see everything and it's all in dark places and going well. One specific moment or one specific concert is like me asking you what's the best sandwich you ever had? *laughs* you've probably had a lot of sandwiches…
Oh I can tell you that, I once had this Reuben in Las Vegas, it was amazing…
*laughs a lot*
Lastly let's predict the future, so finish this sentence for me, in 2016 The Hives will…
Either break up or release a new album *laughs* can I do that?
AC/DC NATIONAL TOUR DATES:
SYDNEY – Wednesday 4 and Saturday 7 November at ANZ Stadium, www.ticketek.com.au
BRISBANE – Thursday 12 and Saturday 14 November at QSAC, www.ticketek.com.au
ADELAIDE – Saturday 21 November at Adelaide Oval, www.ticketek.com.au
PERTH – Friday 27 and Sunday 29 November at Domain Stadium, www.ticketmaster.com.au
MELBOURNE – Sunday 6 and Tuesday 8 December at Etihad Stadium, www.ticketmaster.com.au
Essential Information
From: Sweden
Band Members: Howlin' Pelle Almqvist – Vocals, Nicholaus Arson – Guitar, Vigilante Carlstroem – Guitar, Dr. Matt Destruction – Bass, Chris Dangerous – Drums
Website: http://www.TheHivesBroadcastingService.com
Latest Release: Lex Hives (Out Now)