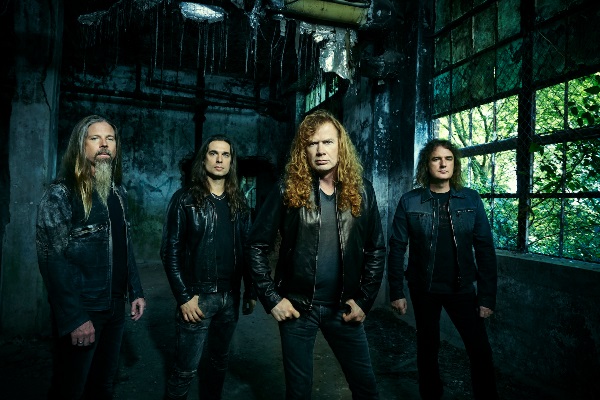 Megadeth are in Australia right now! Before checking out one of their blistering shows, check out this piece exclusively on MTRBWY written by Dave Mustaine about his tour hacks for tips for life on the road!
Dave Mustaine's Tour Hacks- Tips for life on the road.
1. "One of the first rules about travelling, whether you're a musician or not, is take twice as much money and half as much luggage. We have been able to learn how to tour basically with backpacks in some circumstances. The longer the tour obviously, you take a little bit more stuff."
2. "Make a checklist for when you're going to leave because you always forget something and if you make a checklist before you leave and you take it with you, you remember it is you forget and you add it to the next checklist. Eventually you never forget anything."
3. "Your luggage is really important. I have Samsonite Oysters, which has a waterproof seal on it because let's face it – shit happens. Whether it's on a plane, it's on the tarmac, it's on the street waiting to get put into the bus, or taken out of the bus into the hotels – it's a super hard packed plastic and I've got to tell ya, I have the same suitcase from when I first started touring in my possession. I don't use that one anymore because it only has two wheels, but I still have it. And when necessary and people need a suitcase, it's still part of our travelling entourage. That's how reliable this thing is. 30 years I've had a suitcase. It's mind-blowing."
4. "Get a good power adaptor. It's something that you're going to find that makes your life a lot easier if you get one of those little adaptors that has all those things that pop out instead of those campy notebook kind of things full of 600 adaptors that you don't need. You don't need all of them, it's a lot easier to travel light. "
5. "There's a lot of benefits for you for your credit cards with membership reward points and stuff like that, where you can go to a place and stay for a day and they'll give you credit, so that if you stay for another day you get one free. For me – a dollar may not mean that much to you but it means a lot to me because I was homeless and I have a tremendous respect for money and that's why I'm so loyal to our fanbase when it comes down to wanting ticket prices to be low, wanting merchandise prices to be affordable and wanting to give our fans what they deserve – give them their money's worth for their performance ticket."
MEGADETH'S AUSTRALIAN TOUR STARTS TONIGHT!
All tickets on sale now. For tour details and ticket information, visit daintygroup.com

(NEW VENUE) Perth – Friday 16th October -Metro City–  oztix.com.au
Sydney – Sunday 18th October – Hordern Pavilion – ticketek.com.au 
Melbourne – Monday 19th October – Festival Hall – ticketmaster.com.au
Brisbane – Wednesday 21st October – Eatons Hill  Hotel –eatonshillhotel.com.au
Their 15th studio album Dystopia is out via Universal Music / Tradecraft / T-Boy Records on January 22, 2016.