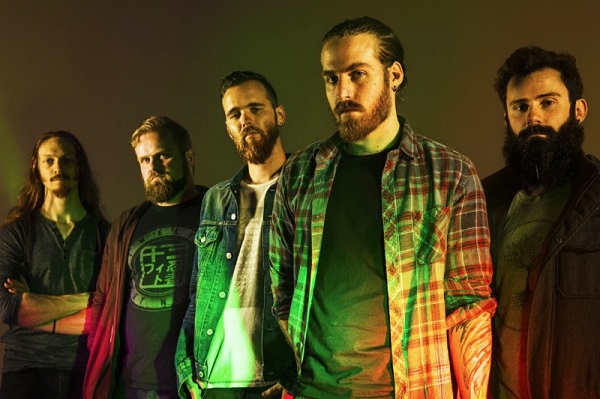 "…so we wanted to go a little bit different with this one, deliberately not do a concept album and just write a collection of songs that have an uplifting message that have a colourful sound and a vibrancy to them and go for an energy that matches our live show as well because we have quite a physical and energetic live show…"
Melding the forthright intensity of rock with the skill and inventiveness of progressive metal, Brisbane's Caligula's Horse have announced the release of their third record 'Bloom' through InsideOut Music on October 16, plus extensive Australian and European tour dates. Caligula's Horse are known for their energetic live show and fierce stage presence, a quality that has seen them join the likes of Opeth, Mastodon, The Ocean and Protest The Hero on the stage and the road. This kind of intense touring regime will see them right at home.
Jim from Caligula's Horse gave us a call to chat about the band's new album 'Bloom', its creation, growth as a band, touring and much more…
To start us off, for those that may not be aware of the band, how would you best describe the sound and style of the band?
It's progressive, alternative rock is what we define it as which is silly as genre definitions are silly inherently, but we sort of have a melodic and energetic approach to sort of prog I guess. There are tinges of metal in there as well but it's overall pretty energetic and driving stuff.
'Bloom' is your newest and third record, so did you set out to do anything different from previous releases this time around?
Yeah totally, 'Bloom' we wanted to be a natural growth, like a step forward from where we've been in the past and we've had these two albums 'Moments…' and 'River's End…' and 'River's End…' was a really dark, conceptual work and that kind of things it's got a dark story and the sound definitely reflected that it was very heavy kind of content, so we wanted to go a little bit different with this one, deliberately not do a concept album and just write a collection of songs that have an uplifting message that have a colourful sound and a vibrancy to them and go for an energy that matches our live show as well because we have quite a physical and energetic live show. I think we've really achieved that and I'm really, really happy with 'Bloom'.
So with both albums previously essentially concept based what was it like doing it this way this time around?
'Moments From Ephemeral City' it was more sort of an album of themes with interlinking ideas but not necessarily a concept album, we just didn't want to repeat ourselves with another concept album because we know a lot of artists that do that and that's their primary form of communication, but again we're always going to be reflecting who we are as musicians now, we're always going to be writing the way that we want to now, so that's the way we can look at the whole thing as changing. It's really refreshing, I can imagine it's very tiresome to write the same way all the time, I mean I love to write with a conceptual basis don't get me wrong, I absolutely love it because it gives you a framework for everything and you have to sort of write themes and ideas based on where you're at in a plot piece or from a characters perspective or something like that and it makes things a lot more structured and easier to write if you're not just trying to drag an idea from the ether. Doing this, writing this collection of songs has sort of given me a refresher in terms of writing and I think a lot of the content is quite exciting just based on that.
I'm always interested in the titles of albums and why they scored the naming rights, so what does 'Bloom' represent to you?
Well, growth really, I mean it sort of explains itself I suppose, it's one of those things that's a universal piece of imagery and I suppose that's quite pointed as well, because when we sat down to talk about the album we wanted to create something that was bright that was vibrant, we wanted to create something that represented growth to us and that was one of the first working titles that we threw down just to put a piece of imagery on the table to just have and unwind when we were writing, so 'Bloom' really spoke to us so I guess that's why it stuck around.
With three albums now in your catalogue, how do you feel you've grown as artists in only the four years since your debut?
Well you know we've all been making music for a long time, like I've been singing in one professional capacity or another since I was like nine years old, Sam's been making music for about the same length of time and we've all been in bands and whatever else. As a duo, as a song writing duo Sam and I have grown a great deal over the last sort of four or five years just because of the I suppose prolific amount of music that we've had to release, like we've done this a lot together so our conversations and our language with each other in the writing studio and recording studio is almost like a form of concentrated speech, we understand each other, we read each other's cues and it's a very natural process now. 'Bloom' only took less than six months from first inception to completion and that's like album ready product, fully recorded and that's very fast for us because previously we've only been working on our own deadlines or whatever else, now we're working with InsideOut music based out of Germany, so hitting those deadlines was a lot harder but again our system is so set in place now that it was really easy to get it done.
You're a busy touring band also, with Australian dates and European dates on the horizon, how has the last few years of touring and opening for some big bands helped shape you as live performers?
It's changed a lot, I think the more bands that you play with the better because there's always something you can take away. Whether you're supporting Opeth or watching the opening band that you're playing with on tour you're going to learn something about live performance because it's from somebody else, it's like a little workshop. I love talking shop with other singers too, it's kind of my favourite thing, so going on tour with all those bands and learning from them has really been an experience, and the more that you're on the road, the more people you meet and the better you become as a touring band. So yeah, I'm really looking forward to this tour in Australia with TesseracT coming up, and those European dates are sort of like a bucket list for me so it's very exciting.
How is the international market for you guys? I find a lot of bands can't get a break here but do well overseas, is that similar for you guys?
It's sort of a mix really, we've got some really strong support here in Australia, like really, really supportive and *laughs* very excited fans who are all anticipating the album a great deal, but ever since the start we've had undercurrents of support from fans in underground groups from all around the world, purely those people that go out of their way to try and find new and original music from people they haven't heard of before, so word spread through them. Now thanks to signing to InsideOut, that comes with a legitimate in and a platform for an audience that we haven't reached before as well, so hopefully we sort of kick in the door in Europe and do quite well.
What's been the biggest thing you've learned about being in a band that you didn't think was a part of the process when you began?
*laughs* Well I began it when I was seventeen, so I guess not being a dick is pretty important to have learned, which I was not doing for a long time *laughs* to use a double negative… I think for me really just the number of skillsets that you need to have as a modern band is something that I don't think I was quite prepared for, you come in thinking that I'm a singer, I'm going to come in and sing, do my job and I don't want to deal with anything else, but really you have to be a singer, you have to be a music video director, you have to write treatments, you have to operate a small business, you need to learn to book tours and do all this stuff and to advertise and of course to do interviews and stuff like that, that's a skill. So, there's a lot of things included in being a touring band and original musicians that you may not have expected when you start but then you learn on the road.
So what is on your bucket list, as a band what's the one thing you really want to do?
I want to tour Europe, man, so that's a big tick, that's coming up *laughs* I think the only other one for me is I would like to play a show with Devin Townsend, I think that would be a real treat, I'm a huge fan of his work, and we're actually label mates now because he's also signed with InsideOut, so now that's actually possible in the next sort of while. So that would be great for me, I would turn into mush if I met him…
Let's get a bit of a personal insight into you with some quick fire questions:
What was the first album you bought?
Actually was 'Neon Ballroom' from silverchair, I was thirteen and I was kind of late to the music buying game compared to now I guess because I'm old… but that was an album that really affected me personally, so I'm really glad I bought it.
What band or artist made you want to be in a band?
ooh, good question… probably Zack de La Rocha from Rage Against The Machine. My man Zack. Actually it's funny I came late to the game again, so Rage Against The Machine had already split up by the time I found them which was really depressing *laughs* but 'Evil Empire' just made me want to protest and get on stage and make people jump, that was about it.
Who is your favourite band to see live?
Ooh… good lord… I'm going to go ahead and be repetitive and say Devin Townsend again, I've seen him a couple of times now and it'll go from full on belly laughs at his silly insane comments in between songs, and absolute tears when he goes into one of my favourite songs and just tears into it. Particular highlight was him playing 'Dead Head' at The Tivoli years ago, that was awesome.
Have you ever or would you ever consider covering Caligula's version of 'Tears of a Clown'?
I don't think so, I'm going to go ahead and say no, mostly because I haven't heard it *laughs*
Lastly, let's look ahead to the future, finish this sentence for me, in 2016, Caligula's Horse will…
Probably go back into the studio to write some more but don't quote me on that…
I have to *laughs*
Yeah actually, that's wiped from the record, no, go for it…
Essential Information
From: Brisbane, Australia
Band Members: Jim Grey – Lead Vocals, Zac Greensill – Guitar/Vocals, Dave Couper – Bass/Vocals, Geoff Irish – Drums, Sam Vallen – Guitar/Everything Else
Website: official facebook page
Latest Release: Bloom (Out Now – InsideOut)

Catch Caligula's Horse on tour with TesseracT (UK)
Tickets via www.tickets.destroyalllines.com
16/10 – Melbourne, Maxx Watt's
17/10 – Adelaide, Fowlers Live
18/10 – Perth, Amplifier Bar
EUROPEAN TOUR DATES
With Shining (Norway)
28/10 – Gothenburg, Fangelset
29/10 – Copenhagen, Lille Vega
31/10 – Dresden, Grovestation
01/11 – Krakow, Fabryka
02/11 – Warsaw, Hydrozagadka
03/11 – Wroclaw, Liverpool Club
04/11 – Prague, Podnik
05/11 – Vienna, Viper Room
06/11 – Budapest, A38
07/11 – Ljubljana, Kino Siska
08/11 – Bologna, Locomotiv
09/11 – Milan, Lo Fi
10/11 – Winterthur, Salzhaus
12/11 – Luxembourg, Sonic Visions
13/11 – Frankfurt, Nachtleben
14/11 – Stuttgart, Keller Club
15/11 – Utrecht, Tivoli de Helling
16/11 – Bochum, Matrix
17/11 – Brussels, Rotonde
18/11 – Paris, Divan Du Monde
19/11 – London, Underworld
20/11 – Glasgow, Ivory Blacks
21/11 – Milton Keynes, Craufurd Arms
22/11 – Manchester, Sound Control