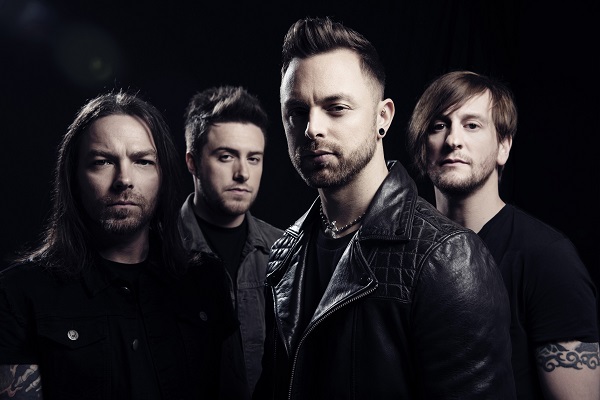 "We're still all kind of young, we've got a fire, an ambition and we just want to be a timeless band, we want to be as big as we possibly can, reach as many fans as we can and just continue to make music, I mean that's the main thing, right?"
From Release: Over the course of their career, Bullet For My Valentine has sold millions of records, amassed a worldwide army of fans, garnered hundreds of millions of video/track streams, appeared on dozens of magazine covers and received mass critical praise for their highly-influential albums. Now, the band looks to transcend genres and trends with their game-changing album, VENOM. Their heaviest record to date sinks its teeth into listeners with a powerful delivery by vocalist/guitarist Matt Tuck, ferocious riffs by guitarist Michael "Padge" Paget and rapid-fire rhythm courtesy of drummer Michael "Moose" Thomas. On VENOM the trio maintains their signature balance of heavy, coupled with surging melody, and pushes themselves to the next level.
In St Louis and having the spit chewed out of him by bugs or so he tells us, we had a fun chat with Padge of Bullet For My Valentine about heading to Australia for Soundwave 2016, the band's new album 'Venom' and much, much more…
Welcome to Soundwave 2016, how does it feel being the first band announced for the festival?
Oh excellent, man, it's been two and half, maybe three years since we've been down there, so as a band and I'm sure I can speak for all the boys, we love going down to Australia it's like a second home for us, we've always been well received down there and to be the first band announced on Soundwave is pretty fuckin' radical.
You've played it a couple of times before, what are some of your best memories of Soundwave?
*laughs* Aside from the shows, probably the after show parties, man, everyone loves to drink down there and everyone's really friendly and happy and it's always a good time you know what I mean.
Other than the big Soundwave news, you've just released 'Venom' and congrats on a big record, are you a little relieved that it's out there for everyone to hear now?
Yeah, yeah, between the last record and this one it's been a long time and again I can speak for all of us, we all busted our asses writing and recording and just making this the best record we possibly could and personally I think it's the best record we've ever released, we know we've got something special and we're all really proud of it. To get it out there is a relief, it's nice, now we can get out there and start playing some new stuff *laughs*.
It's a heavy album, did you guys go in with an idea of how you wanted the album to sound or come together?
We wanted a heavy record, definitely, from a guitar point of view I realized we had to pull something out of the bag and I think me and Matt really did, and Moose's so up there in his drumming on this record. After the ten years we've been doing it we've really stepped up as musicians and it really does show on this record and I think we can all pat ourselves on the back because it's happy times man, its good times, everyone's happy.
In the two years since 'Temper Temper' what if anything did you do differently this time around?
Well we actually demoed songs this time around which is… good… *laughs* we did all the pre-production and demoing at my home studio and we all chilled out and were working as friends and band members instead of fuckin' enemies or whatever, it was just the way a record should be written. All the work we did back in Wales really paid off when we came to record the album and again I think it really does show through on the finished product.
You also worked with Colin Richardson again as producer who of course did your first two albums, what was the idea behind going back to Colin?
Me and Moose were talking  and were like well who do you think is gonna be the producer and we said it's got to be Colin, he's the one who brings everything sonically to the table, and we went around America to LA and Nashville and met a bunch of producers and none of them seemed to really connect and I think the main thing with Colin is that he doesn't fuck with the band, he just kind of lets the band do their thing while sonically he does his thing and I think that's really important. Too many producers tend to fuck with band's music and make a fuckin mess of it and Colin never does that and that's really important.
You did mention it had been over ten years of the band and it's also been ten years since the release of 'The Poison' so in that time what for you has been the most noticeable change in the way that Bullet now works?
Probably the departure of Jay, fortunately on a positive note, we've managed to fill his boots with a  great guy and he really has helped set the band up in so many great ways, vocally and rhythmly and you know, so with a negative comes a positive which is a good thing moving forward.
Being in the band since its inception, is there still something you want to do that you haven't yet had the chance to?
*laughs* In the band or… *laughs* I'm only joking dude *laughs* We're still all kind of young, we've got a fire, an ambition and we just want to be a timeless band, we want to be as big as we possibly can, reach as many fans as we can and just continue to make music, I mean that's the main thing, right?
What I love is that it truly sounds like you love this and don't really consider it a job…
I love it man, I'm so passionate about it, I mean the shit jobs I used to do, they were *ugh* soul destroying but now that I've got this, every day I wake up and I'm so blessed to be able to do this job as I'm sure my band members are as well, we have everything going for us and I don't think any of us want to put a foot wrong with that you know.
So as a fan of music and what you do, has there been one ultimate pinch me moment you've experienced in your time with Bullet?
There was this one show in Estonia which is on the border of Russia where we played with Metallica to like 90,000 people, I think it's the biggest crowd we've ever played to and it was like a sea of blonde hair and obviously me being a dude it was like I think I've died and gone to heaven, boys… *laughs*
Oh man, playing with Metallica alone is a moment in itself…
Yeah, yeah we've done it a couple of times, they're really nice guys. I think the first time Lars walked into the dressing room with a bowl of salad and was like "How's it going guys?" *chewing sounds* it's like fuckin' hell, it's Lars *laughs*
So has there been anyone that you have played with that you've been star struck by?
Probably a lot of them, man, I'm a bit of a fan boy, like with this example, Corey's in our dressing room just chatting away and I'm like oh shit, don't look at the star, don't look at the artist, totally fan boy, but I guess that happens whenever we support bigger bands, it happens a lot, so I'm still a fan boy at 36 fuckin' years old… *laughs*
It's OK, man, I'm 39, I do the same thing… *laughs*
*laughs*
So what I like to do with everyone is get them to look ahead and predict the future, so finish this sentence for me… In 2016 Bullet For My Valentine will…
Destroy all… *laughs* Hopefully… *laughs*
Catch Bullet For My Valentine: Appearing at Soundwave 2016
Saturday 23 January, 2016 – Brisbane
Sunday 24 January, 2016 – Sydney
Tuesday 26 January, 2016 – Melbourne (Australia Day public holiday)
Head to www.soundwavefestival.com for full details & further line up announcements.
Essential Information
From: Bridgend, Wales
Band members: Matthew "Matt" Tuck – vocals, guitars Michael "Padge" Paget – guitars, Michael "Moose" Thomas – drums, Jamie Mathias – bass, vocals
Website:  http://www.bulletformyvalentine.com
Latest release: Venom  – (out now-  Sony Music Australia)
BUY VENOM: iTunes, Google Play,  JB Hifi, Sanity