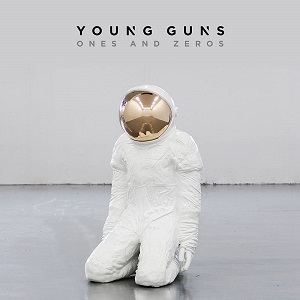 The third album from any band can sometimes be the make or break, and honestly some bands these days don't even get to three, so when I heard Young Guns were making their third, I was stoked as these guys have made a couple of killer records previously so I'm looking forward to checking out 'Ones and Zeros' and reviewing on first listen…
Now if 'Rising Up' is what the tone of the album is going to be, then as Barney Gumble once said "Just hook it to my veins…" I'm in… this opener is a slightly more gritty, has an almost industrial (now don't chastise yet) feel, and I mean that in the way that the electronic aspect is shining through on this big anthem, and I have hopes for this one and looking forward to what is to come. 'I Want Out' keeps the aforementioned mood going but with chunkier guitars and a big chorus complete with the always crowd loving sing along parts, and as I sit here tapping my foot along to it, I can hear this one on the radio, and it should be… Catchy as all get up. 'Infinity' shows the maturity that these guys have grown into after their first two albums, and you can tell that the years of hard work is showing, these guys have honed their craft and come out with some really great tunes so far, and this one is a stand out. I know, this will be another one of those albums I sound like I'm gushing over, and no I don't always do it, but when something does grab you from the start, it's personal opinion and this one is taking me on the ride, and if you want to come along, check it out!
'Memento Mori' continues on with more hooks, and this newer sound they have absolutely smashed out of the park, I feel like this is an album bands like Thirty Seconds To Mars or The Killers would try and make, but couldn't get perfect, maybe it's the English vibe to it, maybe it's the extra layers of guitars and drums, but the vibe is there, it just feels like a step up. It's impressive and uh oh… A ballad… aka 'How to get Troy to love a band even more' and the tempo drops for 'Lullaby' the first time on the record to produce this smooth piece of work, and yeah they've done it right as it builds to a wall of sound and huge gang vocals, they win. 'Daylight' you may have heard as they gave us a taste of this prior to release and a worthy way to showcase the band, killer track, but 'Speaking In Tongues' takes it one step further and delivers my favourite on the album so far. This excellent arrangement makes this song stand out with a driving rhythm that takes it to a clever chorus with more hooks than a bait and tackle shop.
Let's get 'Colour Blind' and with more 'whoa ohs' and big guitars, they keep the album up to the standard of what we've already heard and boy howdy am I loving this. 'Gravity' starts big but brings it down to an almost atmospheric feel and as the rollercoaster takes the levels up and down it keeps the perfect balance on this one, and although not my favourite thus far, it does show what these guys can do and are wanting to do on this album, in saying that, the guitar solo breakdown is pretty sweet though… 'Die On Time' is another ballad style song and actually the one thing I haven't mentioned at all yet is the production… it is pristine, it's not too much in my opinion, it balances what the band were going for and at no time were these songs flooded, which to me happens a bit too much these days, but Young Guns and Steve Osbourne nailed it on this one.
OK, now I'm always intrigued when it comes to the track that scored the naming rights to the album, so why did 'Ones and Zeros' get it? Let's check out the track and see… also intriguing is the fact that it closes out the album and it is a great way to go out, it's a song destined to have crowds jumping, fist pumping and happy when listening to it. This is well worthy of naming rights, a big rocker, great vibe and sounds great.
So not only do Young Guns put on a great live show, they take what they love which is aspects of their influences and use it at their show and on the stage, and with 'Ones and Zeros' let's hope we see them back down to Australia and play these songs for us, because more people down here should know who these guys are, correction, will know who these guys are. Mark my words. I loved this album, no shame in saying that, when music works for a person, it's a magical thing and Young Guns, album number three is a winner so let's put the 'ones and zeros' together and give it a 10.
Essential Information
From: London, UK
Release date: 5 June 2015
Produced By: Steve Osbourne
Record label: EMI Australia
Website:  http://www.weareyoungguns.com
Track Listing:
Rising Up
I Want Out
Infinity
Memento Mori
Lullaby
Daylight
Speaking in Tongues
Colour Blind
Gravity
Die on Time
Ones and Zeros