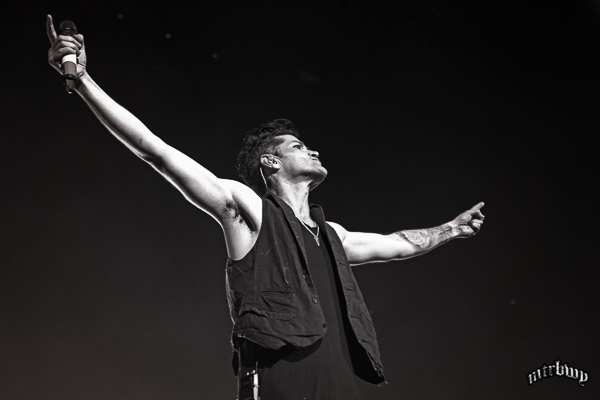 The Script are back in Australia, seems they're here a lot and why not when you're at the stage where you're playing arenas! They're here off the back of their new album 'No Sound Without Silence' and it'll be great to hear some of these newer songs in this big room tonight…
Colton Avery lit up Allphones Arena (literally) as he entertained us with just his voice and a guitar. His cover of The Police's 'Message In a Bottle' was impressive, but as he tells if the story as to how he met The Script and the reason why he's here, he belts out a song he wrote with the band which had everyone's phone out and lighting up the arena. As his set goes in he gains the love more and more of the adoring crowd who are eagerly awaiting The Script to take the stage. Not a bad effort for one man and a guitar.
I'm within the pink line on the floor to ensure I don't get in trouble again from security, and as the lights go down it's time to paint the town green! The band make their way through the crowd guarded by green light up flags as the crowd get a buzz before the show even starts. The band bring the energy they have to the stage and start off with the aforementioned 'Paint The Town Green' which is truly the only way this show could've started, it got the cube fund and made for what will be a good night. Before it even faded out the band launched into 'Hail, Rain or Sunshine'  followed by a welcome from Danny which is greeted with love and deafening screams as is the piano intro to 'Breakeven' as the entire crowd launches into song and it kinda sounds pretty cool in here right now. This is one of those songs that so well written and delivered in this kind of environment and there's one thing for sure, they absolutely love it and it's always great when a band can throw in one of their biggest hits this early into their set. The same levels of screams are heard as 'Before The Worst' gets a run. As a video plays introducing 'Superheroes' it really surprised me at the reaction this one got, purely because of its newness into the bands catalogue but as the lights and lasers fill the arena it proves to me how much of a spectacle this band has become which is a long, long way from the first time I saw them at the Gaelic Club many years ago. Kudos.
An interesting rap style intro turns into 'We Cry' and a sing off between the audience which is so standard at a show but still fun to witness. Oh ok, so we don't get the song? That's weird, but ok… 'If You Could See Me Now' is good, but the haunting keys that we're hearing that sound like the start of 'Here I Go Again' by Whitesnake have me excited, but it's not that song unfortunately, it's actually my favourite Script song and that being 'Man On A Wire', an outstanding song, the intro is perfect and it sets up the song. 'I have to keep walking to keep me from falling down' is probably my favourite line of any song in the last few years. Ooh I've just been taped off where I'm standing on the floor, so either I'm in trouble or Danny is going to walk past… Stay tuned. So as they're now playing 'Nothing', the song that is, it's not silent, they deliver it like it's the first time they've played it and deliver the emotion the song warrants.
What I like about The Script is that all three members get to talk, this is a band and they're all as important as each other. They take us 'In The Future' with 'Good Ol' Days' with a lot of 'woo oohs' and have now popped up at the back of the arena for a little set. Right now 'Never Seen Anything "Quite Like You" ' is sounding lovely, and its followed by the one that introduced the band to their stature in Australia, it's 'The Man Who Can't Be Moved' and this stripped down version does it so much justice. They stop mid song for a glory basking and they lap it up! Deservedly.
Band members run past me as Danny ends up in the crowd singing 'You Won't Feel A Thing' and I never get sick of stuff like this, when bands truly interact with their fans, it's the way it should be and I feel like this band can do no wrong here at all tonight. 'Six Degrees of Separation' suits the arena, but as good as that song is and was, feedback fills the arena with pounding drums and as it mellows into 'It's Not Right for You' and with it's perfectly written 'whoa ohs' and the level of crowd interaction it allows they still have the crowd in the palm of their hands. The fake goodbye is up as they let is sing out a chorus of 'whoa ohs'… will they be back?! Yes of course. There's at least two more they have to sing, wait, maybe more… The crowd is still singing when the band is off the stage ha ha, oh now the rumbles start… There they are, back!
'The Energy Never Dies' is probably the rockiest of the bands set and perfect placement in the set for it! Plus it's full of more whoa ohs, gee they love a good sing along this band does. Oh I'd forgotten this one! Nice! 'For The First Time' and 'Oh these times are hard' indeed, this is a standout of the night, as it always tends to be in the bands set. As the crowd cheers people start to leave for some reason, amateurs, but the brooding keyboards are overshadowed by the big guitars of 'No Good In Goodbye' which is a killer track of course from the bands most recent album and slips in as a new classic for the band. Surely there's only one more to go and yeah here it is… 'Hall of Fame' is a big song, with a big finish full of confetti, streamer ribbons and a lot of excitement. They took the tape away from me earlier, so I wasn't in trouble, but Danny this time did run past me as I gave him a high five it was a fitting end to a great night.
The Script are one of the most gracious bands I have seen on stage, they do this because they love it and truly look like they appreciate every single person in the room. They always deliver a great show and tonight was no exception.
Essential Information
Venue: Allphones Arena – Sydney
Presented by: Frontier Touring
Support: Colton Avery
Date: May 1, 2015
Website: http://www.thescriptmusic.com
Photo by: Annette Geneva – check out our full gallery HERE
Set List:
Paint the Town Green
Hail Rain or Sunshine
Breakeven
Before the Worst
Superheroes
We Cry
If You Could See Me Now
Man on a Wire
Nothing
Good Ol' Days
Never Seen Anything "Quite Like You"
The Man Who Can't Be Moved
You Won't Feel a Thing
Six Degrees of Separation
It's Not Right for You
The Energy Never Dies
For the First Time
No Good in Goodbye
Hall of Fame