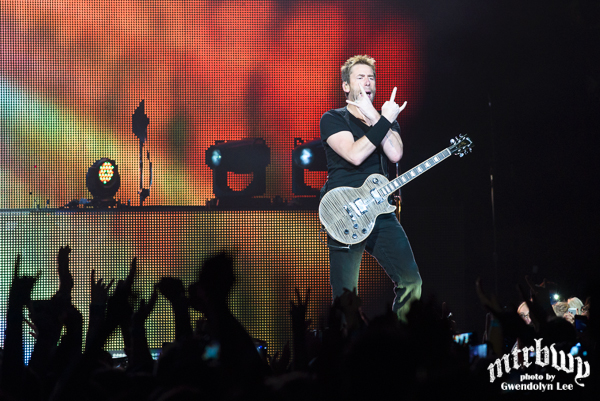 You should all know by now that May The Rock Be With You is a Nickelback friendly zone, that won't change, and this will be my hmm… Maybe 10th or 11th time seeing Nickelback since 2001 and they've always delivered an amazing live show and I'm expecting tonight to be no different. Here off the back of their newest album 'No Fixed Address' I personally can't wait to see what they do tonight. So stand by to see what that is…
Monster Truck here also from Canada open with the massive riff and catchy groove of 'The Lion' as the band kick the truck into high gear from the get go and man, they are loud and it's awesome. Asking Sydney if we're ready to rock and roll with them they get a resounding yes from a crowd impressed from the start and that makes me happy as this is a band MTRBWY has dug for quite some time, so to be able to finally see what they can do on the stage is amazing. 'Old Train' kicks in with its massive riff and sheer intensity is huge and man, this band is old school rock and roll at its best. It's funny, seeing this band play last night at a small pub for maybe fifty people they played with the same intensity and you can just tell they're a band that loves to play live music. 'Ain't Nobody Gonna Tell Me How To Live' keeps it moving onward and upward with another killer riff and groove that Monster Truck continue to do so well. The applause gets louder after each song and with only two to go they slow the set down with 'For The Sun' and this is smooth. It's a straight up jam style song as they deliver it perfectly, this is a super tight band and man, this is rock and roll. Closing with 'Righteous Smoke'  they nail it and I'm certain they made a number of fans tonight as they should, that was outstanding.
Lights go down and Nickelback start the set as the band tends to do at their shows with the newest album opener, this time being 'Million Miles An Hour' and yeah it's on, the guitars are huge, I love the tone they get on these things, what a way to start but Chad speaks and says "let's get straight into some sexual shit yeah?" which Nickelback are so good at, and 'Something In Your Mouth' is straight up Nickelback and this really is a heavy start to the night and I'm happy. I mean, look, these songs are cheesy but damn it, I love them, musically Nickelback are so damn tight that there are no leaks… anywhere. Oh wow, it's gonna be a hits night, straight into 'Photograph' and for mine that song still stand up and it sounded so great. Although no graphs in sight… ha ha Nickelstats, still makes me laugh. I kid, that song was met with so much love and rightfully so.
Chad loves a chat… so much so that I now brand them Nickelchat… As he intros 'Hero' we get a nice little surprise, and even more so as Ryan gets to sing throughout and take the parts of Josey Scott. They nailed it, and you know what, this is a song made for an arena, who am I kidding, all these songs are… 'Gotta Be Somebody' really has such a heavier vibe in the live environment and sounds spectacular. This is a favourite of mine so I'm not only glad that it's in the set but that they smashed it out of the park.
Ballad time… 'Far Away' sends the ladies into a tizzy and it makes me laugh as the row in front of me audible squealed when it started, or that may have just been for TIMMY!!! Now there's another thing Nickelback are good at, big ballads and this one was huge for them plus it has a key change, so that wins. Now heading to their new album once again we get the first cut taken from it in the form of 'Edge Of A Revolution' and it slipped straight into the set nicely, and something that has never wavered from the band's set is beer time… The typical amazingly heavy metal riffs they give us, this time absolutely on point covers of Pantera's 'Walk' and Metallica's 'Master of Puppets' were nothing short of jaw dropping along with the beers and shirt cannons are always fun. I keep saying it, these guys can play!
Man!! This really is a hits set. 'Too Bad' got the entire floor moshing and from where I am it looked amazing and if there's another song built for the stage it's this one, loved it. 'Someday' sounds huge in here tonight and as the absolutely nail it, the band play an outro that is magical as Chad leaves the stage to change his shirt they come back and play us one they wrote here in Australia and 'Animals' it is and it's time to rock things up again. Wow. Amazing. They have the audience in the palm of their hands tonight.
Rockin' out a little Led Zep with 'Moby Dick' simply to set up the Daniel Adair drum solo, which is always a highlight of the set, my mate Jono is happy as Adair hits the ride cymbal like it owes him money and I concur, that was awesome. The band is back and it's time for a new one again 'She Keeps Me Up' is different… and did it work? Sure it sounded good, but I prefer heavier Nickelback, this is a little funky for my liking and an odd song in general, plus watching Chad without a guitar just looks weird.
Ryan gives us the gift of song as we get some rock and roll karaoke with 'Summer of '69' and 'Hotel California' and I must say how impressed I am with the crowd. Although Jamie next to me isn't happy as he's an old school Nickelback fan and said 'great, because of this we won't get 'Leader of Men' and I'm not sure they would've played it but we'll just let him think they were going to… As 'Nickelchat' continues they get back into their set with 'Rockstar' and the acoustics stay out for 'When We Stand Together' with a 'hey yeah yeah hey yeah…' they keep the energy up and the crowd joining in.
Oh thank you, the electric guitars are back. Let's get loud again. As Chad sings 'I like your pants around your feet…' it's time for 'Figured you out' and man, the heaviness returns and it's awesome, you can laugh at the lyrical content of this song, but it sure as hell rocked the place. 'How You Remind Me' of course still stands out as the highlight of the night as it was the introduction of the band to us and without it it's possible we wouldn't be here tonight. So they rocked it out and we all helped and it sounded amazing in here. What a song and what a way to go.., the band leave the stage… and thus is how they remind us of how damn good they are…
Oh shit. There're back and they're doing a cover of the Foo Fighters 'Everlong' with Ryan on vocals, this cat can really sing and just wow… Unexpected and amazing, I mean who doesn't love that song? Seriously, find me that person and we'll have a chat… Anyone than can nail it owns it in my book, so kudos, Nickelback!! We love it heavy and tonight the set ends with one of their heaviest in 'Burn It To The Ground' and holy shit this is a wall of sound. They couldn't have gone out any other way really, and to the final note they are on point, didn't drop one all night and just cemented to me why they can still play these arena. They're built for it.
Summing up, hate Nickelback all you want, but until you see them live then don't judge as what you'll see is a band that is no word of a lie one of the best out there on the stage and tonight was no exception. So those that were here were entertained and those that missed it, well, maybe next time… because they'll be back.
Essential Information
Venue: Allphones Arena  – Sydney
Presented by: Live Nation
Support: Monster Truck
Date: May 22, 2015
Website: http://www.nickelback.com
Photo by: Gwendolyn Lee – Check out our full gallery HERE
Set List:
Million Miles an Hour
Something in Your Mouth
Photograph
Hero
Gotta Be Somebody
Far Away
Edge of a Revolution
Master of Puppets / Walk
Too Bad
Someday
Animals
Moby Dick
She Keeps Me Up
Summer of '69 / Hotel California
Rockstar
When We Stand Together
Figured You Out
How You Remind Me
Everlong
Burn It to the Ground