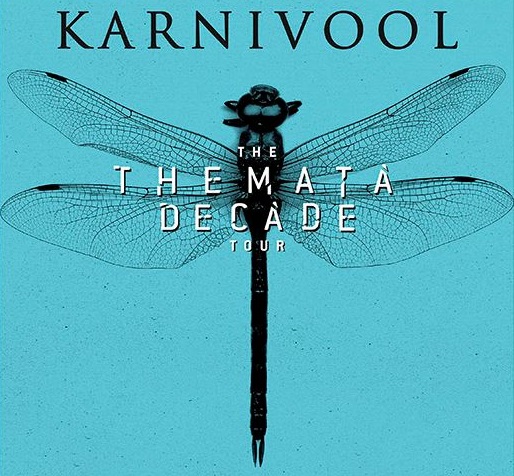 Ten years is a long time. Two Olympic Games are held in that time, even three depending on when you start the count, and usually in a decade some bands come and go. That isn't the case for Karnivool, a band still going strong to this day and here we are tonight celebrating a momentous occasion, a decade since their debut album 'Themata' and with the sold out signs all over this tour means that a lot of people care about this album and want to relive it with the band.
Cairo Knife Fight open tonight, hey that rhymes!! Oh ok, a two piece, drums and guitar, but hold the phone, he's stopped drumming… Loop pedals ahoy! Hang on, just need to get my head around this for a minute. Not sure if the band was the right fit for the night, but they delivered what a two piece can, and people seemed to enjoy it, so that's a good sign.
Ok. So let's see how this plays out… I love the whole playing the album thing, celebrating a milestone but sometimes it works, sometimes it doesn't. Is 'Themata' the album to make it work? I'm going to get ahead of myself and say Hell Yes.
Thunderous applause = band on stage and here we go. Press play… From the opening riff of 'C.O.T.E.' it's on, the crowd have instantly joined the chorus and are singing along loudly… This is going to be something pretty amazing tonight. What I've always loves about this band is of course what everyone else does, the unmistakable vocals of Ian Kenny, man, this cat has it down. Not to mention that Karnivool are one of the tightest bands I've ever seen play, so it all comes together in a nice little package. To then play 'Themata' second is just simply unheard of. This is their staple, their encore, the one that people come to hear and it's this early holy shit. It sounds as good as you'd expect and they own it, like truly own it, and this is a pleasure to witness. When it hits the groove after the solo well let's just wrap the night up, we're done.
Next in line is 'Shutterspeed' and man, I'm going to be gushing all night about this, the band sound phenomenal, the crowd is insane as I watch the mosh go berserk and we're only at song three!!! Not a note is missed, and I'm loving every second of this. 'Fear of the sky' and its ridiculous timing and off beats are no issue tonight, like seriously I'd like to see them just TRY and mess this up, but they can't, it's so damn good, just wow, and not only is this one of my fav Karnivool songs but it just sounds so much better in this environment. 'Roquefort' is absolutely insane as the pit just gets crazier and crazier, which is amazing to see and I'm running out of words to tell you how much you need to be at this show!!
'L1FEL1KE is' heavy from the get go and of course faultless, 'Scarabs' is one of the heaviest explosions musically we've heard so far and holy shit this band is beyond tight, I feel like if they were any tighter that something would snap, but they have this balance so good that nothing can go wrong. 'Sewn and Silent' slows it down for the first time. Like seriously, this place needed it, after the onslaught that was the previous seven songs, man, even I needed a rest and I'm writing a review!! This 'ballad' works nicely in the set as 'Mauseum' is another somewhat middle of the road heavy number and amazingly one of the only ones in a somewhat regular time signature. 'Synops' staying in the same vein as the previous keeps it a little chilled and as the song finishes Ian Kenny takes the stage to thank everyone for being here and for the sweet ride they've taken over the last ten years.
Finally running 'Omitted for Clarity' and 'Change (Parts 1 & 2)' together as Themata comes to an end. Man, what a ridiculous experience that was, you could almost call the night done, go home, no need to stay as Karnivool only two thirds of the way through their set have delivered one of the shows of the year. This is outstanding so far and we still have no idea what left…
I thought we'd get a break but oh no, let's just keep going!! The place erupts as 'Simple Boy' takes off and this sets the scene for the remainder of the night. The weird time signatures return for 'We Are' and when the crowd took over at the end, the look of elation and just satisfaction swept over Kenny's face, it was a moment. Now… The dreaded new song… The no one knows it song, the usual 'I'll go get a beer' song, but with this band, no one is moving, they want to hear what it is and what we can expect from their forthcoming album. Let's look forward to hearing 'Aozora' on the next Karnivool album!
It's time for 'New Day' and as it begins with a chorus of the entire Metro leading it, this is so fucking cool. This song is so Karnivool, as it breaks up into the many varied structures and moods, it has cemented its place in their set and rightfully so, this is a huge favourite here and as it builds to see all the arms raised down in the pit is pretty amazing and signifies the love that this band has here tonight.
In closing, Karnivool are one of the most technically proficient bands you'll ever see and if you've never seen them well, what are you doing with your life. Go now, see them any way you can, you won't regret it!! Or as my friend Tam said after the first song and commandeered my phone her review was simple. It said only this and maybe that's all I needed tonight… FUCK YES SO GOOD THE END
Essential Information
Venue: The Metro Theatre – Sydney
Date: May 2, 2015
Website: http://www.karnivool.com
Support band: Cairo Knife Fight
Set List:
C.O.T.E.
Themata
Shutterspeed
Fear of the Sky
Roquefort
L1FEL1KE
Scarabs
Sewn and Silent
Mauseum
Synops
Omitted for Clarity
Change (Parts 1&2)
Simple Boy
We Are
Aozora
New Day