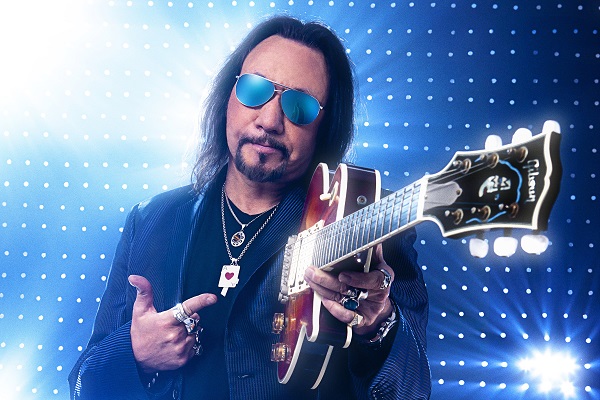 There are a few iconic guitarists in the world, you can name them, but one that I'll name is Ace Frehley. You know him from KISS, yeah, that band, but without the makeup Ace is still as iconic and he's back in Australia for the first time in a while to treat us to his live show in support of his new album 'Space Invader'..
First up tonight is Witchgrinder and I'll give them this, maybe not the best fit for the night but they didn't stop giving it everything they've got to try to get the Ace loving crowd into their set. By the end they succeeded and kudos to this hard working band.
In the second case of 'what gig are we at again?' We have Graveyard Rockstars… Now I personally dig this band, love this style but watching the crowd… Tough sell… BUT with the big riffs and hooks these guys are selling it big time, and they sound killer. I really can't wait to hear more from these guys.
Feedback fills the room in between sets as they get the guitars ready and the crowd eagerly await The Spaceman!
As the intro plays and builds and John introduces the man, the legend, Ace Frehley, the band, a four piece take to the stage and there's no wasting any time. With a 'Yeah' from Ace, we're away with 'Rocket Ride' this one allowing the first Ace solo and it's a good start, this cat can still play man. The applause signals a very warm welcome back to Ace which is great, but there's no time for basking in the love, as 'Gimme A Feelin' tears the joint up. "Sydney I'm glad you came out tonight because we're gonna kick your fuckin' ass" is the perfect statement for the night, as the rifftastic 'Toys' rips it up nicely it's just fun to be watching Ace up there on stage. Last time I saw Ace was hmm… Let's just say a long time ago when he was in that band he used to be in on their 'farewell tour'. There he was what he became but tonight he's what he's supposed to be.
When Ace says "here's an oldie but a goodie" he blasts into 'Parasite' and man, this is sounding huge in here tonight. Even drummer Scott Coogan gets to rock out a little and show us what he can do which I'm predicting there will be a lot more of. Oh shit, 'Snowblind' yeah what a killer addition this early in and for a song this old, man it stands up! Take my 'oh shit' and raise it a 'fuck yes' as we pull the trigger on my 'Love Gun' man this one was unexpected, but Scott Coogan has taken on vocals and is absolutely nailing it, I love this song and hearing Ace play it again is a treat, I mean just watching him play the solo now is something else!! I could go home happy now, but I'm 93% sure I'd miss something else just as awesome so let's stick it out ha ha.
'Breakout' gets it a little heavier in here as vocals head to Richie Scarlet and then onto the title track from Ace's new album 'Space Invader' and it fits seamlessly into the set as the volume stays up and the riffs keep coming, but without skipping a beat we go back in time again with 'King of The Night Time World' and before I can even say anything about it we merge into another classic, 'Strutter' it is and I in all honesty never seeing Ace as a solo artist before I didn't expect this many KISS classics!! I'm loving it!! Man, Scott is nailing these tracks vocally too, massive credit to him for taking on what many can't do.
Now covering The Stones with '2000 Man' and they all loved that one that's for sure!! 'Rock Soldiers' gets heavy as we're treated to a bass solo… Just what every show needs…  but after that interlude, bass player Chris Wyse gets his shot at lead vocals on 'Strange Ways' and I'm such a sucker for when Ace leans back and plays a solo, he's just on point. Delving back into the catalogue again with 'Talk To Me' which was a bit of fun… but, as Ace straps on his light up Lea Paul, he's back, back in the 'New York Groove' and this is so cool to hear tonight and judging by the sea of phones I see hoisted down on the floor it's evident that many were waiting for this one, as we get a sing along with this one, watching this older crowd get into it was kinda fun. '2 Young 2 Die' sees Richie take vocals again for this big rocker as Richie and Ace trade licks and straight into 'Shock Me' which I'd forgotten was pretty much a gimme in the set so it was a nice little surprise for me. It sounds great here tonight too, it's loud, it's heavy and it's rock and roll. The band leave the stage as Ace stays to simply shred… His hands still work and his playing is his own, this is great to witness as oh yes his guitar starts to smoke. That is old school!!! I was waiting for a rocket to shoot from it, but not this time… We're still going as 'Rip It Out' rips it up before we get a "Thank you Sydney we love you. Rock and roll, goodnight…"
Oh, well he's obviously coming back, the roadie just stuck some more picks on the mic stand so that's a good sign as the band make their way back to the stage and YES!!! Let's head to 'Detroit Rock City' and plain and simple, they nailed it ahhhh I love that harmony guitar solo!! Just when it can't get better, it does… 'Deuce' slots in for the final song of the night and what a way to go out. I was eagerly waiting for some choreographed guitar synchronization moves but not this time. A gracious Ace and band leave the stage, and everyone here looked happy, that's what live music should do to people, take you to another place, a happy place and who better to take you there than The Spaceman…
Essential Information
Venue: The Metro Theatre – Sydney
Presented by: Metropolis Touring
Support: Witchgrinder & Graveyard Rockstars
Date: April 30, 2015
Website: http://www.acefrehley.com
Set list:
Rocket Ride
Gimme a Feelin'
Toys
Parasite
Snowblind
Love Gun
Breakout
Space Invader
King of the Night Time World
Strutter
2000 Man
Rock Soldiers
Strange Ways
Talk to Me
New York Groove
2 Young 2 Die
Shock Me
Rip It Out
Detroit Rock City
Deuce