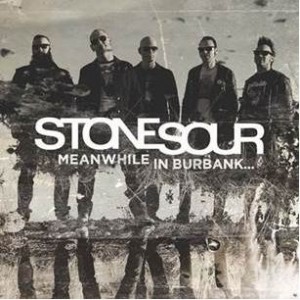 Acclaimed rockers Stone Sour have released Meanwhile In Burbank… EP digitally. The release was previously as a Record Store Day exclusive and features five covers of legendary artists including Black Sabbath, Metallica, KISS, Judas Priest and Alice In Chains, and was recorded live at Room 237 in Burbank, CA.
Stone Sour guitarist Josh Rand commented on the EP, "Back in February of 2014 while Stone Sour was touring, Corey approached me about Stone Sour doing a cover of the Metal Church song 'The Dark' for the movie Fear Clinic. I thought it would be cool not only to record 'The Dark,' but the five cover songs that we had played on that tour." Rand added, "The idea was not to shy away from a song because it was popular or pick a band that most people might not have heard, but to pick ones that truly meant something to one of us at some point in our life."
Stone Sour – Corey Taylor (Vocals), Josh Rand (Guitar), Roy Mayorga (Drums), Johny Chow (Bass) and Christian Martucci (Guitar) – have been busy working on Meanwhile In Burbank… since releasing their monumental two part album, House of Gold & Bones, which produced three US Top 5 singles on the BDS Rock Chart (Tired, Absolute Zero, and Do Me a Favor). Both Part 1 and Part 2 of the two-part concept album – following a linear storyline written by singer Corey Taylor – debuted in the Top 10 on the USBillboard 200 and #13 (Part 1) and #4 (Part 2) on the ARIA chart respectively.
Stone Sour Meanwhile In Burbank…
FOLLOW STONE SOUR
OFFICIAL WEBSITE | FACEBOOK | TWITTER | INSTAGRAM