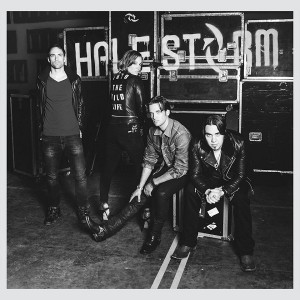 OK, so I fell in love with Halestorm (and Lzzy Hale mind you) within seconds of hearing the cowbell intro to 'It's Not You' back in 2009, since then I have spread the word, shared the love about this killer band and watched them make a name for themselves out there in this big world. I wasn't sure how it was possible but their second album was stronger than their debut, and now here we are with this, their brand new album 'Into The Wild Life', so let's go into said wild life and see what we can find…
The opener 'Scream' is an interesting way to kick things off but once you get into the groove it's delivering you find yourself thinking 'what is going on here, it's different but I love it' and the production straight off the bat is outstanding, I mean this sounds killer both musically and vocally and the outro of this one is so good as it leads straight into 'I Am The Fire' which allows Lzzy to truly warm the pipes up and show us she's still got it, I mean who am I kidding, she won't ever lose it, but you can hear the passion come through again which is something Halestorm are truly good at. These four have it down and work so well together and it comes across that they enjoy what they do, oh sweet a tempo change, love that. Oh whoa, this is different, 'Sick Individual' musically is really interesting throughout the verses but blows up into the big hook laden catchy chorus, plus lyrically this one is great, you need to check it out that's for sure.
'Amen' sounds like a song written for the stage, a place (from what I've seen via video due to the band never making the trek to Australia, yet) that Halestorm truly belong and command, killer track. Ahhh this is another side I love to this band, the ballad and with 'Dear Daughter' they get on par with 'Beautiful With You' from their last album which I absolutely love, but this one, a story teller is lyrically so innocent and well put together. Again, the production on this song is second to none as if you truly listen to it you can hear the layers and complexity of what's going on here, love it as it now hits a minute long outro of peace with a soaring perfectly placed guitar solo, for the win. No sooner have we been taken on that beautiful ride, 'New Modern Love' keeps us in the middle of the road building up for the rock to return with the aptly titled 'Mayhem' and there she is, there's not much sexier in music these days than when Lzzy hits that scream and she nails it. This one also allows the animal behind the kit Arejay to do his thing and deliver some driving beats which is cool to hear, as I mentioned before this band is so great musically, a four piece with two guitars, bass and drums and it's a winner. Nothing wrong with a little 'Mayhem' every now and then.
I already love the sound of this one by the title… 'Bad Girl's World' is slinky, smooth and unexpected in terms of what I thought we'd get musically, but lyrically it's what you'd expect and I like it. I absolutely love the guitar outro too and it and the drums blend straight into 'Gonna Get Mine' with some nice harmony guitar work, ahhh and I like this one, another catchy sing along type chorus made for the live stage and that's OK by me. Then it's time for 'The Reckoning' and yet another slower one, it's becoming a pattern… but I think Halestorm have evolved nicely into this album, there's a level of maturity here and this song in particular shows that. I really like this one, there's heart in it, oh shit and what a middle 8, that wins!!
With only a few left to go on the album we hit the first taste we had of it, the first single 'Apocalyptic' and on first listen I was into it, it's fuckin' sexy is what it is, big hooks, big riffs and the fantasy of many men around the world listening to this one, so I need a cold shower, back in a minute… OK, back and cooled down, but man, what a track, what a way to go out and I'm so glad that 'What Sober Couldn't Say' is a much more sombre effort after that last one, ahh the story of many people's lives, the words you need to say when you're drunk enough, but listening to this one, it's much deeper than just a night out, man, that was great… OK, one more… and 'I Like It Heavy' is the way that many do, but let's see how Halestorm tell us about their like of the heaviness… "Hallelujah Mother Fucker take me to church…" Oh yeah!! Now this is great, perfect way to close this album and in my opinion would be the best way to open a show, it's perfect for that. As the song fades out, we're treated to a solo vocal from Lzzy, which is cool, but as she's done, so is the album…
Now to be honest at first I was worried that there wasn't the heavy punch I'm used to from Halestorm, but on reflection, this album is their best effort to date. The songs are outstanding, the band is sounding fucking amazing and I can't wait to continue to support this band that everyone should listen to, yeah, you, go listen! NOW, get your asses down to Australia… pretty please?
Essential Information
From: Pennsylvania, USA
Release date: 10 April 2015
Produced By: Jay Joyce
Record label: Warner Music Australia
Website:  http://www.halestormrocks.com
Track Listing:
Scream
I Am The Fire
Sick Individual
Amen
Dear Daughter
New Modern Love
Mayhem
Bad Girl's World
Gonna Get Mine
The Reckoning
Apocalyptic
What Sober Couldn't Say
I Like It Heavy