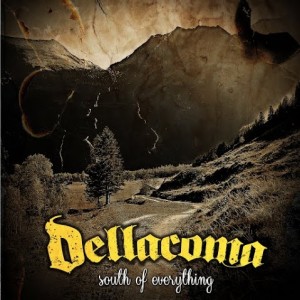 I love a debut album, I just do, it's the chance to make that introduction and make that statement of 'here I am' and Dellacoma is here to do just that. You may know Dellacoma from his days fronting the killer band Sunset Riot, but now after going solo and traipsing around the USA playing shows and kicking ass it's finally time to hear the results of these adventures.
'My Kinda Woman' is a great opener, from this one alone you know what you're going to get, this is an Aussie rock and roll record, and what I dig about the opener is the groove in the chorus, it has that swagger of a classic rock and roll song and Dellacoma has it down. 'Bloodsuckers' full of its cowbell in a very GnR type vibe keeps the catchiness up and this one is well arranged and played, man, it's stuck in my head already, good sign. Next up, 'Under My Skin' is a straight up rocker, but 'Movin' On To Something New' instantly hits the mark for me, love this one, with it's made for the stage 'Yeahs' thrown in you just know this one will go down well at a show, and his vocals really shine on this one as he takes it from a great lower tone up to the ripping chorus. There's a little bit of a Josh Todd vibe going on here and I fuckin' love it, Dellacoma really has that kick ass rock voice that really isn't around too much these days unless you go looking, especially here in Australia and its refreshing to hear it.
'Walk The Plank' and its rifftastic intro sets the scene for this one that feels like at times that it could've come straight off 'Appetite For Destruction' and whether intentional or not, man, this is great. As is 'Lesson Learned' another wildly guitar laden rocker complete with cowbell, massive shredding guitar solo (complete with finger tapping – SOLD!) and just an all-around rock fest. Oh this is a little different, this one is 'Time Falls Away' and I'm almost ready to say that this could actually be close to my favourite on the album, it's a little darker than the others and maybe that's what makes it stand out. Oh man, the melody in the solo, nice, yeah this one takes it for me.
The alum is flying through, with only a few to go let's see how it rounds out! 'Change' is fast paced, no bullshit, as is 'FJH (Get Me Out)' with once again some nice guitar work kicked to the front and the arrangement sees this one all over the place but it's the perfect puzzle all put together nicely. The closer 'Fame – Slaves – Gold' is such a good choice due to it being a techno trance dubstep track that completely changes the record up, I kid, I kid because rock and fuckin' roll! This one is far from that tripe mentioned a second ago, as we go out the way we came in, with a straight up rock and roll song, big vocals, big guitars and everything that a lot of the world still loves. Rock isn't dead, people just haven't found the right shit to listen to in my opinion, so here's a good start because this album shows me that rock is well and truly alive.
It was hard to fault this album as I really dug what was going down, catchy, rockin' tunes, great vocals, good arrangements and all around just damn good. If this is a debut effort, then I look forward to what the future brings for Dellacoma. Now go forth and spread the Aussie rock, mates!!
Essential Information
From: Melbourne, Australia
Release date: 10 April 2015
Record label: Shock Records
Website:  http://www.dellacoma.com
Track Listing:
My Kinda Woman
Bloodsucker
Under My Skin
Movin' On To Something New
Walk The Plank
Lesson Learned
Time Falls Away
Change
FJH (Get Me Out)
Fame – Slaves – Gold