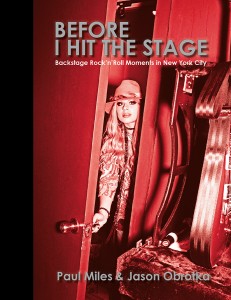 When the outspoken Gene Simmons of Kiss declared in an interview with Esquire last year that "Rock is finally dead", a wave of response followed, both in agreement and dissent. Whether dead or alive, one thing is for certain: backstage at a rock concert is not the same as it used to be.
Authors and photographers Paul Miles and Jason Obrotka went backstage at more than 60 concerts in New York City during 2013 to document what artists do before a rock show these days. What they saw is now released in their long-awaited rock photography book "Before I Hit the Stage: Backstage Rock'n'Roll Moments in New York City" (www.BeforeIHitTheStage.com) published by Outskirts Press – and it's the world's first book of rock stars on tour in one city during one year.
No strangers to backstage shenanigans, Miles and Obrotka have both travelled Access All Areas with rock bands before across multiple continents. After assisting on Motley Crue's best-seller "The Dirt", then having his own music entertainment book "Sex Tips from Rock Stars" released in multiple languages worldwide, Australian author and music photographer Miles collaborated with New Jersey fashion photographer and former Guns N' Roses tour photographer Obrotka on this contemporary book that takes readers behind the scenes as the stars get ready to rock one of the world's greatest cities.
So what's different backstage these days? Miles says, "The sex, drugs and rock'n'roll stereotype came about as many record companies stuffed white powder up the nose of their rock stars, who in turn partied backstage with groupies like there was no tomorrow. But I believe it's primarily different these days because touring has mostly replaced recording as the main source of income for artists. Therefore, they just can't keep it up anymore."
A Forbes magazine article earlier this month said, "In the old days, touring was often a loss leader to promote big albums. Michael Jackson's costly HIStory tour, for example, netted him less than his record of the same name. Many arena rock acts of the 1970s and 1980s had similar experiences." And during a panel discussion at the world's leading music industry event South By Southwest also this month, professor and superstar economist Paul Krugman concurred that live music is, and will continue to be, where artists make the bulk of their money in the music world. Furthermore, a recent article in the Wall Street Journal noted that as record sales continue to slump, this "makes bands increasingly reliant on live performances to make money." The article also said, "Sex, drugs and rock'n'roll are out; efficiency, tech skills and professionalism are in." Based on what they experienced firsthand during their year backstage, Miles and Obrotka certainly concur, and the images in Before I Hit the Stage portray a fresh look at today's inner sanctum of rock'n'roll.
Tour schedules have become quite grueling with multiple shows every week, and such travel and performance rigors can lead artists to easily suffer exhaustion and fatigue. Miles says, "It's not uncommon these days to see artists resting or trying to catch some sleep backstage before getting ready to play. Despite the stereotypes of partying and debauchery from days gone by, more and more touring artists are also choosing to be sober, and will not tolerate an intoxicated band member putting their livelihoods at risk."
Obrotka continues, "Before hitting the stage, many artists choose to spend time on their smartphones and laptops instead, using today's technology to be more connected to family and fans. As show time approaches, artists go through various routines to get ready, which often culminates in a quick group bonding session before walking on stage that helps keep them grounded. Given today's challenges in such a tough industry though, rock musicians are a resilient bunch and certainly still know how to let off steam and have a great time, especially in New York City!"
Along with VIP guests Alice Cooper and Debbie Harry (Blondie), the full list of rock bands and solo artists shot by Miles and Obrotka that feature in Before I Hit the Stage are: Andrew W.K., Barb Wire Dolls, Cherie Currie (The Runaways), Chimaira, Clutch, Danko Jones, Deniz Tek (Radio Birdman), Dinosaur Jr., Drowning Pool, Dweezil Zappa (Zappa Plays Zappa), Ed Kowalczyk (Live), Faster Pussycat, Fear Factory, Fozzy, Glen Matlock (Sex Pistols, Faces), Gunfire & Sodomy (Don Jamieson from VH1's That Metal Show), Heaven's Basement, Huntress, Imperial State Electric, Jesse Malin (D Generation), Johnny Winter, Kid Congo Powers (The Cramps, Nick Cave & The Bad Seeds, Gun Club), L.A. Guns, Lacuna Coil, Lenny Kaye (Patti Smith Group), Lita Ford (The Runaways), Local H, Mike Tramp (White Lion), Miss Guy (Toilet Boys), Mudhoney, Nashville Pussy, NOFX, Orianthi (Alice Cooper, Michael Jackson), P.O.D, Parkway Drive, Pentagram, Pisser, Red Fang, Reel Big Fish, Saigon Kick, Saxon, Smash Mouth, Soil, Soulfly, Sponge, Spread Eagle, Stryper, Sylvain Sylvain (New York Dolls), Taproot, The Dandy Warhols, The Dictators NYC, The Dirty Pearls, The Jim Jones Revue, The Rockats, The Used, The Yardbirds, Tony Harnell (TNT) & Bumblefoot (Guns N' Roses), Violent Femmes, Walter Lure (Johnny Thunders & The Heartbreakers), and Wheatus.
When asked what show stood out as the most special, Miles says, "The Yardbirds are a legendary English band from the sixties, with successive iconic guitarists Eric Clapton, Jeff Beck, and Jimmy Page – right before Led Zeppelin. Many don't realise that their original guitarist before those three was Anthony "Top" Topham, who left the band the same year they formed in 1963. Fast-forward to 2013, I was the only photographer shooting Top as he was about to walk on stage with The Yardbirds and play with them again for the very first time in 50 years! That was certainly special."
Before I Hit the Stage includes hundreds of candid and insightful images from concert dressing rooms and hallways that capture the artists in the intimate moments before their performance, presented as a unique and compelling collection of pre-show rituals and backstage antics in New York City.
For more, please visit www.BeforeIHitTheStage.com  and www.facebook.com/beforeihitthestage
Now available for order from Amazon.com and over 25,000 more sales channels worldwide, including Barnes & Noble, Powells, and Books-A-Million. Worldwide wholesale distribution is through Ingram, Baker & Taylor, Bertrams, and Gardners.