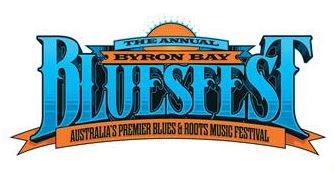 Today Bluesfest Byron Bay, Australia's multi award winning 5 day Music Festival, which will be held NEXT week over the Easter long weekend (Thu 2nd to Mon 6th of April) reports the following:
Due to drummer Patrick Carney's serious shoulder injury, The Black Keys' forthcoming concerts in Australia, New Zealand and Japan, as part of their Turn Blue World Tour, have been cancelled and sadly this includes their performance at Bluesfest on Friday 3rd of April.
The band has issued an official statement saying:
"We are very sorry to have to cancel our upcoming performances through April 23. Patrick sustained a dislocated and broken shoulder in January that required surgery. Working with the doctors, surgeons and physiotherapists since January, we had expected Patrick to be ready to return to touring in April. The recovery process and physical therapy has taken longer than anticipated and unfortunately Patrick is still unable to perform and needs additional time to heal. We thank all of our fans for their ongoing support and we look forward to getting back on the road as soon as possible."
Peter Noble, Bluesfest Festival Director comments:
"We feel sorry for The Black Keys fans all over the world who were hoping to see them at Bluesfest and other venues which they have now had to cancel due to drummer Patrick Carney's ongoing issues with his shoulder injury.
The injury occurred on January 3rd when Carney, who was on holiday on the Caribbean island of St Barts, went body surfing, and was slammed to the ground by a 'humongous' wave. Patrick's shoulder was both dislocated AND broken in the accident.
As a result, The Black Keys cancelled upcoming European dates, and announced they expected to resume touring in April when Patrick was expected to be fully recovered.
Documents supplied to me state, Patrick has been regularly attending a Sports Medicine & Orthopaedic Centre in Nashville and recovery seems to have been going to plan until a recent complication occurred after 10 weeks of treatment. Patrick has now developed Adhesive Capsulitis, known as Frozen Shoulder, an infection, which has both delayed and complicated the healing process, and as a result, his doctor has advised he cannot go on tour currently and play the drums.
Patrick requires further regular intensive treatment, and we, along with his fans I'm sure, are praying for his timely recovery.
We love The Black Keys, and will miss them at Bluesfest this year, and look forward to having them play in future. Maybe we can even give Patrick some body surfing tips from the experts here in Byron Bay, where the waves are usually pretty gentle.
The Alabama Shakes have graciously agreed to close our Mojo stage on Good Friday in the slot that was formerly The Keys, and Paolo Nutini will appear immediately before them.
We are on the hunt for one more artist to play on Good Friday, and will let everyone know who that will be soon, so agents and managers get on the phones as well as email us with your artists.
I do need to say that this close to Bluesfest, it is going to be extremely difficult to get an international artist to play, given the requirements to get visas in time, however, we are keeping all options open.
We are working with the Band of Skulls international agent and management, as well as their Australian promoter, Secret Sounds to keep their tour on track including their Bluesfest performance.
The Band of Skulls were special guests on the Australian & New Zealand dates of The Black Keys tour, and now only have a few non Keys tour shows scheduled. We will do our best to help them hold their dates in.
Lastly, Bluesfest is an extremely deeply booked festival with up to 200 performances occurring over the 5 days and nights. Whilst things like this are not what we like to have happen, we have a plethora of amazing artists playing.
I have never had a year where so many people said this is our best festival bill of artists we have presented so far.
In the end Bluesfest is bigger than any one artist – and sad as we are, to be going ahead without the Keys – we are moving on!
This still almost embarrassing riches of artists on the Bluesfest program is happening next week and preparations are right on schedule.
We are fast approaching a sell-out on Friday, Saturday & Sunday of the fest, so don't delay too long in buying tickets.
The excitement level is rising daily – it's going to be one of our best festivals EVER."
Festival Director Peter Noble
Bluesfest is a 5 day Festival presenting way over 100 individual bands/musicians and on Friday alone over 25 artists will grace the stages, including Paolo Nutini, The Alabama Shakes, Zac Brown Band, Jimmy Cliff, Hunter Hayes, Gary Clark Jr., Trombone Shorty & Orleans Avenue, Chris Robinson Brotherhood & Beth Hart…only to name a few. The Friday playing schedule is an absolute beauty – even without The Black Keys!
Bluesfest Ticket Refunds for Good Friday 3rd of April single day ticket holders:
Refunds for Friday 3rd of April (only) will be made available from 9am Tuesday 24th of March until 5pm Friday 27th of March. Please email tickets@bluesfest.com.au or call the Bluesfest office directly on 02 6685 8310 to speak to one of our friendly staff members.
If you wish to come on another day instead of the Friday or even change your 3 day ticket combination you are more than welcome to do this.
Bluesfest delivers up to 200 performances over 5 days across 5 undercover stages and the Friday playing schedule is loaded with incredible talent.
Other artists performing on Good Friday are Paolo Nutini, The Alabama Shakes, Zac Brown Band, Jimmy Cliff, Hunter Hayes, Gary Clark Jr, Trombone Shorty & Orleans Avenue, Chris Robinson Brotherhood, Beth Hart, Train, Donavon Frankenreiter, Switchfoot, Keb'Mo', Ruthie Foster, G Love & Special Sauce and many more.
Bluesfest playing schedule is available on
All festival and camping tickets are on sale through
www.bluesfest.com.au or phone the office on 02 6685 8310.
Tickets are also available through Moshtix
www.moshtix.com.au and Ticketmaster www.ticketmaster.com.au.