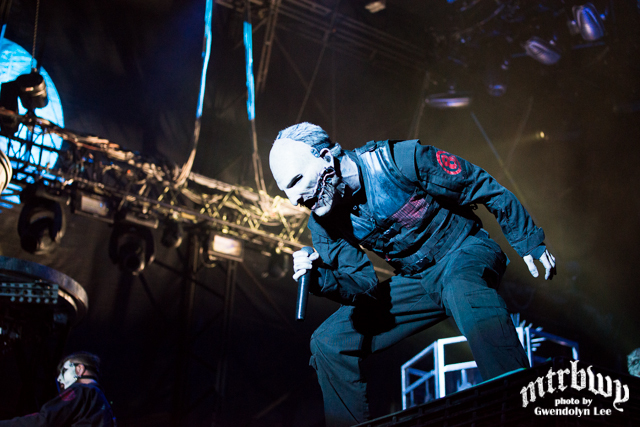 It's weird, it's come around so quick that I feel like I was only just at Soundwave yesterday… oh wait… that's right, welcome to Day 2 of the Soundwave extravaganza… now after yesterday I'm sore and weary but that doesn't stop me getting in nice and early and already losing about 15kgs from sweat in the most ridiculous heat possible, but with the talk of storms later, yeah right, we'll see how much I weigh at the end of the day…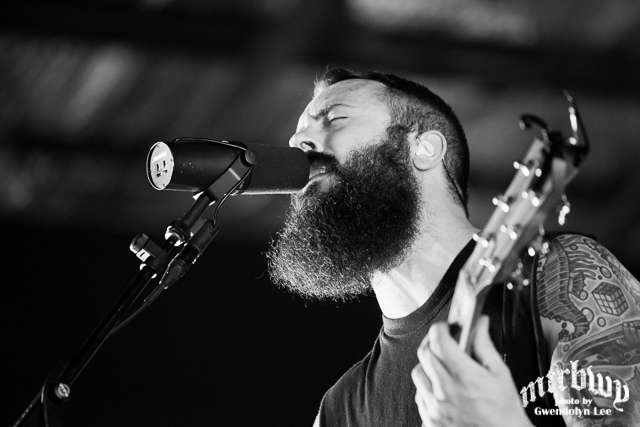 Now this early before twelve the mood is chilled and it's funny that in less than two minutes the music will begin and is gonna begin in a big way with King 810. I figure if you're going to start your day at a metal festival then why not do it with something loud and off the chain. And so murdertown begins… "Sydney, who's gonna stop us now?" Wow these guys mean business, heavy lifting business. As I turn to head to stage 5 to see what This Wild Life are about I got sucked straight back in with a monster riff and wall of sound, man these guys sound huge. Ok I need to run before they keep me here… Ha ha ok from sheer brutality to some nice acoustic tunes with This Wild Life. Yeah I had no idea what to expect here but it was the opposite of what I thought. They have a great crowd in here too, whether it's because it gets people out of the already mutantly hot sun or if they know much more about this band than I do. What's cool is, I like it. My plan today is to see as many bands as I can before the two I'm waiting for that I must see the full sets of. Those being Godsmack and Papa Roach, I've been waiting a long time to see them both so it's going to be one hell of a day.
Bare Bones are opening up the main stage today so it was worth popping in to check out a little of their set and of course it's the last two songs. It's always awesome to me watching a band from the top of the stadium and seeing the punters make their way in, to either see who's on or to make their way to the other stage in preparation for the next band, in this case is Apocalyptica. Wow, the front area is full for these guys and I've seen them before and know they can deliver so I can't wait to see what they can do here today for those smart enough to catch them.
As Jeff Buckley's version of 'Hallelujah' plays, there are arms waving and now raised into horns as Apocalytpica take the stage with 'I'm Not Jesus' gets everyone going, and with new singer Franky Perez out front they sound great. Now into their newest single 'Blood' which is sounding nice and heavy, well as heavy as 3 cellos can be. These guys are great. Alas I have Nonpoint waiting for me as I've never seen them before so it's time to go, well that was until they started played 'Seek and Destroy' and wow, the crowd are losing their mind down the front. Ok I can go now, that was awesome.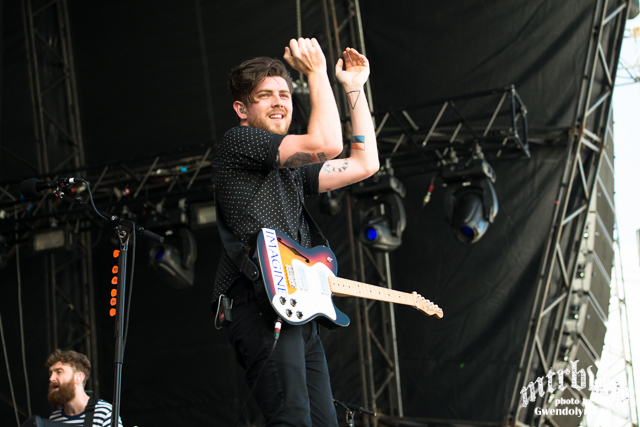 Ok, Nonpoint, this is loud and sweaty oh and I quote… "In case you don't know who we are, we're Korn…" Ha ha those big trickers. Wow they have the crowd in the palm of their hands and they are absolutely slaying everyone here. Ok this just got interesting, there's covering Phil Collins' 'In The Air Tonight' now further to yesterday's drumming incident of yesterday of 'Black Hole Sun' with Soundgarden I have to say that today the drumming has been redeemed as he nailed the famous drum part in this one. Thank god for that. This was a rockin' set from a band that a lot of people came out to see, well played Nonpoint. Walking past the main stage Twin Atlantic are sounding catchy and made it just in time for the single 'Heart and Soul' what a song. Man, it's bands like this that make me wish I'd plan my day better, come back soon Twin Atlantic, you sounded amazing. Animals as Leaders are currently playing to a huge crowd and absolutely slaying. For an instrumental band they are unbelievable. This is some of the heaviest shit I've heard and the tightest too, Tosin Abasi you are a freak.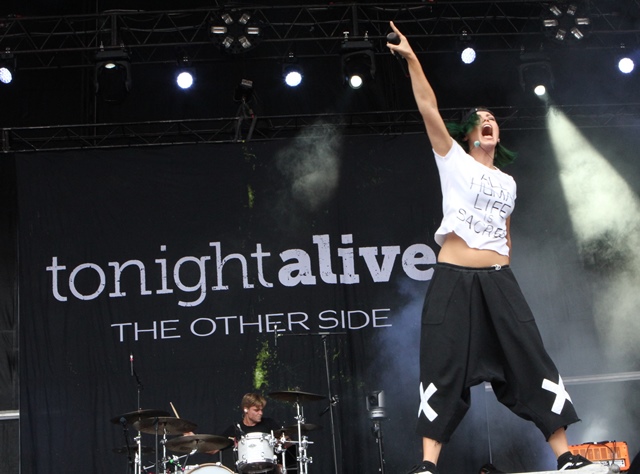 Back into the main stage and big drums lead off Tonight Alive's set and without hesitation they are on fire with 'The Ocean' this band just keeps getting better and better every time I see them and today they are commanding this attentive crowd. What I truly enjoy about this band is the fun… they are constantly smiling and love what they do, they have the most amazing interaction with their crowd and as Jenna invites everyone over for a drink of water and high five, the security have their work ahead of them as many make their way to the front to oblige her request. I feel kinda special and humbled watching these guys progress from their beginnings and to where they are now. 'The Other Side' is a stand out of the set, but unfortunately I had to run as Godsmack were up next… yes, I know I also missed Tonight Alive doing some Rage Against The Machine tracks, that hurts me on the feelings, but next time…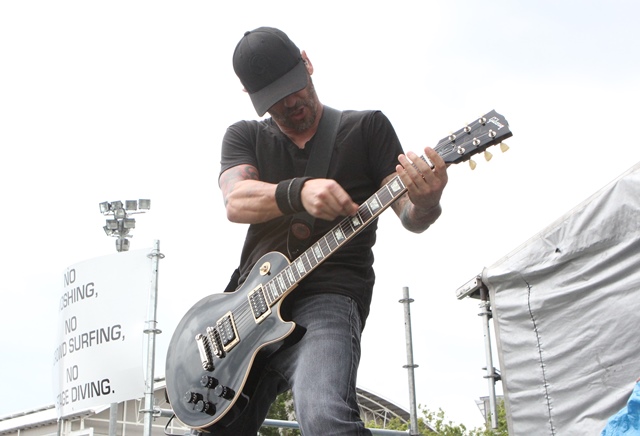 Godsmack are gracing Australian shores for the first time in their career, which is truly unbelievable, and judging by the number of people here, they have been waiting patiently too… straight up, the band hits us with '1000 hp' and they are heavy, this is a great sound, tight band and Sully's voice is on point. Through 'Cryin' Like A Bitch' and 'What's Next' well I'll tell you what's next… the biggest storm you've ever seen, the rain was coming in sideways and it was hard, "Lousy Smarch Weather", but nothing was stopping Godsmack from playing their first ever set in Sydney. An amazing drum battle between Sully and drummer Shannon Larkin was a highlight of this set, even during the rain, while we all squinted through it, we were treated to something special. There were circle pits, absolute insanity prevailing and thankfully the rain passed and as we started to ring out our clothes it was time for Godsmack to finish their set and closed with the expected 'I Stand Alone' which had the appreciative crowd cheering a spectacular set I know I won't forget for a while and I don't think the band will either.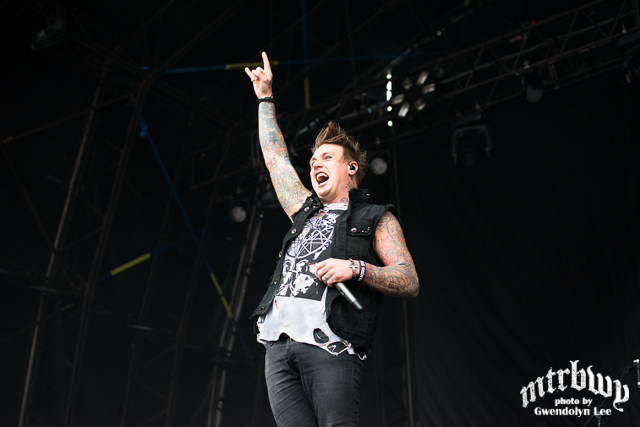 A sprint into the main stage to see Papa Roach in Sydney for the first time in 12 years was timed perfectly as they began with 'Face Everything And Rise' the title track from their new album, and it's fair to say why many say that Papa Roach are one of the best live bands out there as there is an instant intensity with front man Jacoby Shaddix showing us how it's done. 'Getting Away With Murder' is up next and is massive, then going old school with 'Between Angels And Insects' and man this crowd is pumped for this!! Uh oh here comes the rain again… but as if a little rain can stop a roach. A wall of death for 'Blood Brothers' was a spectacle, as was hearing 'Scars' live for the first time and hearing the crowd yell 'Go Fix Yourself' was outstanding. Through 'Hollywood whore', 'Kick In The Teeth', 'Forever' and '…To Be Loved' they just belt out song after song made for the stage. Then as they close with the only song they could, that being 'Last Resort' which was beyond amazing and is still a killer song. Now that's intensity and why I personally now know why they're renowned as one of the best live bands out there. Simply spectacular.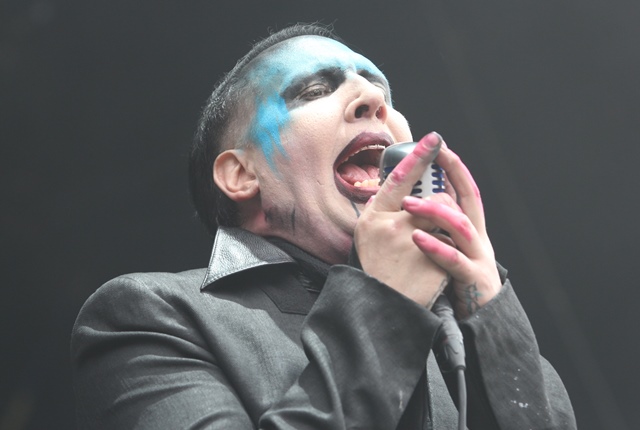 Marilyn Manson, now can he redeem himself from a couple of years ago?! Opening with 'Deep Six' from new album 'The Pale Emperor' and my answer to my precious question is yes. This one song is already better than his last full set when he was last here. He's really getting into his set today which is great to see, wandering the stage. I need to make my way to the metal stage, Judad Priest are coming up!! Oh yeah, the timing gods are on my side again as Manson belts out 'Mobscene' quickly followed by a little bit of 'Dope Show' and NOW it's time for Judas Priest!!!!!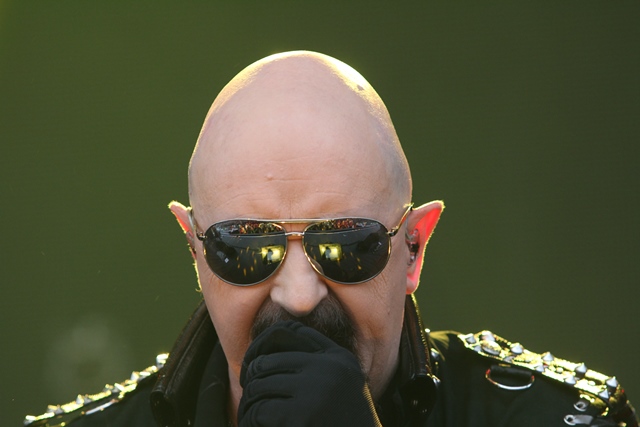 Legendary is a word thrown around sometimes too often. Today. This band. Judas Priest are legendary. Opening with the speakers blaring 'War Pigs' by Sabbath and everyone yelling the lyrics back, the band grace the stage and with 'Dragonaut' followed by 'Metal Gods' we're off and this band is on fire. Rob Halford the Metal God himself is one of the best, sorry, there's that 'one of' again, this man is the best! This is a metal show there's smoke machines a plenty and lights going haywire, not to mention the great stage set up with full video screens engulfing it all, there's everything you want. 'Devil's Child' is just wow, then the twin guitar assault of Glenn Tipton and Richie Faulkner continues with 'Victim of Changes' it also sees Halfords third costume change, something that becomes very familiar throughout the set, it's classic hearing him singing the songs behind the stage while changing anf coming out in a new get up, How fucking Metal is that! 'Halls of Valhalla' rips it up, but 'Turbo lover' is the best so far, the interaction with this one notes just how much those here have been waiting to see Priest once again. Throwing in the title track to 'Redeemer of Souls' the bands newest release, it sounds like straight up vintage Priest. Love it. Ballad time!!! Ok I'm good. 'Beyond the Realms of Death' and there's just something amazing about a heavy metal ballad. If you know me you'll know how much I love them, but then 'Breaking The Law' has everyone losing their minds, as the band leave the stage. Now how metal is this… Rob Halford just rode a motorcycle on stage for 'Hell Bent For Leather' and used it as the perfect prop for this rocker.  'You've Got Another Thing Coming' and the preceding old school hits had them loving every second of them. Closing with 'Painkiller' this band fucking killed it. What a set from a classic band. Legendary.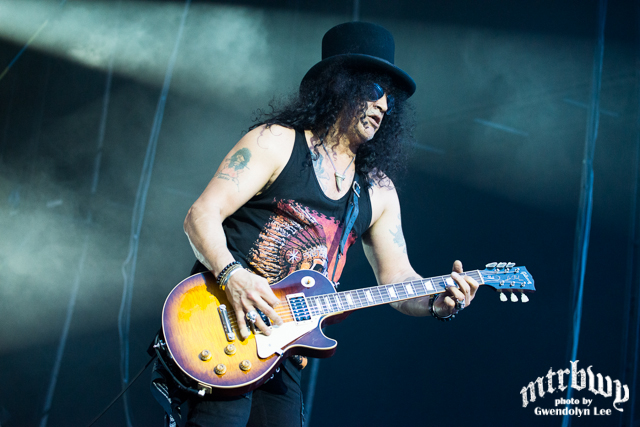 Made it back to the main arena just as Slash, Myles Kennedy and The Conspirators started 'Sweet Child O' Mine'. Perfect. Timing gods again! They still nail it, and it's funny to wonder how many times Slash would've played this song, but it still holds up. The Velvet Revolver track 'Slither' is up next and of course with 'Paradise City' to close, they take us down alright, confetti cannons explode and with that rockin' ending, a very appreciative Slash and co wave and are gone.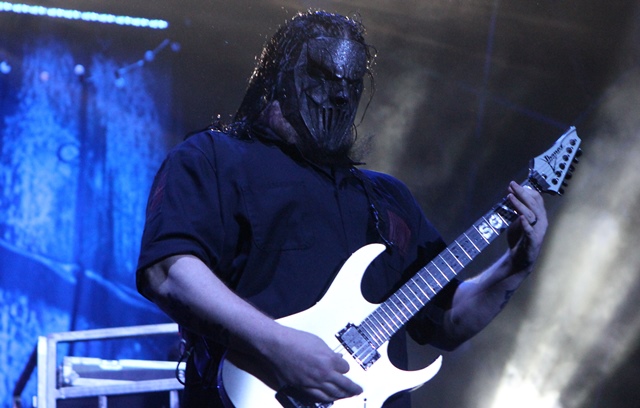 It's time for some headliners… Slipknot, actually I don't need to say anything more than that. The floor is prepped and wow, everyone just moved forward giving me so much room for activities around me, awesome. As a sea of about 5,000 phones have been lifted awaiting the arrival of the masked ones. 'XIX' is being heard as the bands intro and the band takes the stage and boom 'Sarcastrophe' and the stage is amazing, massive drum risers on each side, and just sheer insanity all over the damn place. Corey Taylor is one of the best out there at the moment and he's showing it from song one, side note, the new masks as petrifying. 'The Heretic Anthem' allows everyone to yell back a good '666' and now there are fire cannons oh yeah, now we're talking. 'My Plague' is absolute mayhem, there's just so much going on I never know where to look at a Slipknot show. "Sydney Australia is that you out there?" asks Taylor, to a resounding yes, I love a good live cliché question. 'The Devil In I' from new album '.5 The Grey Chapter' is up and you can just pen this one in now as a main stayer for any future Slipknot set. Yes!! 'Psychosocial' I was hoping to hear this one, and as always it delivers! Now, let's talk about 'The Negative One' in all honesty, how tight does a band want to be?! These guys are absolutely amazing. They don't miss a beat. 'Three Nil' allows the band's new drummer to show off some of that talent he has, man that guy can play. Ok so I've moved to the back and making my way over to catch some of Fall Out Boy's set. Gotta share the love…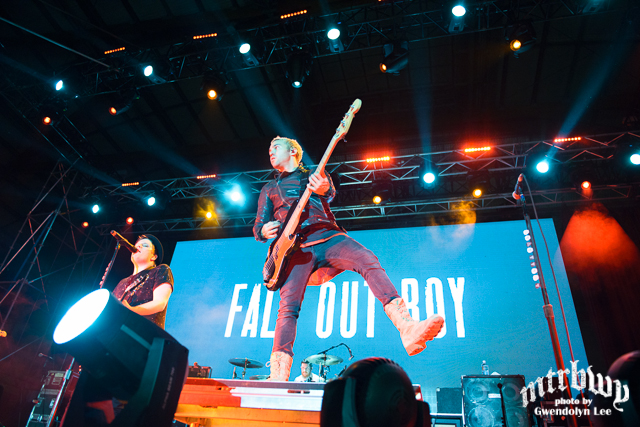 Wow, Fall Out Boy have one hell of a crowd. Times that perfectly to catch the end of 'The Kids Aren't Alright' and in time to hear all of 'Dance, Dance' well walked, Culpan. Didn't they love that one! I guess that was a lot of those here's introduction to the band so truly deserves the reception it received. 'Immortals' from Big Hero 6 and the band's new album was great to hear, really is a big live rock song. Now we've got the title track to their new album 'American beauty American Psycho' and although the album is much poppier this song comes across so well in the live environment. 'Grand Theft Autumn' gets everyone singing and thus old school favourite is always a staple in their set. Newest single 'Uma Thurman' is up and that Munsters riff is so killer and the more I hear the song the more I like it! 'I Don't Care' delivers and it's so good for me now seeing FOB so many times as they just keep getting better for a band that was once kinda sloppy has matured into a band of professionals and just seem to get better every time. 'My songs know what you did in the dark' wow that's gotten big since I saw that last and gotta love a good 'Tom's Diner' sample in 'Centuries' and bloody hell, if these guys could release a live album of the entire new album I'd be happy as these versions sound unbelievable, and so big live. 'Thnks fr th mmrs' sends everyone into a frenzy and with only one more to go, ending with their regular go to closer 'Saturday' that's it.
Not only for Fall Out Boy's set but for Soundwave 2015… man, that was fun, let's do it again next year, but as rumours are being thrown around, see you for one day next time. So many great bands, so many clashes and not enough time to see everyone, but hey, it wouldn't be Soundwave without that. It's all part of the experience. My feet hurt…
Essential Information
Venue: Olympic Park, Sydney
Presented by: Soundwave
Date: March 1, 2015
Photos by: Peter Coates – Inside Edge Photography and Gwendolyn Lee – Gwendolyn Lee Photography

Check out the full gallery HERE – Part 1 – Part 2
Website: http://www.soundwavefestival.com