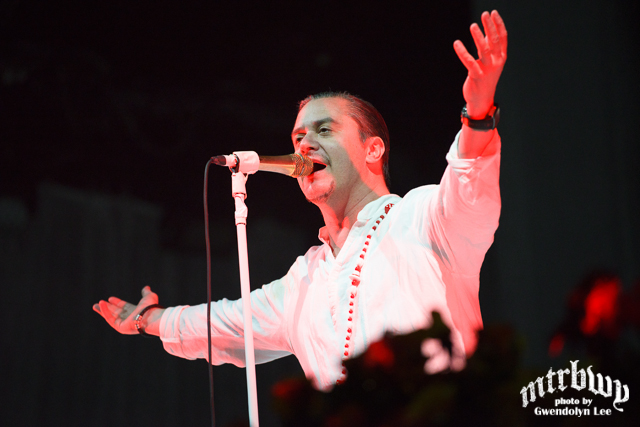 Well here we are again, trusty old Soundwave… This will be our sixth time covering the festival and we get to do it twice… Yeah in 2015 Soundwave is one louder taking on a two day monster.
Today obviously is day 1… As I sit here on the train I reminisce, how many times have I done this Journey thinking of the bands I'm about to see , well the answer is 5 as I mentioned but you know what I mean… It's gonna be fun!!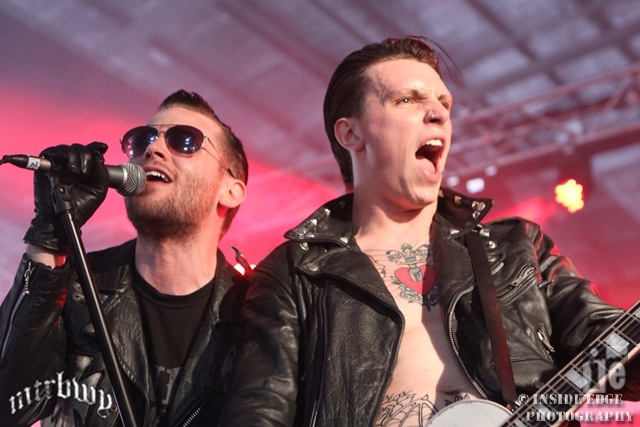 In the easiest and I mean EASIEST we have ever gotten in to the festival, there is now plenty of time to get ready and get my spot for the day to begin. Mid strength beer in hand, fifteen minutes before the first band starts, so now I'm at stage 4 and it's time for King Parot to make some noise and add a little mayhem to your morning which they did, man, they are as crazy as I heard but I couldn't stick around long as I was headed to see The Treatment for some straight up rock and roll. A smallish crowd are here but the sound is huge which is killer. Wow. If this is the calibre of band this early on and it stays like this then it is gonna be one hell of a day. This band is straight up rock and roll, shades of AC/DC, Airbourne and that classic rock sound that I can listen to for days. The songs are catchy as all get up, played with passion and as I just turned around, the crowd has kept growing as they've heard the goodness coming in from the outside. Yeah you need to check this band out. "Do you bleed Rock and Roll Sydney? Then let's bleed some rock and roll together…" That sums up The Treatment. Killer. They even made me stay for their full set which was going to be rare and not a plan at all today. Guess that was blown out of the water with that amazing band.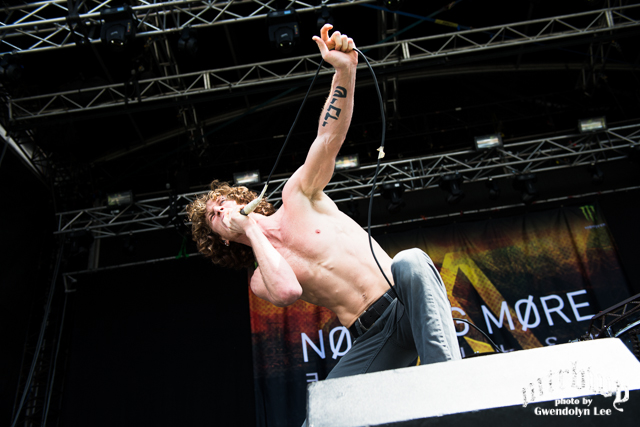 Ran over to stage 5 to see the end of Nothingmore and thankfully turned up right as 'This Is The Time (Ballast)' began which is a big bass driven rocker that is made for the stage. Johnny's huge vocals blast this one out and annoyingly I'm only here for one more and what a song to be here for as an amazing drum line just happened man that was cool, and looking at the reception they got, it's evident that they loved it and from what I saw, they can deliver! If you could come back again soon Nothingmore it would be appreciated.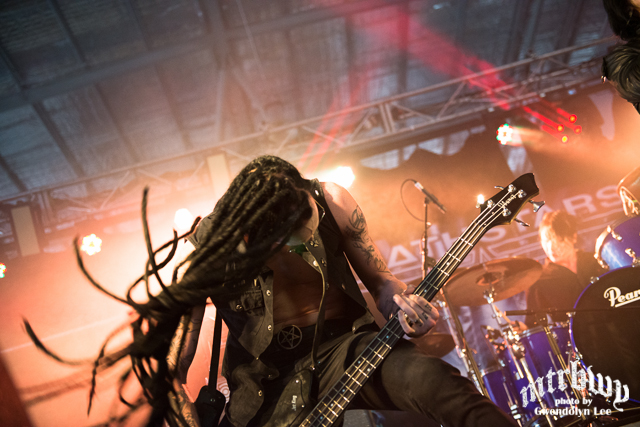 Mandatory hot dog and beer stop and thought I'd catch a bit of Ne Obliviscarus on the way up to see a bit of Deathstars and not a bad crowd at all for these guys. Walked in at the perfect time for a bit of 'Cyanide' and it's a big crowd in here for them, this is a big sound! Everything I heard about their Sidewave show with Manson is true, these guys have one full sound. Now as I see Emily's Army belting out some pop punk goodness to a nice sized crowd, this is what I love about Soundwave it brings everyone together to see bands they might not necessarily know and today already I'm finding new bands to check out and no word of a lie, just as I say that, walking past the main stage and have found One OK Rock! Japanese rockers that sound so damn good. Wow, some killer melodies there, great presence and another band I need to add to the 'make sure you check these guys out afterwards' file. What else is going to impress me today? Today is off to a great start.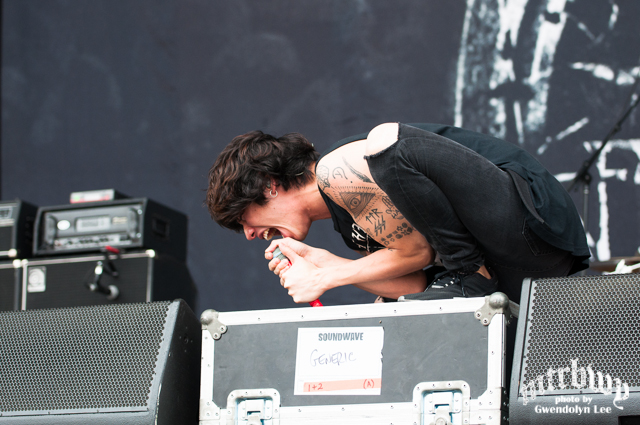 Now it's time to get a little heavier with Terror Universal, and I know it's overused but these guys are brutal. Blowing things up with a massive crowd watching, and I'm loving the heavier stage out here but the sun is relentless. Man, crazy!! *shakes fist at summer* ok time to venture into the main stage and down to get a spot for Steel Panther, yeah I know, tragic but what can I say, they kick ass. Although while I'm here Gerard Way is on and I've always been a fan of My Chemical Romance so it's cool seeing him back here today in a solo capacity. With his new album 'Resident Alien' our now of course the set it tailored to his solo material and it does sound pretty good but I'm not sure what it's lacking, I can't put my finger on it. Although I do like this one 'Television All The Time' has a nice little hook.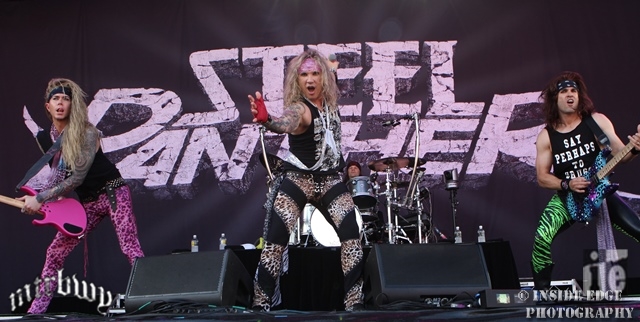 OK, so Steel Panther, you know the drill… those easily offended need not apply but those with a sense of humour, time to check in. With a set featuring songs like 'Pussywhipped', 'Asian Hooker', 'Glory Hole' you get the idea, but when they bring up a multitude of girls on stage for '17 Girls In A Row' things get crazy, it's always fun to see. Lexxi Foxx's hair solo was a highlight, as was some perfect timing between these consummate professionals, these guys have it down, the jokes, the banter and the music. Truly one of the best bands out there and watching their rise in Australia has been a pleasure, shown by the way that everyone is singing 'Community Property' back at them and they are loving it. Closing the set with 'Death To All But Metal' they sum up what Steel Panther are all about. I'll say it again as I do every time, watch these guys at least once!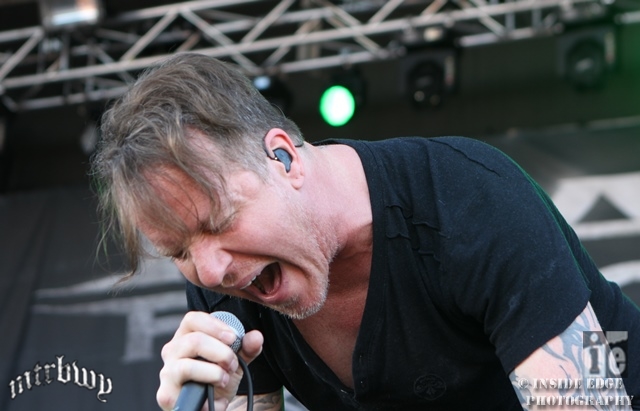 After that onslaught on heavy metal thought I'd head to some industrial metal with Fear Factory and they sound amazing. Holyshit. Mr Burton C Bell you are insane, but in the best way. This crowd is huge out here on the metal stage in this blistering heat, and no doubt there are people waiting for Ministry up next but there the reception that Fear Factory are getting is something out of this world. I really need to see these guys at one of their own shows one day…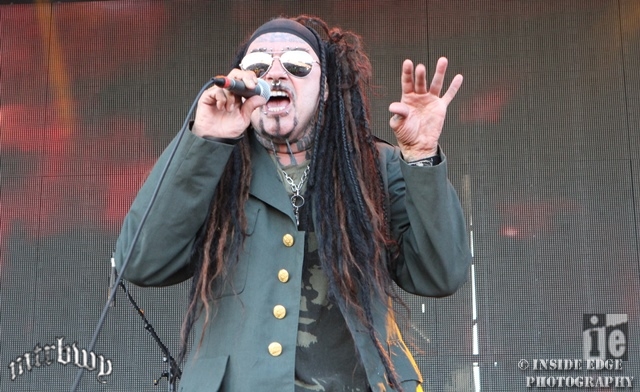 Ministry are here for the first time in forever and from what we were told, for the last time… Uncle Al takes to the stage and tells us to 'suck his mother fuckin dick' and they're like the anti Steel Panther as I feel like Ministry want to hurt me and not in a good way. 'Hail to his majesty indeed' now he tells us we need a punch in the face and it just got a little heavier. This is great, the heavy groove that these guys deliver is insane… and in something a lot of bands haven't had today there is some great use of visuals to help tell these stories. Al Jourgensen has never been one to shy away from political issues or society and that's what helped make them what they are today. I'm glad I stopped in to see what it was all about.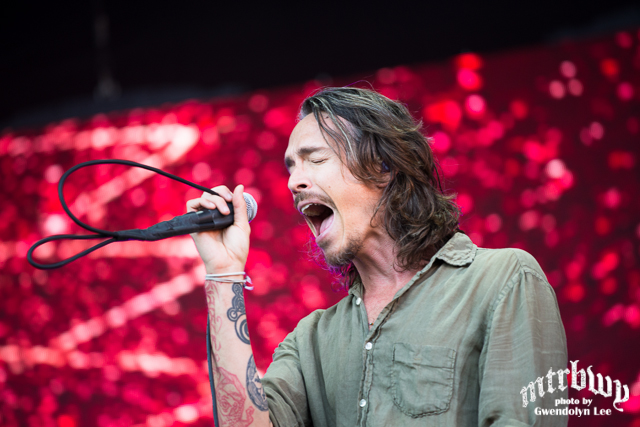 Now entering the main stage for what could be the remainder of the evening, Incubus are on and even though I saw them at their sidewave here in Sydney it was a must to return today to see what I could of their set. 'Vitamin' is up right now and sounding great once again. Now 'Pardon Me' while I enjoy this song again (pun intended)! Then a bit of 'Megalomaniac' for good measure which sounded huge at the festival compared to their set at the Enmore. Closing with 'A Crow Left of The Murder' everyone seems pleased but now it's time for the headliners to begin. The sun has gone and it's time for Soundgarden!!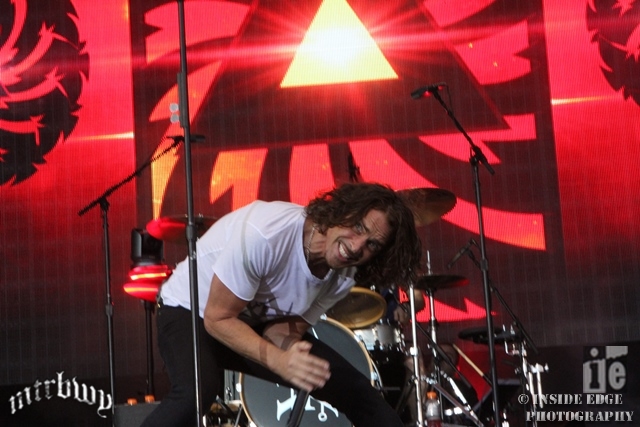 "Hello Sydney we are Soundgarden, here's a song called 'Flower'" and the unmistakable vocals of Chris Cornell are just like a hot knife through butter, oh here we go! 'Outshined' my favourite Soundgarden song and always good to hear that one and it sounds pretty damn awesome from where I am, which by the way is up in the stands giving my weary body a rest. Telling us they're going to power through the set because they want to get as much in as they can, 'Kickstand' is a short sharp rocker but the crowd erupts when the opening riff to 'Spoonman' kicks in, this song still stands up and is the perfect big rocker for a festival like this. I get the feeling this is gonna be a fun hits type set. Ha ha as I say that they play a song that's over 23 years old and they've only played once before, this is 'Kyle Petty, Son of Richard'.
Throwing in a song from 'King Animal' and that song being 'Been Away Too Long' which went down well, but this one went down much better, 'My Wave' was always a favourite as the structure of it was always classy in my opinion, and the way it breaks down and has such a varying degree of awesomeness is trademark Soundgarden. As it starts to get a little darker, the lights start to fire up on stage and get to be used in their full capacity. Oh man, this is so great, 'Fell On Black Days' kills it, I'm happy as I for some reason wasn't expecting that one in the set. 'Like Suicide' got some love too and then going way way back with 'Ugly Truth' then 'Mailman' has the band sounding as tight as they have all night, there's just something about these guys when they get together that works, although at times and I'm not sure if it is where I'm sitting, but at times the pristine vocals of Cornell sound a little off, and afterwards I got reports that down the front it was perfect, so must be the spot I was in. Although my mate Justin just called the next song, and 'Black Hole Sun' it is. Ha ha ha oh no, Matt Cameron just pulled out a bad memory for me, when I saw KISS in 1996 I waited to hear the drum part in 'I was made for loving you' and Peter Criss stuffed it up and did it wrong. Matt Cameron just did that in 'Black Hole Sun'. No. That's not how it's done. I have to laugh.
'Birth Ritual' is a very random addition to the set as it goes back to The Singles soundtrack, but what a killer addition to the set!! Now we're getting to the pointy end of this set, it's time for 'Rusty Cage' and oh yeah, what a huge song to finish on!! The breakdown at the end was a monster. Wow. With a whole lot of feedback the band leaves the stage and Soundgarden delivered. Like I said at time sounded a bit off where I was but hey, I enjoyed the hell out of this set.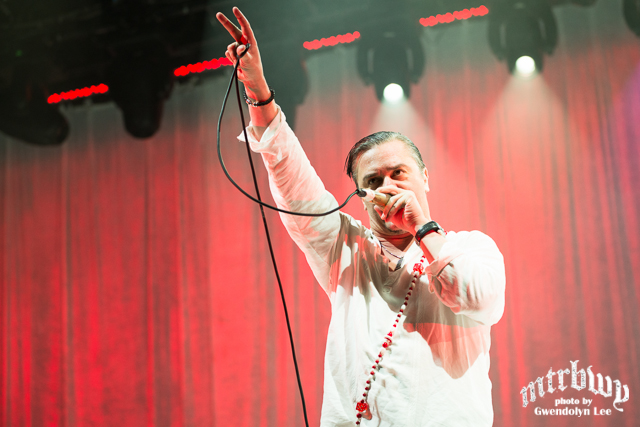 But now it's time for Faith. No. More.
Flower pots all over the stage and the members all dressed in white, Faith No More bring us 'Motherfucker' the brand new single from the band as the opener and man, they really want to talk to this guy on the phone. What an interesting way to start the set, I always wonder why bands do stuff like that and open with a new one, is it to make sure the sound is right? Is it to say 'hey we're back and here's what we're doing now?' or is it just that they are Faith No More and can do whatever the fuck they want? I think it's the later. Ahhh that's better, this is the FNM I know, 'Caffeine' is instantly rockin' as every member in this band is a consummate professional, and are so damn tight. 'Ricochet' is up and if this set stays up like this we are about to get absolutely destroyed. Oh shit 'From Out Of Nowhere' takes me straight back to 1989 in about three seconds and it slays. Wow. As quick as that intensity was there it left us to turn the cool motherfuckers into extra smoothly cool motherfuckers with 'Evidence' and it just shows how versatile the band is with their music… straight up they have just started 'Epic' and holy shit the place just went nuts. What is it? Indeed!! I for one wasn't expecting this one maybe at all let alone this early, but everyone here shouting the lyrics back was a moment indeed! 'Get Out' takes its place and then oh my god 'Midlife Crisis' and I'm in heaven, this is my favourite of theirs and still sounds amazing. Yeah now I've seen it all, FNM just lead the arena in a group sing along of 'the lion sleeps tonight' ha ha wow, that wins, Mike Patton is a genius, no doubt about that. Back to 'The Real Thing' with a big ballad 'Zombie Eaters' that builds and man, Billy Gould's bass is tight, it's almost a signature sound, actually scrap that, not almost. It is.
'The Gentle Art Of Making Enemies' flips the set again and this balance of what the band does in their set and on stage is outstanding, that was more like the gentle art of being awesome! I have to laugh as it's time for 'Easy' and it still amazes me how good this goes over with everyone as I look up to see much swaying, which is a necessity for this one. Boom. Crazy again with 'Cukoo For Caca' and absolutely on point and tight as you want. The megaphone comes out for 'King For A Day' and turns atmospheric before 'Ashes To Ashes' gets the crowd on their feet and the pit going crazy for this one. This is heavy!! Telling us that there's only one song to go is just mean… It's 'Superhero' big, loud, technical and awesome. The band leaves the stage for about two minutes and they're back. "Thanks ya cunts" is the perfect welcome back response for us all and 'Digging The Grave' is just what we needed as Mike Patton continually uses his new favourite C word as a chant throughout trying his best to not laugh as he does it. Then something from our culture as they throw in the cover of 'I Started A Joke' ha ha only FNM could get away with this, really, and this late in the set, bravo. 'We Care A Lot' is such a big, big song, that rhythm it hits, the lyrics are out of this world and it really is the only way this set and show could've closed tonight. Thunderous applause from those here, and a gracious Faith No More bid us adieu…
So that was our day one, so many bands, so much fun, we'll be back tomorrow, because as Faith No More say, "It's a dirty job but someone's gotta do it…"
Who were your highlights?!
Essential Information
Venue: Olympic Park, Sydney
Presented by: Soundwave Touring
Date: February 28, 2015
Photos by: Peter Coates – Inside Edge Photography and Gwendolyn Lee – Gwendolyn Lee Photography
Full photo galleries HERE – Part 1 – Part 2
Website: http://www.soundwavefestival.com