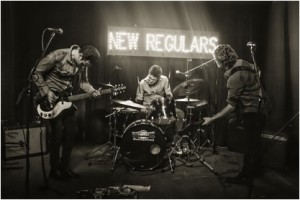 If you've missed it so far, get onto it!  Lifted from their debut EP, 'Shut Up' is New Regulars second single and at radio now where it's receiving airplay across the country, recently debuting at #4 on the AMRAP regional charts. 
Blaring from the Central Coast of NSW, New Regulars are making big noise across the country with their pounding garage blues rock. From the opening fuzzy riffery of debut single 'Stolen Honey' and grinding guitars of current smash, 'Shut Up', you instantly know there's a healthy serving of flavoursome hook-laden grooves reminiscent of The Black Keys, Jimi Hendrix and Kings of Leon, but with a sound completely their own and musicianship far beyond their years.
Heavily influenced by the greats, including Elvis Presley, there's a sense of timelessness to New Regulars, which enabled them to capture the attention of mastering engineer Brian Lucey (Black Keys) who worked with the band on their debut EP.  Their debut video for 'Stolen Honey' was also quickly snapped up by RAGE TV and showcases the deadly swagger of frontman Kurt Ellis, who's clearly feasted on a healthy diet of Auerbach, Hendrix & co, as does their new video for 'Shut Up'.
Upon release, 'Shut Up', enjoyed a #4 debut on the AMRAP regional charts and entered the Triple J Unearthed charts.  It's been receiving air play on community radio across the country, as well as some support from regional station's in New South Wales.  It's proving a particular favourite of indi-rock-roots presenters Australia-wide, with rotation increasing weekly.
SoundCloud listening link: 
Youtube video link: 
The 3-piece also pack a punch well above their weight in a live setting, already filling rooms across the East Coast of Australia, including Sydney's indie-favourite, Oxford Art Factory, as well as holding their own supporting the likes of punk-rock royalty Jebediah and Aussie legends including Darryl Braithwaite, Pete Murray, Jon Stevens, The Black Sorrows, The Radiators, and most recently, touring with Dean Ray, and due to open more shows for him in Sydney and Dapto in April.
Find out what all the fuzz is about in 2015 – a year shaping up to be the tempo change to match the brilliance that is New Regulars.
PREMIER ARTISTS PRESENTS – NEW REGULARS TOUR DATES: with Dean Ray
Thurs 16 April – Souths Juniors, Sydney
Fri 17 April – Dapto Leagues Club
Sat 18 April – Oxford Art Factory
Sunday 19 April – Rooty Hill RSL
The New Regulars are:
Kurt Ellis – lead guitar/vocals
Anthony Collins – bass
Cypress Bartlett – drums
Follow New Regulars