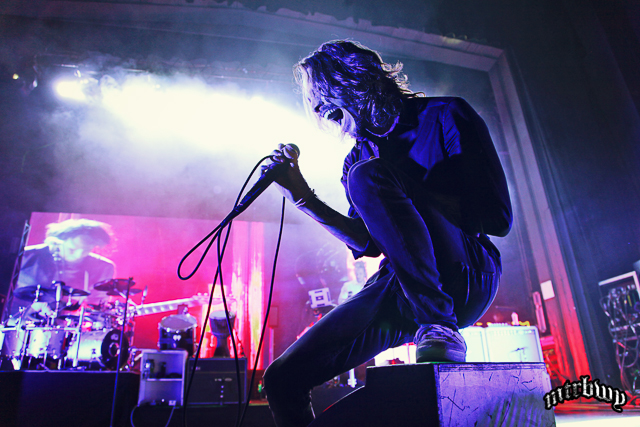 As I caught the Incutrain on my way to Incubus tonight I was thinking how I'd never seen them before and that somewhat confused me, as I've always been a fan of what they've done but have no idea why I haven't. So tonight, that changes…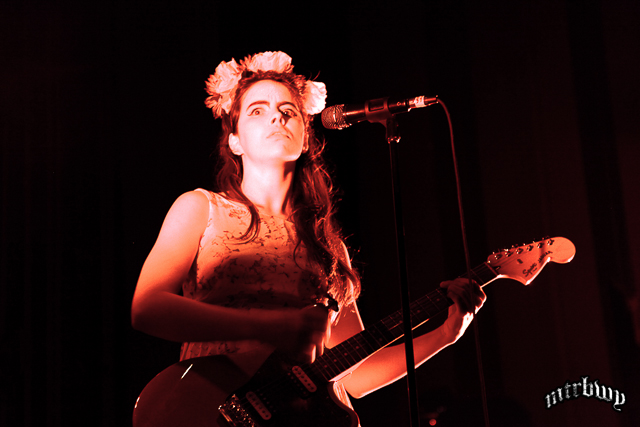 Le Butcherettes are on nice and early and although there's only no word of a lie, 200 people in here. At times with the vocals sounding like Kate Bush on every type of drug that Kate Bush was never on I must say that when this band hits their groove it's on. I honestly have no fucking idea what is going on here right now, this vocal expression in conjunction with the driving drum beat is confusing yet mesmerizing. I can't look away… Props to the bass player who is just standing there waiting for his turn, oh and he's back. So they're entertaining to watch, but boy howdy, they're batshit crazy. Ha ha yep 100% affirmed, singer has just decided to come down for a walk around the floor of the Enmore, singing, yelling and well rubbing herself on people, wow, just fucking wow. I'm not usually lost for words, but I have none…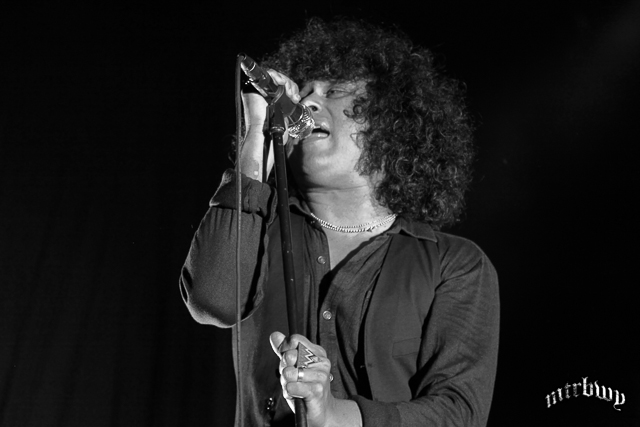 Antemasque… Here's my predicament. I was never an At The Drive-In or for that matter a Mars Volta fan, so here I am tonight seeing the two guys that were the driving force behind both bands. So here's your chance Omar and Cedric… Win me over. In what feels like an MC5 'kick out the jams' type vibe the opener is fast, it's groovy and there's enough microphone whipping to make Indiana Jones jealous. Still bathed in blue lights holy shit, this next one has a hook 'Momento Mori' and I actually like this… Well slap me sideways and call me Dizzy…
'4AM' is a little sloppy but sloppily working. The arrangements are odd, but it works for these guys, and I'm not complaining as they have it down, like with 'Ride Like The Devil's Son' which was another rocker, but this next one explodes into a frenzy with buzzed out solos and microphone dropping, but ok, I'm kinda coming around to these guys, this cruiser track as it turns into a big jam session that perfectly jumps back into the groove of the song but then it becomes a jam again, come on… Wrap it up… You're losing me… Oh thank The Lord, a new song… 'People Forget' and it gets chunky! And with that and a couple more impressive microphone tricks they're done.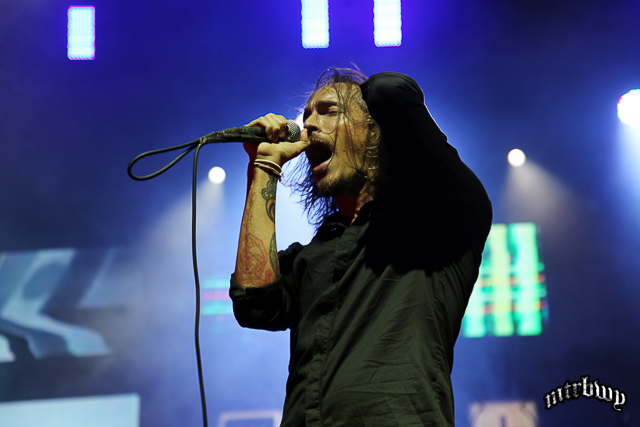 The Enmore is well and truly filling up now as the anticipation for Incubus grows… The five minute countdown comes on the screen and as the lights go down and the band takes the stage, the countdown reaches 0 and we begin.
A peaceful almost haunting opening builds to a massive cheer as 'Wish You Were Here' opens the set and what a way to do it, and I'm not gonna lie when I say that this is the one I wanted to hear so I'm going home now… Kidding. The crowd is instantly in the palms of their hands and oh wow, wasting no time at all let's throw in 'Anna Molly' and this is a perfect opening duo, and wow, what a reception they got. 'Adolescents' lets Brandon give his voice a workout as my new friend Darien the lighting guy immerses the band in a glow to compliment the simple stage set up, and in conjunction with the video screen alternating between images and the band, this for The Enmore is a pretty great set up. 'Made For TV Movie' a nice middle of the road rocker and the band are sounding great, and from what I've been told, they haven't played together for a while and you wouldn't know it, they're on point. They all sound great tonight. Hold the phone… They're playing 'Hello' by Lionel Richie, this is brilliant. You've just won everything, Incubus…
Ok, back to the rock, 'Absolution Calling' Is as visually catchy as the song is continuing with this slick production. What a track, man, you can tell everyone here is amped to see these guys tonight and it's amping up even further now… 'Vitamin' gets the floor moving and Brandon's bongo solo combo drum solo gets some love and also the biggest cheer yet. Uh oh, now he's got a guitar on… as the bass line for 'If Not Now, When?' begins, they take on this slower track and almost take it to another level with what they can do here. As the lights turn up to blinding level (thanks Darien) this song was perfection. Wow.
What once was subdued is no longer. 'Circles' makes everyone stand up as it just got a little heavier in here, that was stupendous. Red lights bathe the band as they take on 'Trust Fall' and then the slower 'In The Company of Wolves' Which sounds like the best song Oasis never wrote, this set is truly something awesome. The drums and bass lead off 'A Kiss To Send Us Off' and as the set stays that little bit mellow there is no lull in the way the crowd is taking any of this. Uh oh… The shirt is off… Watch out, that one was epically awesome. Ok now he's singing 'happy birthday' weird… Oh ok then 'Nice To Know You' much better… Oh man, that chorus is massive as everyone yells that back with gusto and a cheer to lift the roof, holy shit that's a good song. To think it's thirteen years old too… As the high of the last one crashes down to a piano ballad complete with candles 'Promises, Promises' was actually quite a special moment tonight, as the band come in to accompany the piano they just let the groove take it away, that was an Interesting spot for it in the set but what a song.
Volume returns to regular level with 'Sick Sad Little World' and musically this one was amazing, killer breakdown in it too. Well played. You know what else was well played? This song. 'Drive' was probably the most played song of the year 2000 but hearing it tonight live for the first time was pretty damn cool. Plus hearing everyone sing this one back was a bit of a moment here. What can top that? Oh maybe this one? 'Pardon Me' yeah, that'll do it. Geez, that was huge, as was 'Megalomaniac' that sees the floor jumping and the band still sounding as fresh as they did 90 minutes ago. What a way to finish… It built and exploded. The band thanks the crowd and leaves the stage.
Only to return, to applause that deafen, and 'Warning' first up in the encore, followed by 'A Crow Left of The Murder' with a little bit of some Beatles mashed in with 'She's So Heavy' the band play out this set with class. The adoring crowd loved every second of this set, oh and for those that missed this set, well… I wish you were here…
Essential Information
Venue: The Enmore Theatre – Sydney
Presented by: Soundwave Touring
Date: February 27, 2015
Website: http://www.incubushq.com and http://www.antemasque.com and http://www.lebutchrettes.net
Photos by: Annette Geneva – Check out the full gallery HERE
Incubus Set List:
Wish You Were Here
Anna Molly
Adolescents
Made for TV Movie
Absolution Calling
Vitamin
If Not Now, When?
Circles
Trust Fall
In the Company of Wolves
A Kiss to Send Us Off
Nice to Know You
Promises, Promises
Sick Sad Little World
Drive
Pardon Me
Megalomaniac
Warning
A Crow Left of the Murder