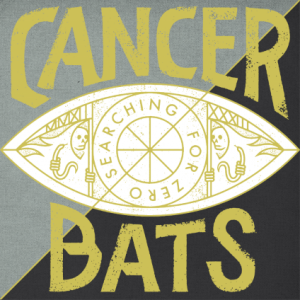 Cancer Bats are back with their new album 'Searching For Zero' their return after 2012's 'Dead Set On Living' and it's time to start my own one man circle pit at home and get ready for what I'm expecting to be a fast, heavy album!
Opening track 'Satelites' with its gentle 'whoa oh's has you settled in and then it's on… instantly what I love about this one is the hook in the chorus and musically they're on point with this one, "If you can't change, change what you can, if you can then let it go" is a great message actually, and if this rockin' beast is any indication of what the remainder of the album is like, then I'm all in… and yeah, 'True Zero' keeps it up, and what I've instantly noticed is the melodic feel these early songs have taken on, and I for one love this, the groove and driving rhythm under 'True Zero' is killer and then we have the ferocity of 'Arsenic In TYOTS' is something to enjoy and a song I can imagine would fit perfectly into what is an already incredible live presence that Cancer Bats have and a sure to be staple in their set moving forward.
Oh whoa, we get a little bluesy for 'Beelzebub' and this is new, a much slower groove and due to its complete difference to any other the other content so far I really dig this one! It was a nice little break where you could go and grab a cup of tea and just enjoy it, but make sure you're done drinking it before you get to 'Devil's Blood' as the remainder may end up on the ceiling as the onslaught returns and it's madness. I seriously don't know how Liam has a voice left as he screams the shit out of this one and what I love about Cancer Bats, the passion in the takes, the songs and the entire vibe. Take 'Cursed With A Conscience' for instance, man, this one sounds like it could be a Black Sabbath track, I mean obviously if you know Cancer Bats you know their affection and respect for Sabbath, so the homage if you like (well that's what it feels like to me) is outstanding.
We move away from the riffs to get our faces ripped off again with 'All Hail' and at all of 1 minute 28 seconds there is enough punk and metal power fit in there to light a small city. Fuck, even I'm tired after listening to that one. 'Buds' gets groovy again and rocks the place and 'Dusted' starts slowly again and just when you think that's the intro, no, another metal Sabbatheque riff kicks in and I swear it just got darker in here… *looks around confused* as I feel like something has just been summoned. This is a doomy heavy rocker and they nail it both musically and lyrically, and I'm actually sad there's only one track left.
Choosing a track to close an album must always be a tough choice for a band, it's the last thing your fans will hear before they press play again because of course you need to listen to an album over again… but when you have a track called 'No More Bull Shit' it's the obvious choice. What works for this one is not only its content but its arrangement is so good, it breaks down in the right places, hits the right groove and well, just listen to it.
Overall this was one heavy, melodic album and I fucking loved it. In only seeing the band live once I cannot wait for them to come back because Australia needs their faces melted off with this kind of awesomeness again and with this album now in their catalogue, man, let's go!!
Essential Information
From: Toronto, Canada
Release date: 13 March 2015
Produced By: Ross Robinson
Record label: Double Cross
Website:  http://www.cancerbats.com
Track Listing:
Satellites
True Zero
Arsenic In TYOTS
Beelzebub
Devil's Blood
Cursed With A Conscience
All Hail
Buds
Dusted
No More Bull Shit