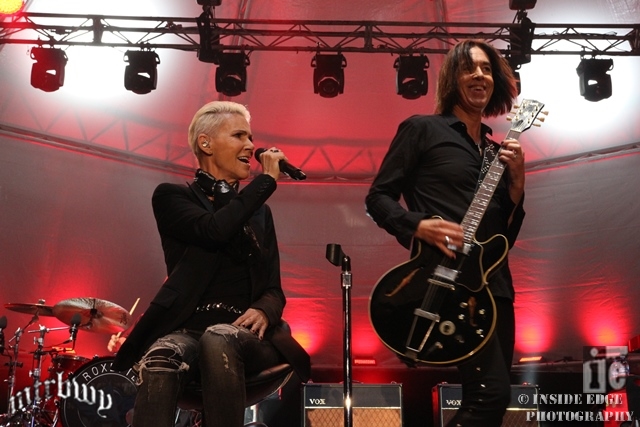 Roxette, you know the songs, you know the sound and you know 'The Look' (pun intended) but for 30 years the Swedish powerhouse have been making music and tonight here to showcase the hits of their career they couldn't have picked a better place to do it than on the steps of the iconic Sydney Opera House.
Boom Crash Opera are here to kick things off and they do so with 'Great Wall' and although not many people have made their way in, as the guys said 'the early bird gets the worm' they then tell us to 'Get Out Of The House' followed by the very early position of 'Dancing In The Storm' which sounded great tonight even managed to get a little bit of crowd involvement, seriously though, what a song that is and it still stands up today. 'Her Charity' is another that is a killer and it astounds me how this band wasn't absolutely massive, in fact some (my mate Kevin) are convinced that BCO are the greatest band and in the world and every other band learnt from them. 'Gimme' is up as are the hands, in the air that is… 'Hands Up In The Air' takes its place as does 'The Best Thing' which sounds big tonight as the lights start to work as it gets just a little darker… Surely there's only time for one more and 'Onion Skin' and these here are crazy times indeed. BCO are still a great sounding band and tonight they did well, keeping the dream alive!! Boom. Crash. Opera…
But everyone here tonight is here for one word… Roxette.
'Sleeping In My Car' opens the show with a frail and seated but still looking a million bucks, Marie centre stage as they power through this, the first of many of these power pop rockers the band  are known for. 'The Big L' is next and Per's vocals still sound exactly the same they did all those years ago, and the pairing of these two doing it for 30 years is amazing, you can just tell that this is going to be a fun show! 'Stars' sees backup singer Dea Share the vocals with Marie and it sounds great, but… 'Spending My Time' yes!!!! Awww it even has a lovely crowd sing along which was a magical little moment, now this is one of my favourite Roxette songs and even though Marie now struggles a little through the range of her vocals the song still has the power it once did and sounded so good. Slowing it down a lot with 'Crash! Boom! Bang!' a typically huge Roxette ballad the people here dug it and I feel like they can do no wrong set wise tonight. Taking it to their album 'Have a Nice Day' from 1999 we get 'Crush On You' complete with excellent cowbelling from extremely attractive backup singer. This one is a rocker and although not many knew it, they were getting into it. Ahhh another dose of power pop goodness with 'She's Got Nothing On (But The Radio)' and this one is catchy as all get up. As the band leaves the stage only Marie and Dea stay behind, Dea on a piano with the hauntingly beautiful 'Watercolours In The Rain' and what's respectful is that everyone is quiet, they're listening. I like that. Usually this is the 'hey how was your day?' Or 'how about that weather' song but tonight they're listening. Oh except for the tone deaf guy singing along loudly behind me.
'Fading Like A Flower (Every Time You Leave) absolutely amazing. Still a killer song with a killer key change and there we have my favourite Roxette song and I'm good, and you know what? That song should and could still be a hit today. What a rockin anthem. 'How Do You Do' is as fun as it gets for Roxette and that was fun for us, and actually got the best reception of the night so far. Wow. As I say that, they play the next one and you can pretty much forget everything before it. An acoustic version intro to 'It Must Have Been Love' with an amazing crowd sing along before they start the song again as the full band. When you're talking ballads, this one is up there as one of the best and even though Marie can't hit the key change anymore but she's still kicking the songs ass.
Time to get the party going again with 'Dressed For Success' and new tone deaf guy next to me is belting this one out without a care in the world, I love that. I feel like it's just going to be hit after hit and as I say that they seamlessly merge into 'Dangerous' and sometimes you forget how good these songs are and case and point this one. What a song. Band introductions and a guitar version of 'Waltzing Matilda' took us straight into 'Joyride' and that was a trip indeed, these songs are meant to be sung along to and every single one is. That was great!! This band loves what they do, they're all smiling and so is everyone here. I miss music like this. The pack of smiling minstrels leave the stage for a breather as the crowd awaits more. What's left though?
Oh yeah!! This one!! 'Listen To Your Heart'!! The power is turned down a little on this one, the notes are no longer there but the melody is and this song just rules. I mean it's over twenty five years old and I dare anyone these days to write a song as good as this now. Yeah, good luck. The outro to this one always gets me, amazing!!! Thank you Roxette, you've still got it. 'The Look' that is… see what I did there? I mean there was no way these guys would be allowed to leave the stage without giving us the song that introduced this band to most of the world. Tonight it was the perfect closer and the perfect memory of a band that has endured a thirty year career, as the band takes a well-deserved bow, Marie and Per take the stage alone and with huge smiles they bid us farewell, as Per takes Marie's arm, he walks her off the stage and I look around and everyone is smiling.
I can sum this gig up in three words. That. Was. Fun.
Essential Information
Venue: On The Steps of The Sydney Opera House
Presented by: Live Nation
Date: February 25, 2015
Website: http://www.roxette.se
Photo by: Peter Coates – Inside Edge Photography – Check out our full gallery HERE
Set List:
Sleeping In My Car
The Big L
Stars
Spending My Time
Crash! Boom! Bang!
Crush On You
She's Got Nothing On (But The Radio)
Watercolours In The Rain
Fading Like A Flower (Every Time You Leave)
How Do You Do!
It Must Have Been Love
Dressed For Success
Dangerous
Joyride
Listen To Your Heart
The Look