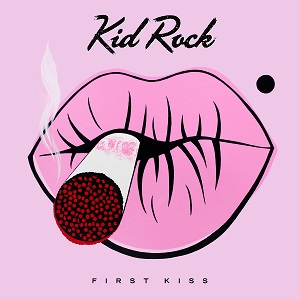 Kid Rock has come a long way from his days of a flat topped rapper and thank god for that… his last few albums to me have been perfect, so when we get a chance to check out 'First Kiss' before anyone else, there is a little bit of excitement. I'm also going to review this on first listen too, so this'll be interesting…
The lead track and title track 'First Kiss' is along the lines of 'Born Free' with a little bit of a 'Summer of 69' feel and if you want a catchy, straight up American style rocker, well here you go. If this song is anything to go by, then I'm looking forward to the rest of the album. He always comes out strong and this one is no exception. Kid's voice is so perfect for songs like this and as much as I love songs like 'Bawitdaba' and 'Devil Without A Cause' he just owns this country rock vibe. 'Good Times, Cheap Wine' is exactly as the song says, this is a straight up fun party song, and 'Johnny Cash' has such a good vibe and lyrical theme to it, essentially he wants to be your Johnny Cash, well not yours, but the person in the song. 'Ain't Enough Whiskey' has the perfect 4/4 groove to it and well, as per the previous few tracks, the song titles pretty much sell the song to you and that is part of what makes Kid Rock good at what he does, and this one with its twanging guitar throughout really give the song the right vibe.
'Drinking Beer With Dad' slows the album down a little and tells a nice little story about growing up, and 'Good Times Looking For Me' sees a fiddle come out to play and country this one up and will be one of those fun live songs that will get the crowd going, plus it had a cool song ending, so that ruled. Ahhh now this one I like… 'Best of Me' is a much slower one, and is another somewhat autobiographical song from Kid, and you know what? Good… he knows how to write them and deliver them that don't make him sound egotistical or self-absorbed. That was probably my favourite so far, besides the title track, and it's crazy that there are only a few left on the album.
'One More Song' rocks it back up a bit and well, hmm… it feels a little reggae meets Buffet, the programming here musically is different to all the others on the album, and although that aside, the song itself is catchy and an instant Kid Rock song that's for sure, but stood out a little from the prior tracks. Oh man, I like this one… 'Jesus and Bocephus' is a much slower track, and again, title wise, sounds a little gospel as the organ plays throughout it, but the song itself, a really cool way to round out the album. Lyrically Kid does it again and round of applause.
'FOAD' is the last track on the album, and at just under five minutes it's probably one of my favourite songs I've listened to today, the heartfelt sentiment of what 'FOAD' stands for really come across in this one and not to give it away but the middle two letters stand for 'Off And' and it's hard to not have a little giggle when listening to this one as we've all felt this way… Now that's what I call a cool way to close an album.
There's a part of me that doesn't understand why more people don't get into Kid Rock… this man knows how to write a song and has one hell of a voice. This new album will hopefully get him heard a little more, as he deserves it, he may truly not care or need it, but hey, these are good songs that draw you in and for me, that's what good music is all about. Oh and in case you missed it or didn't know, his name is still Kiiiiiiiddddddddd Rock!
Essential Information
From: Detroit, MI, USA
Release date: 20 February 2015
Produced By: Kid Rock
Record label: Warner Music Australia
Website:  http://www.kidrock.com
Tracklist
First Kiss
Good Times, Cheap Wine
Johnny Cash
Ain't Enough Whiskey
Drinking Beer With Dad
Good Times Lookin' For Me'
Best of Me
One More Song
Jesus and Bocephus
FOAD