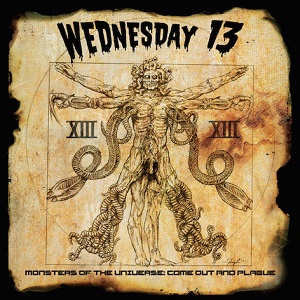 I'm quite partial to a concept record, one that sets up and tells a story and keeps you wanting to know what's going to come from the beginning through to the final song, what it all entails and just why this was the story to tell. Wednesday 13 is back with a new album, this time with a concept and one that is pretty well done in my opinion.
From the opening instrumental 'The Fall of All' with its spacey tones and almost demonic at times groove, you wonder what is going to happen, and it couldn't be any more explained than with 'Keep Watching The Skies' a riff laden monster that means business. "Bow down and accept your fate, if you're praying to God you're praying too late…" are the opening lines and as I get into this one truly now fearing that 'Everything I know is a lie' and you listen and picture what this will be about, and I like it, I've always been a fan of UFO's and the conspiracy side of things and to hear it put into this album is kinda cool, not to mention a little cameo from Channel 7 news here with a grab, way to go Mark Ferguson. It doesn't stop for a second as 'Astro Psycho – Galactic Blood-Drive' tunes in and turns up to play, it's just on three minutes and keeps the volume up high, as does 'Come out and Plague' and this one is rifftastic!! This one suggests we come out and plague and celebrate the end of days, and I know he doesn't mean that kinda awful movie with Arnie in it, because there's only one good Arnie movie to talk about and that's motherfuckin' 'Predator', oh and what a Segway, I didn't even mean that… or did I? *shifty eyes* but my favourite track on the album is the next one, a song with its name taken from the aforementioned 'Predator' and 'I Ain't Got Time To Bleed'. This one is a straight up rock and roll song, it has a hook, a bitchin' guitar solo and will be so good to hear live when I'm sure it takes its place in the set. I also now want to watch Predator again, so I'll be back to finish this in 107 minutes or so…
OK, I'm back, man what a cool movie… anyway, sorry, got distracted… back to this album that is kicking my ass so far, but it slows down with an equally creepy instrumental much like the opener but less brutal and more even creepy, it takes us into what will be the next single from the album, 'Serpent Society' and if you've been following the concept of the album so far, this song title should make sense to you, or as Wednesday put it to us " the whole reptilian agenda if anyone knows about that, and it kind of ties in with my story of a reptilian race that secretly kind of runs the Earth along with the government and blood lines" so yeah, take that! It's as close as an Alice Cooper style track as we get on the album, and that rules to me, it just has that vibe to it. 'Bombs, Guns, Gods – This is a War' sounds exactly as you'd expect it to with a title like that, and 'Planet Eater: Interstellar 187' gets the double kick thumping and much like the 'Alice' like track before, this one has 'Zombie' all over it, and it's a fucking monster!! Man, someone get that drummer a bottle of water to help him cool down, oh and a fade out?! I love a good fade on a song!!
Let's jump to the complete other end of the spectrum with my other favourite track on the album 'I Love Watching You Die' with a keyboard intro, it slows the tone down a few notches in what could almost be considered the ballad on the album, but the sentiment of a love ballad um, isn't here on this song, in fact, well the title says it all, you can listen to it to understand, but it's truly a standout here. As we now only have four tracks to go, the album really is coming together nicely in my opinion, these songs are strong, they're catchy and overall well produced, so I'm looking forward to what the last four have in store for us. 'Into The Crop Circle' keeps it in the middle of the road and 'Over Your Dead Body' is another with a chorus destined to be screamed back to the stage from the pit when played live, with some killer riffs, great continuation of the story, and if you've been following it, well, you almost don't need to, just read the song titles and you'll see how well this is going for all involved…
'The Arrival' is the third instrumental bridging piece, and this one sets up the title track, the closer, 'Monsters of the Universe' and what a way to go out. At over six minutes long, the story comes to a close, with a bang too, instantly the head is banging along with this one and that's something I love about this album in that there hasn't been a bad track on it, and what I really like about this track in particular is the way it trails out musically after the fucking evil last lines of the song and album, then the last almost two minutes of the song leave us wanting more, well, I want more anyway, are we all dead? Are we doomed? The creepy sounds that began the album play out again at the end and we're done…
Now to be fair, I've listened through this album around five or six times and with every listen I like it more and more, the flow of this album is really well done and in terms of a concept, it's a winner. Now I'm actually worried that if the lizard people and aliens are going to attack and if and when they do, well, I'm hoping we can all sit down and play them this and they'll all be so impressed that someone wrote an album about them, buy a copy and go home. So, in summary, Wednesday 13, you may save us all with this album. Thank you!
Check out our interview with Wednesday 13 HERE
Essential Information
From: USA
Producer: Wednesday 13
Release date: 16 January 2015
Record label: 3Wise Records
Website:  http://www.wednesday-13.com
Tracklist
The Fall of All
Keep Watching The Skies
Astro Psycho – Galactic Blood-Drive
Come Out and Plague"
I Ain't Got Time To Bleed
Bloodline 666
Serpent Society
Bombs, Guns, Gods – This is a War
Planet Eater: Interstellar 187
I Love Watching You Die
Into The Crop Circle
Over Your Dead Body
The Arrival
Monsters of the Universe