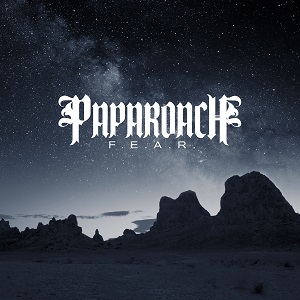 Now, I've been a fan of Papa Roach for some time now, well actually all the time, since I heard 'Last Resort' I knew there was something about this band that was pretty cool, so 1, 2, skip a few and with a number of albums under their belt they are back in 2015 with their new album 'F.E.A.R'
The opening track is the title track, with F.E.A.R. standing for 'Face Everything And Rise' and what a perfect way to kick it off, this one has the hook, has the anthemic chorus, has the groove, has the message and is just what you want from Papa Roach, the only downfall is that it starts so strong I hope the rest of the album continues with this strength. All I know so far is that I can't wait to hear this one live as it is going to blow the roof off any place they play in. Welcome back Papa Roach. 'Skeletons' riffs it up early and slows it down through the verses to set the tone, and again, 'next stop, hook central' great chorus and great lyrics, this is what I've always been partial to in the world of Papa Roach, the honesty and realness behind their lyrics and this one is no different to pretty much any song in their catalogue.
'Broken As Me' see above… yeah I feel like I'm going to repeat myself a lot in this review, but when each song so far ticks all my boxes for a good song then what do you expect? This is another heavy one with a chorus that will see many a fist being thrust towards the stage, and I for one will be one of those fists this coming February. 'Falling Apart' starts with the chorus straight away and hits a wall of sound, I'm really digging the vibe of this one, musically it's killer and I think the haunting keyboards / programming hiding under all the layers of guitars really helps this one along. The slower middle 8 breakdown here is a nice surprise and gives the song a deeper feeling, nicely played. I must say though aside from the opener, this next one 'Love Me Till It Hurts' is my absolute standout, it's the first of the slightly 'slower' tracks on the album and it just has a great sentiment to it and if you really listen to this one, they nailed it. It has that big chorus that hits you after the subdued verses and in terms of arrangement this one smashes it, if this one is given the chance to hear the light of day as a single then we have a winner.
Let's call the next one the ballad on the album, 'Never Have To Say Goodbye' is that power ballad of the new generation, sure no one writes or records power ballads like they did in the 80's, but I'll take a song like this as close enough. Oh I like this next one, 'Gravity', the closest to a 'rap' we get on the album and only during the verses, but that chorus, whoa!! The coolest thing about this one is it also sees an appearance from the delightful Maria Brink from In This Moment and her distinct vocals balance with Jacoby's perfectly, plus she gets to use her angry voice in it too which is always welcomed.
The volume knob gets turned up again for 'War Over Me' and listen to this one and see if you can tap into the lyrics, very well written and rockin', then 'Devil' is another slower one, and hits that melodic groove and build that Papa Roach continue to be so good at, oh man that middle 8 is sweet. With only a few to go, this has been one solid album so far, so let's see what closes it off… 'Warriors' is very keyboard / program driven but then heavy for the most part, the guitars sound great in this one, nice work Jerry. Then we have 'Hope For The Hopeless' which this late into the album is amazing, this one is fast and strong, the hook in the chorus is another one perfect for the stage, and I just love the way this band puts songs together, they know the formula, man, and kudos to them. Closing the album is 'Fear Hate Love' and BOOM, riff hits you in the face and the tempo on this one is up bumped up a few notches and man, what a way to go out. A huge rocker with great lyrics and a great breakdown that really brings the song together and has kick ass lyrics that you feel. That Jacoby can write a real lyric, I tell you what… plus I love the ending, hits the last beat and the album is done.
What I loved about this album is that only one song cracked four minutes, and just, but there are twelve short, sharp and to the point rockers. Papa Roach have made one fucking killer rock record and more bands should take note as this to me is how it's done. They've come from a rap-rock stigma to fully fledged rock band and if this is the calibre of music they're still making after fifteen years, then I for one welcome much, much more. Hey, every album that comes out this year, you've got some competition!
Check out our interview with Jacoby Shaddix of Papa Roach HERE
Essential Information
From: USA
Produced By: Kane Churko & Kevin Churko
Release date: 27 January 2015
Record label: Sony Music Australia / Eleven Seven Music
Website:  http://www.paparoach.com
Tracklist
Face Everything And Rise
Skeletons
Broken As Me
Falling Apart
Love Me Till It Hurts
Never Have To Say Goodbye
Gravity
War Over Me
Devil
Warriors
Hope For The Hopeless
Fear Hate Love