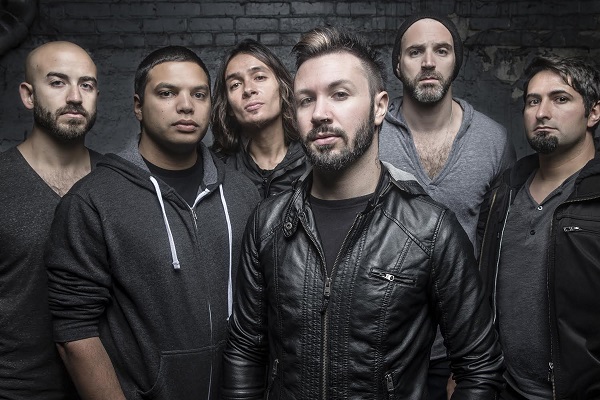 "So as a whole it's something that we can all listen to and enjoy each other's musical contributions to the album which is something that only seems to have added colour and variety and richness to the sound in my opinion anyway, so it's something we're all very proud of…"
We at MTRBWY have had the chance to speak to the guys in Periphery a few times now and watched them come up and up with every release, now with their amazing double release of Juggernaut: Alpha and Juggernaut: Omega, they continue to do no wrong in our opinion. All we can say is make sure you check them out, and if you don't know of Periphery, well, here's a killer place to start!
In Panama City on a day off on tour, we spoke with Nolly of Periphery about the bands new double release of the Juggernauts and their concept and creation as well as touring and more…
You're about to release both Juggernauts – Alpha and Omega in the next couple of weeks, obvious question, why did you feel the need to split these and release two albums simultaneously?
There's a few different reasons and the main one is just it's such a long piece of work, it is eighty minutes of material and even for us for in one go, as I'm sure you know, the album is a concept album and half way through there is quite a sided shift for the darker in the concept material. It did make sense to us to split it up and as the music sort of follows the vibe of the story, that also goes through a bit of a shift from a slightly more upbeat and playful sound although still quite dark, to a much darker, slower kind of heavier kind of sound. So on that end of things as well it kind of makes an interesting shift and an interesting contrast between the two albums. Finally because it's just an opportunity to add more artwork and show a little bit more of the other stuff that goes with the whole concept as well, so for all those reasons we were keen to split them up and thankfully our management and label all decreed it was a good idea too, and that's how we ended up with Alpha and Omega.
Can you tell us a bit about the concept behind Alpha and Omega?
Well we're trying to keep that to a little bit of a minimum until people have had a chance to listen to them and really get to know them their selves, cause the main thing we want people to do is sit there and listen to these records in their entirety and hopefully with the lyric book out as well so they can really follow what's going on in the story. It's not something that's going to be left up to their interpretation; it's a very specific story that goes through the whole album. So now, the main thing we really want to assess is that it's a very dark and brooding kind of story, the fans of graphic novels and a lot of darker stuff might really get into it. Speaking of graphic novels, we're really hoping we might be able to do something with that format as well with the Juggernaut story. Our main thing would be just go out and listen to the albums if you can and see what you think.
The Juggernaut project has been a long time in the works, what was it like hearing the end result?
Well the Juggernaut project as you say has been around for a long time but it's kind of shifted, in fact the Juggernaut albums we've put out now bear little resemblance to the idea Misha had eight or nine years ago when he came up with the idea of doing a concept record. It is awesome however to finally put out Juggernaut and I know it's something the band is very proud of as it's very cool to write an album with a concept rather than just starting with a blank page and having to come up with something, anything, which is something difficult for any artist I feel *laughs*, so it's just been an incredible experience for us all to sit down and really, truly collaborate together in putting together music for this record on every aspect, from the riffs to the arrangements to the lyrics to the vocal line, it really has been a collaborative effort through. Then to be able to record it ourselves and not have to work on somebody else's time and to be able to put all of the attention to detail in every aspect of the record has been really great too.
You took on producer duties for the albums I believe, killer job man, how was it taking on such a big idea?
Yeah well the whole band has their own production input but I definitely took the helm as far as the technical recording process went, it's very much my strength and something I'm keen to be able to bring to the band as everyone in the band does have their strengths, so for me recording is something that comes quite naturally and something I have a lot of experience with, so as we didn't have anyone to do that, it was the role I very much wanted to step in to.
The name speaks for itself, the albums are collectively a monster, what if anything did you guys do differently on this project compared to previous albums? Was it different because it was a concept?
Yeah a little bit but I think what I touched on earlier with the name thing, it's a collaborative effort, the first record was very much Misha's in him being the guitarist and founding member, it was very much his vision of Periphery and material he'd written very much in isolation. Periphery 2 did include a bit more collaboration on songs but still a lot of the material was entirely written by Misha, so this time this is the first full length, well two full lengths that were written purely collaboratively and I really mean that, every member of the band has had substantial input into the record. So as a whole it's something that we can all listen to and enjoy each other's musical contributions to the album which is something that only seems to have added colour and variety and richness to the sound in my opinion anyway, so it's something we're all very proud of and I'm sure it's something we're going to be working to in the future moving forward as well.
I really dig the vibe of some of the 'slower' songs on the releases, what was the idea behind featuring some of these songs?  'Priestess' as an example
You know as band we've always liked to not limit ourselves to any one sound, and with a song like 'Priestess' was something that very much Mark and Misha headed up, both of them have some incredible melodic sensibility and a lot of the riffing in the song is Mark's. It's very interesting a lot of it was planned to be on a clean guitar and as we recorded the whole intro on a clean guitar and in the end we decided to try to do it with an acoustic guitar and that's actually the first time an acoustic guitar has featured as a main instrument on a track, there's been one interlude on Periphery 2 that we used an acoustic guitar, so we're always up for experimenting and pushing our send in a new direction. Additionally to that because of the story and the concept, it really made sense in certain places of the story to have these slow, brooding songs and it's an opportunity for us to explore that sound in a way that we wouldn't get to do in a different context, so it's been a lot of fun, we'll have to see if the next album goes down that route, perhaps that would be that we want to go in an entirely different direction again for the next album, but I don't think I'm ready to think about that just yet.
With some of those songs though, do you think about the live show when creating them? Will they make an appearance in a live set or purely for the album?
I'd really like to think they would make an appearance, actually everyone in the band feels the same way, at some point it would be great to play every song off the Juggernaut albums, maybe not all in one go, but I don't think there's any songs we would shy away from playing. Some would certainly take a lot of work, like the title track 'Omega' from the second album being an extremely long and technical piece of music *laughs * might take quite a lot of rehearsal before we build up to that one. Certainly songs like 'Priestess' could be really cool to explore doing live.
Since you joined the band in 2012, what for you has been the most notable change you've witnessed take place for the band in this time?
I think as a band everyone is constantly moving to prove themselves as musicians and as people and communicators. Being in a band with five other people is very much like that cliché, it's very much like being married to five other people *laughs* we're always having to learn about each other and how we react in certain situations and I think it's only made us stronger as a band. Then undertaking things like this last concept album as a collaborative effort has pushed this even further and I think as a band everyone feels stronger than ever. So that would be the biggest change, just moving to a more collaborative vibe within the band and I can't wait to see what the next thing the band can achieve with the next think we put our minds to.
Touring wise, when do you think we can expect to see you back in Australia?
I would love to say that it would be sometime soon and it very well might be, I don't think we have any concrete plans just yet, but the second half of the year is completely open for us, so I know everyone in the band loves touring Australia and personally it's one of my favourite places in the world to visit, so I really hope we get a chance to visit later this year, if not, we'll definitely be gigging on the Juggernaut albums for sure in Australia.
Maybe Soundwave 2016 could be an option?
Perhaps, I don't know, we should come over and do some headline shows or support a bigger band in Australia, but Soundwave was an incredible experience and perhaps we might, well I hope we get the chance to do that again at some point.
Is there anything you've done over your last three years with the band that you never thought you'd be able to do?
I mean to be honest, everything we're doing now. Anytime we fly around the world and get to play for fans is pretty mind blowing. Last year we got to play around Asia and play places like Thailand and it just blows my mind that we have fans out there, it really is a dream come true. So beyond that, just everything we do is a blessing and everyone in the band feels the same way about that, we never in a million years thought Periphery would reach what it's done today, so pretty much all of that. Then getting to take liberties with things like recording double albums and hopefully that going down well with the fans is just amazing, so we really can't thank everyone that's been involved with Periphery enough.
Lastly, let's predict the future, finish this sentence for me, by the end of 2015, Periphery will…
Have… ooh… I'm trying to think of something witty for this one, or do you want a serious prediction?
Your choice…
By the end of 2015… *pauses* Hmm…  I'm gonna go with Periphery will have played on a boat, just a random guess, but I'm going to guess that Periphery will have played on a boat by the end of 2015. That would be great, yeah, let's see if that happens…
Essential Information
From: Washington, USA
Band members: Spencer Sotelo – Vocals, Misha Mansoor – Guitars, Matt Halpern – Drums, Jake Bowen – Guitars, Mark Holcomb – Guitars, Adam 'Nolly' Getgood – Bass
Website: https://www.periphery.net
Latest release: Juggernaut: Alpha & Juggernaut: Omega – (Out Now – Roadrunner Records Australia)