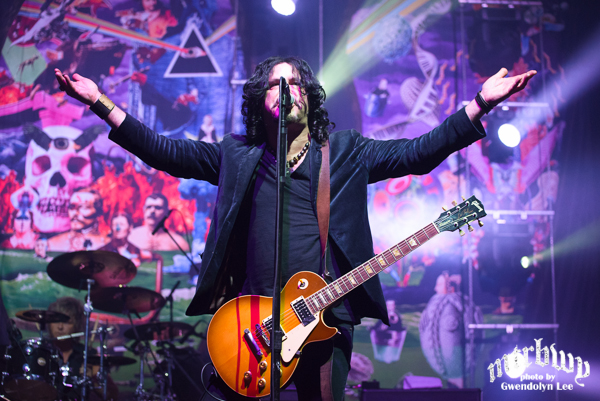 In 2012 The Tea Party reformed, to a big Australian tour, recorded a live DVD and they were back. Went off to write and record an album and 1, 2, skip a few here we are two years on seeing The Tea Party again. This time in a theatre and I'm looking forward to seeing them here, as I feel this venue was built for a band like this. We'll get to that in about forty five minutes…
The Superjesus are back and have been out with The Tea Party on this run, and with the previous tour and subsequent collaboration with Sarah McLeod and Jeff Martin being the perfect pairing it is, it made sense for these two to continue working together but with their respective bands. What I'm instantly loving about hearing The Superjesus again is that A) they're actually playing together again, and 2) they sound good. Damn good. Taking us through the songs we remember such as 'Secret Agent Man, 'Shut My Eyes',  and my favourite 'Gravity' they show us they've still got it and we can only hope that there is something new in the works for the band, and if not, there should be. Sarah has one of those killer voices that more people need to hear. Closing with 'Down Again' and those here that needed that little memory jog just got it, as they went out with a bang, but now it's time to have a Tea Party…
Starting the show with their newest album opener 'The L.O.C.' it's evident from the start that this three piece just know what they're doing… They're tight, they're heavy and they're moody and that's everything about the Tea Party that people love, well I love, not sure about everyone else. "Well? Are you ready?" The captain of the ship asks, and with a resounding yes 'The Grand Bazaar' kicks into gear, and I'm sure I'll mention this more than a few times, but one of my favourite things about The Tea Party is experiencing them live, these songs take on so much more of a heavier vibe and that to me kicks ass. 'The Black Sea' from the new album 'The Ocean At The End' gets the live treatment and sounds amazing, but with the promise of going darker (got any blacker), we're treated to 'Psychopomp' and that was an early highlight for me, that just sounded outstanding.
'Fire in the Head' takes it to another level, then 'Lullaby' keeps it heavy and sees the appearance of the Theremin which of course is a Tea Party thing and anyone else trying to get away with that well, could really only try to do it. 'Water's on Fire' sees a 12 string come out and the live take on my favourite song from their new album is worth waiting for, especially when the twelve string is replaced for a telecaster and the song is rocked out with a great guitar solo outro from Jeff. What a song. Time to Moroccan Roll with a sitar that Jeff solos as an intro to 'Save Me' as they rock the b'jesus out of it, Jeff then turns all Jimmy Page as the bow comes out and the Les Paul makes some magic sounds, but oh yes, I was hoping 'The Maker' would get a place tonight and ta da! I mentioned this in my album review, but I've loved this song for the longest time after seeing Jeff perform it acoustic over the years, and I'm stoked it was on the album and now hearing it absolutely heavy and with the band is outstanding, and the way that this blended seamlessly into the song medley here was testament to what this band can do.
The title track… 'The Ocean At The End' well, it goes for eight and a half minutes on the album, so let's see how long it goes for tonight when they can just live the song on the stage and let it be what it should be. I'm tipping a twenty three minute version but I've been known to be wrong once or thrice. Oh ok, it was only around fifteen ha ha but the mood this song takes on is a thing to witness. Oh we must be getting to the pointy end of the show as everyone's favourite 'Temptation' sounds as good as it should and when 'Transmission' is mashed in the middle of it, they've made a song I'm calling 'Transtation' but holy shit this sounds great. They close it out back into 'Temptation' and leave the stage.
Only for a minute though as Jeff comes back with a guitar and a slide and takes front and centre to play us some rockin' blues… 'Turn the Lamp Down Low' gets us rockin' and kicks out the jams on 'The Cass Corridor' then slows it down with the 12 string acoustic coming back but now it's time to drum! Jeff M on a bongo and Jeff B belting the shit out of his kit as he's done all night, man he's impressive to watch. 'Sister Awake' well if she wasn't, she is now, as this one rips the place up with a bit of 'Pulse' and surely we're not done yet… Oh but we are *sad face*
So, if we thought The Tea Party were back in 2012 well it's now 2014 and they're backer than back, wait, is backer a word? It is now… The Tea Party are backer and better than ever. Wow.
Essential Information
Venue: The Enmore Theatre – Sydney
Date: October 15, 2014
Support: The Superjesus
Website: http://www.teaparty.com
Photo by: Gwendolyn Lee – Check out our full gallery HERE
Set List:
The L.O.C
The Grand Bazaar
The Black Sea
Psychopomp
Fire in the Head
Lullaby
Water's on Fire
Save Me / Bow Solo / The Maker
The Ocean at the End / Emerald
Temptation / Transmission
Turn the Lamp Down Low / The Cass Corridor
Sister Awake / Pulse