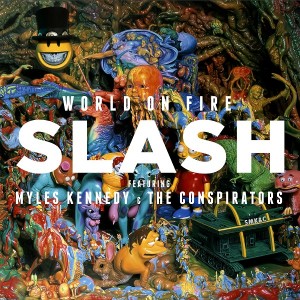 To set this album up, all I need is one word… Slash. You get me? Ok, read on.
I personally always enjoy it when the title track of an album is the one that leads it off, it makes the point known, it sets up exactly why the album is named after it and here we are, 'World On Fire' and the most welcome return of Slash with the voice of rock and roll, Myles Kennedy and The Conspirators in tow. This album, the follow up to 2012's 'Apocalyptic Love' is here to turn some heads, as its predecessor did, it showed that this band is a whole lot of rock and roll and they're back…
The opener won me over with a cowbell and after that it's all a blur, in all seriousness, this one is destined to be a new staple at the live show, it's full of energy and you know exactly what you're in for, a fucking rock album that isn't afraid to be just that. If you think the opener was good, check out 'Shadow Life' and what I love about this one is the way the chorus drops down in tempo and allows the song to take on some feeling, of course some stellar guitar work from Slash helps it out, and hearing his tone on this record so far is killer, he has such a distinctive sound and style that is instantly recognisable, well to me anyway, but it's truly evident in this second track as the riff brought us in and takes us out.
What we're in for a treat with is the fact there are seventeen, yeah I typed that right as I mean it's hard to get that wrong, but seventeen tracks on this album, clocking in at just under an hour and twenty minutes you just know that they've put everything they can on this album, there are no B-sides, you get it all right here. Songs like 'Automatic Overdrive' had me air drumming straight away, but then 'Wicked Stone' stepped it up a couple, oh there it is, my favourite progression in the chorus, yeah, you've got me musically here. I know I just said about the no B-side thing, and I was somewhat kidding, but what I'm thinking is that this may be the case in term of the content, these songs are all stellar, not B-side material, and I guess if you're putting an album out, why not put out your best. As this one takes a turn musically in the middle 8 I love what they've done, it's structured perfectly to satisfy all involved, and all that in five and a half minutes.
'30 Years To Life' keeps the rock alive, allows Kennedy to sing at his best and the harmony guitars in here are the standout, then 'Bent To Fly' is the first time the album has slowed down, I mean you'd be tired too if you were the guys, but it's cool to have this one come along and let us take it in, once again a great middle 8 takes us into the solo and allows the song to keep it loud to the fade. 'Stone Blind' instantly sounds like a song that could've come straight off 'Appetite…' with a vibe around it that has that anthemic shout back chorus that will go over a treat live. Oh wow, 'Too Far Gone' you just made me choke on an M&M due to your unexpectedly killer intro riff, and if the riff was good, the rest of the song is better, oh man, this is my standout so far hands down, that was four minutes of rock and roll goodness that I'm replaying right now. Stand by. Ok back and still love it. Now we have 'Beneath the Savage Sun' and guess what? Yeah, it rocks… I'm yet to find anything I don't like on the album, and I'm hoping that stays that way, but you never know. Oh well this one just took a turn, we've gone a little trippy in the middle of it, but not for long.
We're over the half way mark of the album now, a mark where many other bands have wrapped theirs up, but not Slash, thank you oh guitar legend! So before we get into the next track, let's go a little into the band, now we mentioned Myles and we all know him from his ridiculous vocal talent, so let's leave him out, but The Conspirators deserve a mention here, Todd Kerns and Brent Fitz round out the band and there is some serious talent here, these guys are kick ass players, and as a band, a collective, this just works. In seeing them live also, you can tell that they truly enjoy playing together and that's what makes this a little more enjoyable to listen to also, knowing it's not forced, so well done to the creative forces on the album.
'Withered Delilah' has enough cowbell in it to please Will Ferrell and Christopher Walken and 'Battleground' not only comes in as the longest track on the album at just under seven minutes, but in true 'power ballad' style (if we want to call it that) it has a perfect balance between power and ballad, and what I love about this one is it allows Myles to sing in the lower type register for the majority of it which really works, and Slash's simplistic solo here truly emotes the song, no need for a million notes, it tells the story and this is why he's one of my favourite players. Oh wait, what's happening here, I feel a big build… oh we have some 'la la la la la's' and I can see the arms waving now. What a song! Now we go from that to 'Dirty Girl' that sounds like it came straight off the Sunset Strip in 1987 and I fucking love it. Sleazy riffs, big melodic chorus and the only thing missing here was a key change, man that would've topped it off (personal opinion due to my love of key changes) but that track was great.
Whoa… 'Iris of the Storm' has a nice and different guitar tone, it's also another slower track and a little different to the others thus far but fits, then 'Avalon' comes along and bam, take that! Fast paced, and has a kick ass solo in the middle for good measure (of course) and man, I need a rest after that one, I'm puffed out. 'The Dissident' and its interesting intro has you nodding knowing this one is gonna be good when it kicks in, and lo and behold, it is. This late into the album to have a song of this calibre and a hook in a chorus like this is somewhat unheard of and it goes back to my point up there somewhere about the no fillers, I love this song, it could actually topple 'Too Far Gone' as the favourite, but I'll let them battle it out…
With only two tracks to go, I honestly don't feel like I've been listening to the album for over an hour, which is a great sign of a good record, so how will it finish up? 'Safari Inn' is an instrumental, ballsy, but it's fucking Slash and listening to this guy play the entire song as a solo and with its melody, this is where it's at, I'm sure we'll get to hear this one at any upcoming shows. Myles is back from his tea break and it's time to close the album with 'The Unholy', and the only way to go out is to blow the roof off the place or in my case my speakers. It's dark as the title suggests and is doomy and heavy in most parts and rocks until the end.
So, what we've got here is… a kick ass rock album. Slash has shown previously what he can do as a 'solo' artist but this for me cements it. He's an icon of rock and roll and with these talented musicians behind, I should actually say WITH him, he has shown that rock isn't dead, it's well and truly alive and as the album says, I think it's time to set this world on fire…
Essential Information
From: Los Angeles, CA, USA
Produced By: Michael 'Elvis' Baskette
Release date: 12th September (Sony Music Australia)
Website:  http://www.slashonline.com
Track Listing:
World on Fire
Shadow Life
Automatic Overdrive
Wicked Stone
30 Years to Life
Bent to Fly
Stone Blind
Too Far Gone
Beneath the Savage Sun
Withered Delilah
Battleground
Dirty Girl
Iris of the Storm
Avalon
The Dissident
Safari Inn
The Unholy