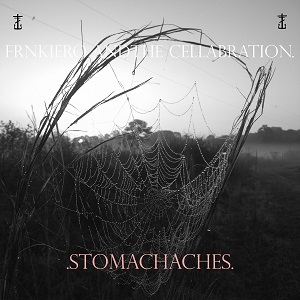 So when you often hear about a band breaking up, you get the odds on bet that the singer will go on to make an album but you often forget about the other guys in the band, or they disappear into obscurity but it's really cool to hear this album from former MCR guitarist Frank Iero or Frnkiero for short stepping out solo to make his debut album called 'Stomachaches'. Let us begin.
MCR fans beware, this is not a pop punk rock album, this instantly throws 90% of the pop away and is pretty much straight up raw and punk rock, well the first two tracks 'All I want Is Nothing' and 'Weighted' are anyway, with 'Weighted' being a perfect example of what you can expect throughout the album, and what I can tell is this is gonna be a whole lot of fun! In reading up on it I was happy to read that this is truly a solo album with Iero playing all the instruments bar the drums, so it in fact feels like a labour of love, albeit a frenzied punk laden labour of love. I always love what band members do when they step out for a solo album as odds on it sounds nothing like what they had done in their bands prior and I could name more than a handful of artists that have done so. The album takes on a bit of a Lou Reed vibe with 'She's The Prettiest Girl at The Party and She Can' as its less punk but still full of the 'angst' ugh I don't really like that word, but you get what I mean. The clean guitar is the highlight in this song though, great tones there!
'Stitches' rocks the bass line, and punks the shit out of it in the chorus, sadly 'Joyriding' isn't a sequel to the Roxette hit, but nonetheless it's a killer track here, I particularly enjoy the arrangements in the 2:20 short little punch of power, but, now we take a turn, a left turn that was a little unexpected in 'Stage 4 of Trying' but I'm happy to say that this is actually my favourite track on the album, whereas the album has just been go go go from the start, this one allows the listener to step back and take a well needed breath, and to just listen. It retains the buzz like quality throughout but the rawness of it works, while many may think it falls short in the midst of the punk, I think it was needed and well done.
No sooner has that lovely song finished we're back to our regularly scheduled programming, here we have 'Tragician' and what a groove, not only does it have a cool title but it's a great song to boot, musically it hooked me and if you can do that, you've got me. Then we have 'Neverenders' that allows the music to be so loud and crazy that I almost lose the vocals in the mix, maybe that's just due to the volume I have this playing at and the fact that my hearing has been well and truly fucked over many years of loud music. Sorry what's that? The time? Oh it's 11:41… 'Smoke Rings' is another short, sharp and not overdone track, I actually wish this one was longer, this one is crazy and in the good way.
Only a couple of tracks to go and ooh, here's 'Guilttripping' and I like what I'm hearing, as it clocks in at double the length of time of the last one, it really has that 90's vibe to it, almost Pixies style, and I like that, it suits what's happening here and this one as like 'Stage 4 of Trying' above stands out in the midst of the punk rockers. I think what I'm liking about this album is the fact that it isn't the polished MCR type record, it's raw, Frank can sing and has his own unique style about it, the music is great for what this is and I think purely in the comparison of what he's done before this shows who he really is. I personally like that as I was saying at the beginning in terms of band members stepping out on their own. Closing the album is 'Where Do We Belong? Anywhere But Here' and it's a good way to go out as it builds from a slower gloomy type feel to a big, loud, aggressive piece of work with a minute and a half to go and it keeps this up to end this album closing with a single guitar chord strum and with that we're done.
So I can't say I'd ever throw this album on during a dinner party, but I really enjoyed Iero's first solo effort, at no time did I need a Quik-Eze for this stomach ache, which to me means you did good, kid. Pick this one up for something different, something a little unexpected and a while lotta punk rock and fuckin' roll!
Essential Information
From: New Jersey, USA
Produced By: Frank Iero
Release date: 29th August (Cooking Vinyl Australia)
Website:  https://www.frank-iero.com
Track Listing:
All I Want Is Nothing
Weighted
Blood Infections
She's The Prettiest Girl at The Party and She Can
Stitches
Joyriding
Stage 4 of Trying
Tragician
Neverenders
Smoke Rings
Guilttripping
Where Do We Belong? Anywhere But Here