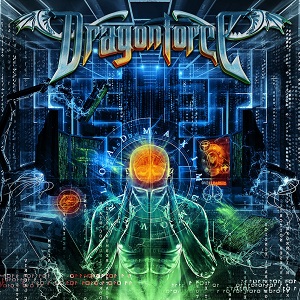 If there's one thing you don't pick up a Dragonforce record for it's to be soothed by and to relax after a hard day's work, instead you put this on when you come home pumped up, you've had a killer day and you just want to punch the air. This band is fast, frenzied, melodic and nothing but upbeat!
'Maximum Overload' is summed up by its name, within seconds of pressing play you know what you're in for and buckle up because it's on and there is an instant overload. Opener 'The Game' sets the scene with its warbling guitars as per Dragonforce standard and a drumbeat that would tire out any normal human being should they try to keep up with that, but what I love about Dragonforce is their melody, these songs have soaring choruses, big hooks and are just played about 4,000 BPM faster than any song out there and what's funny is that you kinda forget that while listening and actually singing along as this shit is catchy. This continues on with 'Tomorrow's Kings' and it actually may be hard to talk about each song here, but I will happily continue on and see how this review plays out, as I know as we get to the end I'll have something to talk about, but for now…
Harmony guitars… let's talk about that!! 'No More' gives us just that to open and it really is hard at times to type this review as I feel compelled to be either air drumming or playing air guitar along with this one. What I enjoy about this one is the slower breakdown that allows an arrangement change, as does 'Three Hammers' which is almost viking epic at times, and vocally while Marc is now on his second album with the band, man his pipes are absolutely amazing on this track as he hits high notes only usually reserved for dogs to hear but he nails them. This cat can sing and is now what Dragonforce are about, I for one can't wait to see him and these songs being belted out live when they return to Australia. This song just took a turn musically and is out of control, with a typical (and I mean that in a good way) Dragonforce duelling solo you can't help but shake your head at times as to how these guys can play like this, they're so damn good.
'Symphony of the Night' gives us some even faster guitar work, if that was even humanly possible, but at over five minutes it allows for some extended solos and of course they're nothing short of perfect. In saying that, we jump into the six and half minute 'The Sun Is Dead' now and usually songs of this length can lose your attention in this day and age, ooh… that's actually the sub plot behind the album name, wow I did that without even meaning that. See what I mean here in our chat with Sam, sorry, I digress as always.  So anyway, this song takes the band to a different level with some truly soaring parts and excellent arrangement allowing you to be involved and not stop listening to check your phone to see what your mate had for lunch, this song is probably the standout for me on the album as it takes on such a vibe that is a little different to the rest of the album, nice work!
The tempo gets a knock up again and in what feels a little like an old school thrash song early on, 'Defenders' packs a punch still with that anthemic chorus I know I love, plus a great middle section again shows me these guys have their influences and happily throw in the best from the rock songs of the past! Then 'Extraction Zone' sounds like an 80's action movie song on speed, almost like if you were watching the credits in fast forward this is what you'd get, followed by 'City of Gold' which I absolutely love this far in, a song about a kingdom of gold, that's awesome! These songs are never about politics or religion, these are just great songs about cool stuff and Dragonforce make this shit work.
Closing the album out is a cover, and not just any cover, it's a classic in the way of 'Ring of Fire' by Johnny Cash, and what a version we have here. It's just got Dragonforce written all over it and in probably the shortest song the band has ever recorded at just over three minutes it really is the best way to finish up what was a really rockin' album.
Seriously though, and in closing, Dragonforce are such a great band musically, these songs are fast, yes, but at the same time they are so full of hooks that any bait and tackle shop would need to have a sale to get rid of excess stock, that's how many hooks there are in these songs. Maximum Overload indeed. More like Maximum Awesomness.
Check out our interview with Sam of Dragonforce HERE
Essential Information
From: London, UK
Produced By: Jens Bogren
Release date: 22nd August (3Wise Records)
Website:  https://www.dragonforce.com
Track Listing:
The Game
Tomorrow's Kings
No More
Three Hammers
Symphony of the Night
The Sun Is Dead
Defenders
Extraction Zone
City of Gold
Ring of Fire