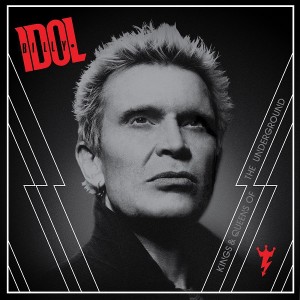 Rock icon BILLY IDOL will release Kings & Queens Of The Underground, his first new album in almost a decade, on October 17. The album will be released on Idol's own BFI Records, via Kobalt Label Services. The track list for the new album is listed below.
Kings & Queens Of The Underground was primarily produced by Trevor Horn, with Greg Kurstin also contributing as a producer to two songs, including the anthemic lead single, "Can't Break Me Down."  The single is now streaming at the new BillyIdol.net and will be delivered instantly to fans that pre-order the new album beginning today on iTunes. The iTunes edition of the album will also exclusively include "Hollywood Promises," a new song recorded during the album sessions.
The artwork for Kings & Queens Of The Underground, above, was designed by street artist and graphic designer Shepard Fairey.
The album will arrive close to the release of Billy Idol's highly anticipated self-written autobiography, Dancing With Myself, which will be released worldwide the week of October 7.
Idol and his band, including longtime collaborator and guitarist Steve Stevens, will launch a European Tour in November, the first of several legs of a world tour that will continue into 2015. 
Link to iTunes Pre-order of Billy Idol's new album: http://smarturl.it/billyidolitunes
KINGS & QUEENS OF THE UNDERGROUND TRACK LIST
3. Save Me Now
4. One Breath Away
5. Postcards From The Past
6. Kings & Queens Of The Underground
7. Eyes Wide Shut
8. Ghosts In My Guitar
9. Nothing To Fear
10. Love And Glory
11. Whiskey And Pills
About BILLY IDOL:
From punk pioneer to global superstar, William Michael Albert Broad, aka BILLY IDOL, has left an indelible mark in popular music and remained a household name for over three decades.  His style, music, and attitude have transcended time and trend.  Born in 1955 in Stanmore, North London, IDOL spent several formative years living on Long Island, NY as a child before returning to the UK and emerging as a central figure of the British punk movement.  As part of the infamous Bromley Contingent and a fan of the Sex Pistols, IDOL was inspired to front the pioneering British punk band Generation X from 1976 until the band's split in 1981. Determined to break through in America, IDOL hooked up with guitar genius Steve Stevens and a crucial musical partnership was forged. IDOL created some of rock's most enduring anthems including "White Wedding," "Dancing With Myself," "Flesh For Fantasy," "Hot In the City," "Eyes Without A Face," "Rebel Yell," and "Cradle of Love," among others.  BILLY IDOL is the original punk rocker who found a way to take that sneering punk attitude into the pop and rock mainstream, carving out songs that have lasted a lifetime.
KINGS & QUEENS OF THE UNDERGROUND released 17th October on Idol's own BFI Records, via Kobalt Label Services.