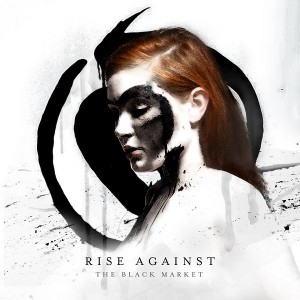 Let me start this by saying I've never been the hugest Rise Against fan, but that's only because I've never truly taken the time to check out their work. I'm sure I've seen them live and dig what they do, but when time came for me to have a chat to Joe from the band, I got the chance to check out the new album, and boy howdy… I'll already sum it up for you, this is one of my favourite records of 2014. Read on…
Kicking things off with 'The Great Die-Off' and a message of "we want it now!" well, you got it now, you've got this aggression and power coming straight through and if this keeps up for the remainder of the album, as I said above, well, gave away above, we're in for a treat. Lead single 'I Don't Want To Be Here Anymore' is frantic and keeps drummer Brandon busy as he beats the crap out of the skins, but what I love about this song is the first bridge breakdown that slows it way down only to explode back into this pop punk rock goodness, a song destined to be shouted back at the stage at every Rise Against show from now until the end of time. With a guitar solo thrown in for good measure, we have a winner, but as we head into 'Tragedy + Time' we have a new winner and all I can say is WOW, for me a song needs to grab me musically as well as lyrically and this one takes the cake, actually the whole damn bakery… the musical progression on this one is perfect with a hook big enough to catch Moby Dick and the lyrical content hit home just a little bit for me, so when you bundle that all up, well, I've said enough, but needless to say this song has been repeated a few times so far.
Time for the title track and the song that always intrigues me the most on a release as I always think, why was this one good enough to name the album after? So there's already high expectations for me, as it starts with an upstrummed guitar I take a minute to warm to it but there's that bridge / chorus hook again as the tempo changes for it and yeah, that's why it's got the name…  what a great vibe it takes on and sentiment lyrically. I really dig the way these guys write songs, the songs feel so very personal and it shows, I think maybe I'm enjoying it so much because I'm relating to a lot of it. Here comes the 'hardcore' with a little bit of 'screamo' to kick off 'The Eco-Terrorist In Me' which sounds like the love child of an Offspring and Millencolin song and I love that, but as you can imagine from the name and my little comparison there, it's a balls out melodic punk song and again, some clever arranging throughout the song make it stand out with a cool little message of 'when it all comes down will you say you did everything you could?'
'Sudden Life' is a more middle of the road track, think Foo Fighters but with more of an edge and attitude with a cool build towards the end, whereas 'A Beautiful Indifference' brings back the punk but again that great arrangement I'm discovering this band is very good at as it changes tempo throughout and allows room for much fist pumping in the chorus. Then we have a song like 'Methadone' and from the title you can picture its lyrical content, and it's pretty powerful, that's what I love about music, the power of it, through a 3:48 song, a band can get across what they need to and with this song, they have, thank you! 'Zero Visibility' is a great riff driven track that sounds so old school in its tone and that kicks ass, it's like a down and dirty southern rock sound to then jump straight into 'Awake Too Long' which is instantly punk rock as you'd want, but what I love is the next one, 'People Live Here' is an acoustic driven track and will have phones (or lighters if you're an older generation) in the air waving everywhere if this one gets a run in their live show, it's a great song and for this late in the album it's an interesting choice to have it as the penultimate track, yet after the frenzy of what preceded it, it is actually a nice break, but after you've finished your Kit-Kat we're back. Closing out the album is the rocker 'Bridges' and I couldn't think of a better way to close the album out, it'll have you air drumming along and if you've enjoyed the album up to this point, you'll be very happy with the way it ends, both the song and album, it's abrupt but that's punk rock.
To say I'm impressed with this album is an understatement, it just worked as a complete package and now it's time for me to go and re-discover Rise Against with a back catalogue. This one will be hard to kick out of my top five releases for the year. Round of applause for Rise Against.
Check out our interview with Joe of the band HERE
Essential Information
From: Chicago, USA
Sounds Like: Punk Rock
Release date: 11th July 2014 (Universal Music Australia)
Website:  https://www.riseagainst.com
Track Listing:
1. The Great Die-Off
2. I Don't Want to Be Here Anymore
3. Tragedy + Time
4. The Black Market
5. The Eco-Terrorist In Me
6. Sudden Life
7. A Beautiful Indifference
8. Methadone
9. Zero Visibility
10. Awake Too Long
11. People Live Here
12. Bridges