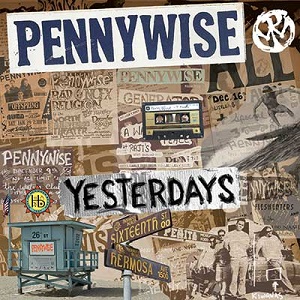 Ha ha I love punk rock, purely for the fact that this eleven track album clocks in in just under thirty minutes, so good, actually by the time I finished this sentence the first two songs had finished… I kid, I kid because it's Pennywise, they get jokes. What's interesting about this album is the fact that these songs have been around for over twenty years, many of which were written by original bass player Jason Thirsk who passed away in 1996 and what better time than now to go back to them, drop in, revisit, see if they were still friends and re-record them to what has now made up 'Yesterdays'. So let's see if they stand up to today's 'standards'…
The album also sees the return of Jim Lindberg back as the front man after five or so years away and many are saying this is the band as they should be once again. You kinda get that vibe too when listening to these songs, there's just that old school punk mentality to them, they're fast, frantic and if I wasn't sitting here typing I'd probably be stomping around my living room, but until I figure out how to do both I'm stuck here stompless. What I like about this album is it's fun, yeah I know, a simple word to describe it, but hey, back when these songs were written it was just about punk rock in its purest form, there's no real underlying message, there's no agenda, these are just great songs played by a band who dig music and what they do and you can hear the rawness of the album, is it perfect? No, but that's what makes it what it is, I love this type of recording where it sounds like mates in a room playing music, there's no real polish, no finesse and none needed.
There's no reason to go into each song here, as if you're a fan of Pennywise, you know what you're getting, but with songs like 'Noise Pollution' and 'Thanksgiving' being standouts for me, also let me call out 'Slow Down' which does nothing of the sort, and no joke sounds like what could be a punk rock Metallica song at the beginning, that was cool, as the album goes on you can just keep rockin' along with a band that to me feel like they're excited recording music again, and it'll be great to hear how fans react to these punk rockers once they hit the stage and deliver this fresh old material. I for one will be excited to see how it turns out as it's been six years since my last Pennywise show, I know, shame on me…
Actually I'm finding that I'm digging the later end of this album much more than the beginning, as it seems to be somewhat heavier, and that's not to say that I didn't like the first half, I did, but I'm just digging 'No Way Out' right now and it's riff laden goodness, and the closer of this thirty minute slab 'o punk rock is the best way to go out, and at 3 minutes 45 seconds and the epic of the album, 'I Can Remember' sends us off the way we wanted to go, with a salute and a nod to the days of old, when Pennywise were Pennywise and huzzah I say.
I like new chapters on things, I like it when original members return to bands and I like good old fashioned punk rock music. So Pennywise, welcome back, thanks for 'Yesterdays', todays and tomorrows… (see what I did there) yeah I know, that's enough Troy, that's enough…
Essential Information
From: Hermosa Beach, CA, USA
Sounds Like: Punk Rock
Release date: 11th July 2014 (Epitaph)
Website:  https://www.pennywisdom.com
Track Listing:
01. What You Deserve
02. Restless Time
03. Noise Pollution
04. Violence Never Ending
05. Am Oi!
06. Thanksgiving
07. She's A Winner
08. Slow Down
09. Public Defender
10. No Way Out
11. I Can Remember