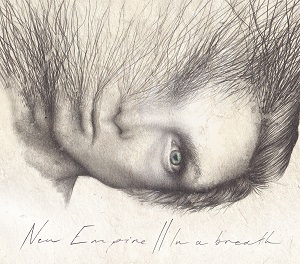 New Empire are a band that are very easy to listen to, their songs are full of great musical grooves, killer harmonies and at times just big over the top production. These are things that I like. 'In a Breath' is the newest release from this Aussie band and it's a great return from their last album 'Symmetry' which produced one of my favourite songs of the last five years in 'Worth The Wait', so I'm hoping that this album can throw me another gem, if not more than one.
'Tale of Jonah' starts us off and all the above, yep, that's here… so I think we're in store for something pretty special. It sets the scene for what you'd expect from New Empire, so if you enjoyed the opener then sit back, relax and enjoy as we have many tracks to go. 'The Sun Won't Sleep' keeps the ball rolling, and the underlying keyboard / piano riff throughout is what brings this song into its own, you know when you just get that great musical vibe from a song, well that one does that for me. These boys know how to write a song, first single 'Relight The Fire' is one that they have written and written well, progression, lyrics and just all round feel is the reason this is a stand out. The chorus, as simple as it is, it's destined to be a live favourite and to me sounds like the best song that Coldplay never wrote. I notice also that the band liked this song so much also that they've included an acoustic version to end the album, but we'll get to that and how that stands up in that medium shortly…
Single 'Say It Like You Mean It' was a great choice to showcase this album to the world, with its heavy keyboard influence here, you can just feel this song, it has that big 'epic' style of being a song and will be a great live addition to the bands set, so far the last two have been stand outs and I'm hoping this is a trend that will stick with the remaining tracks. Title track 'In a Breath' although not the strongest track on the album, it was cool and encompassed New Empire's formula of song writing to not deviate from what they know how to do, and I like that. Then 'Wise Fox' continues the repetitive chorus structure lyrically of previous tracks, but it gets the point across, ooh, 'Fallen Soldiers' sounds promising, yep, got me… this one hits a nerve in my 'how I like a song to be created' head and this one has a great musical progression and a huge chorus which I see many fists pumping and being thrust towards a stage and a proud band who should be happy that this song is what it is, this is great!
I was reading that 'Left Behind' is a tribute to the people of Boston in the wake of the bombings that happened earlier this year and lyrically that's extremely evident here and is a nice tribute to the events and is well written. Oh hello random little spoken word / rap in the middle, you were unexpected… but it wasn't as off putting as I first felt, it actually worked. Vocally Jeremy shines on 'A Little Braver' and man this cat can sing… and I'm going to like this one. This one builds and with what feels like a marching band drum beat keeping the tempo, this song is optimistic, open and well worth a listen. With only a couple to go, the piano intro of 'Outshine The Brightest' and riff that continues throughout, I am hoping this one explodes, in fact I'm checking my place for flash pots as I'm expecting a pyro type explosion to occur. Thankfully that didn't happen, the build was there but not to the extent I was expected, but the addition of female vocals to balance Jeremy's here worked perfectly and suited what this song is about and the story it tells, and the single piano outro was also unexpected and was a great way to wrap up the album, well before the aforementioned acoustic version of 'Relight The Fire' which is thrown in as a bonus. It does work in this format, of course for me works better as the full version, but the arrangement and vibe of it in this medium is pretty cool.
Overall I dig this band, as I said at the start; they know how to write a song, they have a big sound and a demanding presence. I hope for big things for New Empire as they deserve it. Well worth checking out and should you see them playing in your city, make sure you check them out live and that's where they shine!
Essential Information
From: Sydney, Australia
Sounds Like: Rock, Pop, Alternative
Release date: April 2104 (Out Now) – Shock Records
Website:  https://www.facebook.com/newempireband
Track Listing:
Tale of Jonah
The Sun Won't Sleep
Relight The Fire
Say It Like You Mean It
In a Breath
Wise Fox
Fallen Soldiers
Left Behind
A Little Braver
Outshine The Brightest
Relight The Fire (Acoustic)