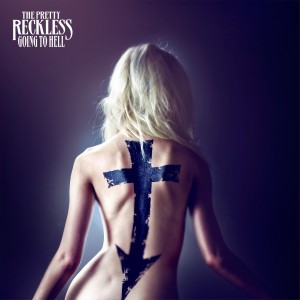 Instantly rockin' and instantly sleazy, 'Going To Hell' opens with the ballsy rocker 'Follow Me Down' and to open the bands second album with anything less than this would've been a disaster, but if you need to set the scene for an album, consider it set. Its bluesy parts and soulful breakdown show a side to the band that is softer and it works, but that lasts about a minute as it builds back to the monster it is. If you're not tapping your foot along to the opener then you may as well turn it off now because I foresee a lot more tapping happening. The title track is fast paced and perfectly suited for a gang vocal sing along at a live show with the guitars turned up here and sound as fat as you'd want, and again the arrangement of the song allows for a softer part and it works, plus with its big rock ending I'm happy with that.
Single, 'Heaven Knows' isn't a Rick Price cover thankfully, but instead slower story teller type rocker with a chorus of people singing along to a drum beat that makes its way into a very Stone Temple Pilots type vibe, then as 'House On A Hill' starts, this complete 180 on the last tracks has this start acoustically allowing Taylor Momsen to showcase her vocal talent. This ballad kicks into overdrive in the choruses much like the power ballads of old, and to me, that is a win, and this one in particular is actually one hell of a song. Then the volume knob gets a swift turn to the right and way back up for the powerful 'Sweet Things' allowing the growl to come out as Momsen screams her way through mid song, but this mix of creepiness and balls out rock is pretty damn cool.
'Dear Sister' is a short little story teller as lead in to 'Absolution' and as we're halfway through the album now, I have to say how impressed I am with this release so far. The production is big and that's what I like, it sounds like a big rock record and there's nothing wrong with that… This track fits in perfectly with that I dig this one a lot. 'Blame Me' has a little bit of a different feel and although not as distorted as the other tracks, this great guitar sound on here makes this one stand out and I'd go as far to say as it close to my favourite on the album so far. Momsen's powerful vocals are allowed to run free on this one and man, this girl can sing. Another acoustic track in 'Burn' follows on in what I was saying about her vocals as she powers through this one in a lower style but throws the high notes out there for the chorus.
The next song is probably the question we've always wanted to ask, but here it is in song form to do it for us. So, 'Why'd You Bring A Shotgun To The Party' is it. This is one of those sleazy, slithery type songs and I love it. With only a couple to go, 'Fucked Up World' has a tambourine in it so there's a win, but this one again has a different kind of feel to it, but with probably the hookiest chorus yet, they've done well this deep into the album and this one is destined to be a live favourite without a doubt. The closer 'Waiting For A Friend' sounds more like a folk song than the rocker I was expecting, and is a complete contrast to what opened the album, but in saying that, I love songs like this and The Pretty Reckless have written and recorded one hell of a track here, this is a beautiful song with its harmonica throughout giving it that amazing feel, they've done well.
I really loved the overall vibe of this album, for a bands second release, they've kicked ass and I look forward to hearing a number of these live when the band makes their way back to Australia. 'Going To Hell' shows that this band can make big songs and be soft at the same time and put it all into one package. Bring on album number three.
Essential Information
From: New York, USA
For fans of: Rock
Release date: Out Now!
Record label: Cooking Vinyl
Producer: Kato Khandwala
Website:  http://www.facebook.com/theprettyreckless & www.goingtohell.xxx & http://facebook.com/taylormomsen
Track Listing:
Follow Me Down
Going To Hell
Heaven Knows
House On A Hill
Sweet Things
Dear Sister
Absolution
Blame Me
Burn
Why'd You Bring A Shotgun To The Party
Fucked Up World
Waiting For A Friend