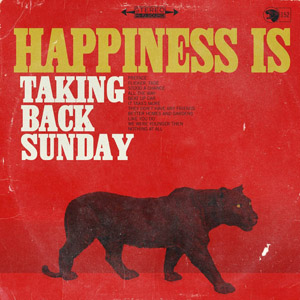 Taking Back Sunday are back with their newest album and I've been looking forward to this one for a while, as their self-titled album in 2011 was a monster, so will this be in the same category? Let's see… as 'Preface' string us in to lead single 'Flicker, Fade' my answer is YES! If the rest of the album is as good as this lead track then just stick an album of the year sticker on it… BUT let's not get ahead of ourselves here, maybe we'll just throw them single of the year so far instead at this stage. This song is catchier than the common cold and will be an absolute winner on the live stage, and I for one can't wait to hear it. Even the breakdown mid song sees the strings reintroduced and slows the pace of the song only to build it back up to the epicness it began with. OK, so I don't need to hear the rest of the album, I'll just put that one on repeat… alas, what kind of review would it be if I did that? So here we have second single, 'Stood A Chance' that keeps that catchy vibe going with a great hook of a chorus and has you playing drums on any surface you can find to tap along with it, but I'm digging the laid back feel of 'All The Way' as in really listening to this one, this is sensational in the musical aspect of it, there is no big power chords, nor screaming guitars in the beginning, but in true TBS style, they throw them in to take the song out. What a great arrangement and great song.
'Beat Up Car' again puts the band in the 'know how to arrange a song to its full capacity' as I think there even WAS a kitchen sink in here, but the balance is thus where it all works. So much going on, but digging it, as it seamlessly leads into 'It Takes More' and I know I keep harping on it, but these guys work to a formula and it works, and with this song, although it feels a little different to the heavier songs from above, it sucks you in and at over five minutes you get to be a part of the song, as it goes from almost angelic at times to a complete buzz track and with an interesting fade out reminiscent of Pink Floyd.  Next up 'They Don't Have Any Friends' sounds like an old school TBS song and they make damn sure (pun intended) you know it's them, as it just has it again, the formula, and with a cool almost guitar solo breakdown I'm happy. 'Better Homes And Gardens' isn't a tribute to Noni but in fact close to one of the best songs on the album, a straight up rocker and let's Adam Lazzara showcase his vocal talents, of which he has plenty…
With only a few tracks to go, 'Like You Do' was pretty cool, and 'We Were Younger Then' isn't grabbing me first off, it feels almost completely different to the rest of the album, and almost not a fit, but I dare say as this is only my second time through the album that it'll grow on me. Ahhh yes, the middle 8 here is where it's at for me, that's what was missing, but this to me feels a bit like a later Dashboard Confessional track, that's not a bad thing, but you'll get what I mean. To close the album is 'Nothing At All' and we pull out an acoustic guitar for this one, and it's by far the most different of the entire album, but it is so good. Lyrically this one is great and the only way these words could be delivered is via a song of this pace, so I commend the band for this corker to round out the album. The build and end of this song is not only haunting but it's inviting… and thank you for inviting us into this album, Taking Back Sunday.
So, Happiness Is… a new album from Taking Back Sunday as once again they have delivered an album full of anthemic style rockers that leave you wanting more… Can't wait to hear these songs live, they will blow the roof off any venue… kick ass release!
Essential Information
From: Long Island, New York, USA
For fans of: Rock
Release date: Out Now!
Record label: Hopeless Records
Producer: Marc Jacob Hudson & Mike Sapone
Website:  http://www.takingbacksunday.com
Track Listing:
Preface
Flicker, Fade
Stood A Chance
All The Way
Beat Up Car
It Takes More
They Don't Have Any Friends
Better Homes And Gardens
Like You Do
We Were Younger Then
Nothing At All