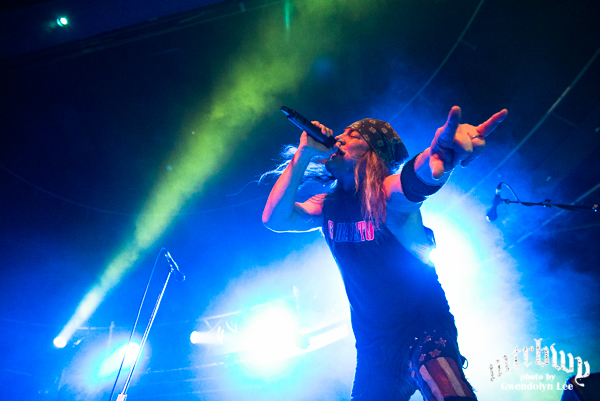 Sunday night in Sydney and it's time to rock! Two of the 'oh wow I remember them' bands from the late 80's / early 90's in Skid Row and Ugly Kid Joe are in Australia and judging by not only the crowd here tonight but from what I've seen at the other cities, people are still interested and that makes me happy.
Dead City Ruins from Melbourne take the coveted opening slot and you may not have heard of them before, but these Aussie rockers have been out in Europe killing it, so to have them back and playing for us tonight is pretty cool. They're straight up rock and roll and that's a good thing, as is a harmony guitar solo which they just nailed. These songs are balls out rockers, great sound, great vibe and with a great presence I hope to hear much more from this band. The duel guitars truly make this band with obvious influences in there of Slash and even some Iron Maiden and with a vocalist who's scream could shatter glass if given the chance, I'm impressed, but maybe not in every song! A band to look out for that's for sure!
Skid Row kick the tires, light the fires and they're off. 'Let's Go' starts it off but when the 'Big Guns' come out is when the crowd kick in, and whoa they sound good! With a promise of all the old school Skid Row songs we want to hear they get into 'Makin' a Mess' and looking around, people are happy and oh man it just doesn't stop, now with 'Piece of Me' and the 13 year old me is loving every second of this. Those that think Skid Row isn't Skid Row without Sebastian Bach, well just as a point, Johnny Solinger has been in the band longer than Bas was and his vocals are perfect for this band and those that don't come because it's not Bas, well in my opinion they miss out on a great band, so it's their loss and more for the lovers of these songs, that's all I'll say about that. Oh fuck '18 and Life' yes!! That was awesome. They absolutely just nailed it. That song has always been great and was ahead of its time when it was released and sounded killer tonight.
Onto 'Thick is The Skin' from Thick Skin which is one of the bands post Bach releases, you can hear the heavier aspect of the track compared to the original releases which is fine by me. An unexpected addition to the set with 'In a Darkened Room' which had the girl next to me losing her mind, and watching Scotti Hill play the extended outro was something pretty damn cool. These guys have still got it and thankfully so.
United World Rebellion Chapter 1 is the newest release from the band and from it 'Kings of Demolition' and that was huge, a sign of more new music from the band. Johnny leaves the stage to let Rachel take the lead on 'Psychotherapy' and it's just as good as when I heard it in 1993 at Calder Park in Melbourne. As an acoustic guitar takes its place in front of Snake we all know what's coming… 'I Remember You' and what a song that was and still is. Hearing the crowd sing it back is pretty special and Scotti hitting every single note in the solo was something to behold. The song still gives me shivers. If the roof was somehow still on from the last song, then 'Monkey Business' blew the roof off the place as the band leave the stage only to return… To tell us to 'Get the Fuck Out' which is the best song for a live show and one of the bands heavier tracks but not as heavy as 'Slave to The Grind' which kicked ass. Snake took lead solo and showed that he can play. Surely there's only one to go…
'Youth Gone Wild' it is and as you can expect, this won their set, an anthem for many and still a favourite for many that were here tonight. I said hey man, there's something you outta know, and I tell ya Park Avenue leads to…
Closing the show tonight in the co-headliner is Ugly Kid Joe and they are back in Australia for the first time in over twenty years and although the crowd has thinned out somewhat after the Skid Row set I'm sure that won't deter UKJ who I've heard have been smashing it!!
Opening with 'Neighbor' and man they sound fucking amazing. I'm not even kidding when I say that vocally Whitfield Crane sounds spectacular, his voice is perfect. 'Dialogue' from Motel California is next and they power through it but the mosh gets going as they bust into C.U.S.T' and wow, musically they are absolutely flawless. The entire crowd claps along to 'Panhandlin' Prince' which was great but oh man it just got a whole lot heavier in here as they head back to 1992 and from 'Americas Least Wanted' with 'So Damn Cool' and even 22 years later this song kills it and sounds great here tonight. To the newest EP and the heavy 'No One Survives' and the even heavier 'Devils Paradise' which included some awesome crowd participation hand waving, these fans are completely into this show and have missed this band and what's cool is these new songs are great and fit in so perfectly. They slow it down with 'Cats In the Cradle' which of course everyone loved as they rightfully should as if you hadn't heard of the band with their first few singles back in 1991 / 1992 then when this one came out, you noticed. The new EP comes back with 'I'm Alright' and then an energetic Crane runs up and down the stage to deliver the frantically fast paced 'Funky Fresh Country Club' from 1991 then to menace to sobriety with 'Tomorrow's World' noted as Crane's favourite song of theirs and then 'Milkman's Son' which went off and I'm stoked this one was in the set, I'd almost forgotten it so it was a nice surprise tonight.
'Goddamn Devil' sounded great and got plenty of love as the band 'leave the stage' only to 'return' (they just stood there and didn't move until we made noise) to tempt us with three more songs. First up 'Ace of Spades' a bitchin' Motörhead cover that sounded awesome, then 'If You Want Blood' and some AC/DC love and man, they nail it. This band is so fucking good.
Last but not least… 'Everything About You'… and all I can say is I've waited 22 years to hear it live and it did not disappoint tonight, always a fun song and played tonight like they still enjoy it, which is a sign that this band love what they do. I have to say that Ugly Kid Joe fucking delivered tonight, after 15 years apart, you wouldn't even know… They sound like they've never been away and hopefully they never go away again. What a show.
To those who say that this kind of music is dead? Well, go and check out what the third last song in Skid Row's set was again…
Essential Information
Venue: The Hi-Fi – Sydney
Date: April 27, 2014
Support: Dead City Ruins
Website: www.skidrow.com & www.uglykidjoe.net
Presented by: KillRockStar Entertainment
Photo by: Gwendolyn Lee – Gwendolyn Lee Photography – FULL PHOTO GALLERY HERE
Skid Row set list:
Let's Go
Big Guns
Makin' a Mess
Piece of Me
18 and Life
Thick Is the Skin
In a Darkened Room
Kings of Demolition
Psycho Therapy
I Remember You
Monkey Business
Get the Fuck Out
Slave To The Grind
Youth Gone Wild
Ugly Kid Joe set list:
Neighbor
Dialogue
C.U.S.T.
Panhandlin' Prince
So Damn Cool
No One Survives
Devil's Paradise
Cat's in the Cradle
I'm Alright
Funky Fresh Country Club
Tomorrow's World
Milkman's Son
Goddamn Devil
Ace of Spades  (Motörhead cover)
If You Want Blood (AC/DC cover)
Everything About You