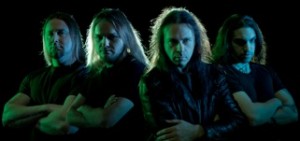 Aussie heavy metaller's 
LORD
 have announced that they have mutually parted ways with drummer 
Damo Costas
, released a video for '
Final Seconds
' and announced plans to celebrate the 25
th
 anniversary of 
Dungeon
.
Full press release can be found HERE
The band commented – "Damo has reached a point where as much as he loved being in the band, losing that job he worked so hard to get will put a lot of what he's aiming for in the future at risk, and if it comes down to choosing between sleeping in a cheap hotel in Hamburg or making sure you're doing the right thing by your family… well, it's a no-brainer.
So we'd like to announce that Damo has taken an indefinite break away from LORD. Like all past LORD members, no doubt he'll end up on a recording somewhere down the track (Mav and TY appeared on 'Return Of The Tyrant' and TY has probably done more work with LT since he left the band, in fact) but for all intents and purposes, Damo is no longer a touring or recording member of LORD."

Final Seconds is the third video clip to be released from the 2013 album 'Digital Lies' and as commented by LT, is "our best-selling, most well-received album ever – and that includes all of the official Dungeon releases too".
Commenting on the video itself, "In honour of his (Damo's) time in the band, we've cut together a new clip featuring footage from the road, backstage, recording and behind-the-scenes stuff from the last four years. Some great footage and some great memories."
Final Seconds OFFICIAL VIDEO
2014 marks the 25th anniversary of Dungeon and as LORD is a continuation of what began 25 years ago, there are plans to acknowledge and celebrate the occasion. The band has hinted of a large recording/restoration project that will tie both eras of the band together. To make the project a reality, LORD will be embarking on a run of shows to fund the venture. Dates still to be announced.
"This project will be one of the most expensive things we've ever done, however (getting an idea of the scale of it yet?) A lot of our friends and peers have turned to sites like Kickstarter or Indigogo to raise money for their projects, something we've considered in the past and we'll likely take advantage of in the future, but we've decided to go old-school and literally Sing for our Supper by going out and raising money by performing."
For more information on LORD, please visit the below websites;
http://www.lord.net.au
http://www.facebook.com/lordofficial
http://www.youtube.com/user/lordofficial
https://www.facebook.com/events/679337795459958/
…..AND
LORD – Singing for our Supper – Mini Australian Tour, May 2014.
'We need money for a big recording project this year, and we're raising cash the old-fashioned way: playing metal for money! Got any spare change, bud?'
FRIDAY MAY 16TH
DOORS: 7:30PM
ENTRY: $15 at door
LORD
SEGRESSION
METREYA
CARBON BLACK