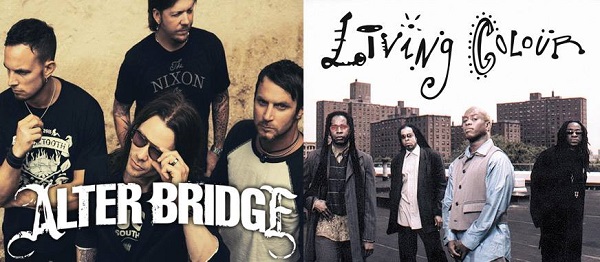 A sold out crowd in Sydney tonight pretty much says it all, this is going to be one amazing musical laden evening.
A subdued opening to the Living Colour set tonight with Corey Glover looking more like he's up for a round of golf than here to rock out, even with this slower opener, a cover of the Robert Johnson track 'Preachin' Blues', the band still get to show off the prowess they are known for. Regardless, the reception the band received is amazing and while Vernon Reid noodles away on the guitar, the band come back in and kill it through tracks such as 'Middle Man', 'Desperate People' and 'Funny Vibe' and although this set is very non hit friendly at this stage and as soon as I type that oh look, it's 'Type' apt… Oh YES finally!! It's time for 'Love Rears its Ugly Head' arguably the bands most notable song. Sounds awesome tonight and what I love is the power that this band has, for a single guitar, bass and drums, they are flawless.  This is the musicians band and thruthfully, without them there wouldn't be many of today's bands as they're an influence on many and rightfully so. They rock out as they should through 'Go Away' and 'Ignorance is Bliss' but when 'Cult of Personality' starts I A) feel like a bowl of Nutri Grain and 2) rock the fuck out. This song is still one that stands up today, as political as it is, who cares, it's Rock and roll. I have to say, Vernon Reid is the master, this man does not miss a note, it is unbelievable. 'Time's Up' takes its place with its odd time signatures and killer rhythm groove, this showcases even further the talent of this band. With a 'Sex Machine' mash up and musical flurry they kill it but then a cover of The Clash's 'Should I Stay or Should I Go' funked up sounds killer and is the closer of their not long enough set. Please come back soon, Living Colour!
Alter Bridge take to the stage with rousing applause and with 'Addicted to Pain' and with the distinctive voice of Myles Kennedy cutting through and everyone lapping up every note, every word, every move, this is a band that has dedicated fans. As Mark Tremonti shows us just how good he is it's simply ridiculous to me how this band isn't bigger. Wasting no time, 'White Knuckles' continues on with the heaviness and what just makes me realize how much the fans love this band is the reception at the end of the song. Next up 'Come To Life' straight into the just that little bit slower 'Brand New Start' but when you look at this band, what you may not be aware of is the sheer technicality of the musicians here, these guys are some amazing players and you can get that during 'Cry of Achilles' as not only is it heavy as all get up but it's just an outstanding song, as is 'Ghosts of Days Gone By' and I'll say it again, this band writes some kick ass rock songs and Myles Kennedy sure knows how to sing them. 'Ties That Bind' is as heavy as you'd want and watching from above and seeing the fists pumping and yelling back to the stage is something pretty amazing. Tremonti takes the vocals on 'Waters Rising' to a great reception but as Kennedy puts the guitar away, he takes back the lead vocals for 'Broken Wings' which is so powerful and just one of those songs that gets you. 'Metalingus' kills it and at one point I could actually hear the crowd louder than the band which is something to behold. The obligatory thank you for coming out precedes 'Blackbird' and it's epicness is certainly something that needs to be seen to be believed.
Ten years ago Alter Bridge released their debut album 'One Day Remains' and from it, 'Find The Real' which stands up against all their other material and this one is outstanding in my books. Then the absolute sheer heaviness intro and riff of 'Isolation' is a kick in the teeth and this late into the set is a masterpiece, as the band thanks us and leaves the stage…
In my unexpected song of the night they bust out 'Open Your Eyes' which I didn't think they'd play at all as I haven't heard this since their first tour here. The crowd happily sang along to this one like it was their last ever chance to do so. Jesus H Tap Dancin' Christ this band is heavy…  They've just broken out into 'Farther Than The Sun' and a guitar battle between Kennedy and Tremonti leaves many breathless as man these cats can play and with only one more they give us the regular AB set closer in the anthemic 'Rise Today' and with that, they're done.
Tonight was all about musicianship and we got every damn ounce of it. This was one amazing night of music and I'd like to see any other Sidewave top this one as this was outstanding.
Essential Information
Venue: The Hi Fi – Sydney
Date: February 25, 2014
Website: www.alterbridge.com & www.livingcolour.com
Presented by: Soundwave Touring