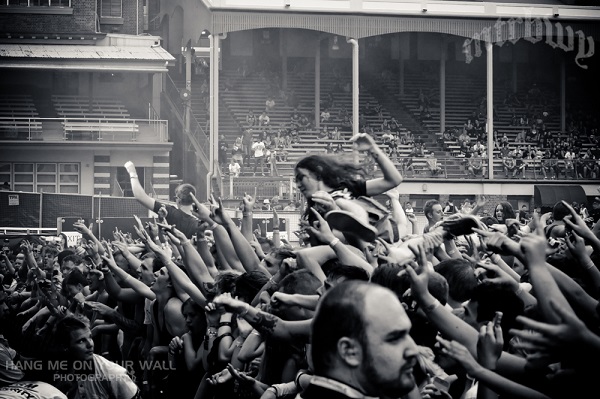 This year I wanted to try something different, expand my Soundwave experience and see what it was like in a different city, so why not stop in on the first show of the tour, Brisbane… An unfamiliar lay out to me, but once in and with a map handy, it didn't take long before I knew my way around and was ready to check out some of this amazing line up.
Heaven's Basement are the first band I am checking out and all the way from the UK they have come out guns a blazing and despite some early microphone problems they fix that quickly and get on with this rockin' set!! The small yet attentive crowd for these guys have their fists in the air and are loving the early morning set of kick ass rock and roll of tracks taken from their debut album 'Filthy Empire'. This being their very first show in Australia it was great to witness and be a part of. Hopefully we'll see these guys again, and soon!!
Biffy Clyro are currently ripping up the main stage which is something you need to see, and what I love is at 12:00 this is a band who have headlined Reading & Leeds and they're on this early and treating it like a headline spot! Shirts off and sweat everywhere, they tear through these songs with precision and don't miss a note. Announcing they'll be back in September gets a rousing reception as it should! 'Bubbles' was the absolute outstanding track of their set and unfortunately the second last of their set but the closer, the expected 'Mountains' they smashed it out of the park. I'll leave the last words to singer Simon… "We are Biffy Fucking Clyro"
BOOM! Here come Alter Bridge and their wall of sound!! 'Addicted To Pain' is the only way they could've started and being no stranger to the festival after their trip here two years ago they slip right back in! Song after song of guitar goodness as it's always a pleasure watching Myles Kennedy and Mark Tremonti play as they're truly just as good as each other! 'Metalingus' is one of those songs that just shreds and more than welcome at a festival like Soundwave! Through 'Ghosts of Days Gone By' and the closer 'Rise Today' they delivered another flawless set and here's to their next visit!
Now it's time for my favourite act of the day, also the most surprising on the bill and my reason for what I do. Mr Richie Sambora, who you may know from a band called Bon Jovi. Here as a solo artist and bringing with him Australian guitar virtuoso Orianthi, the pair almost inseparable, in fact I'm now coining them as their new name Samborianthi, Sambora and band burn through some solo tracks from his newest solo album 'Aftermath of the Lowdown' such as 'Burn That Candle Down', 'Nowadays' and 'Learning How to Fly With a Broken Wing' which are the heavier of his solo tracks as well as first single 'Every Road Leads Home To You' but it's the inclusion of some Bon Jovi numbers that are the most surprising, as I never thought I'd ever hear a Bon Jovi track played at Soundwave, but hearing 'Lay Your Hands On Me', 'Wanted Dead or Alive' and a mash up of Midnight Oil's 'Beds Are Burning' with arguably the song he and the band would best be known for 'Livin' On A Prayer' was the standout. Also the fact that as much as the crowd may not dig the music of Bon Jovi, there were people singing along… Watching AJ Maddah on side stage with a smile on his face during Sambora's set, I have the feeling he was thinking he made a good decision in bringing him along. Let's Ride…
The Living End gave me a 'Second Solution' as I headed out to see a little of AFI as are a lot more people and what a great way to start the set with 'The Leaving Song Pt 2′ but as sound issues plagued the set, well from where I was due to the thousands here watching I ventured back to The Living End who announced that they're retiring after this tour? It cannot be, did I just hear that correctly?!! So in closing their set with 'West End Riot' could that be the last time we see The Living End in Brisbane? Here's hoping not.
Time for a bit of pop punk rock goodness. Zebrahead are fun, have infectious songs that just make you want to smile. With a little bit of Kris Kross and a whole lot of banter, they entertain the crowd which is what it's all about. 'Anthem' was where it was at and with 'the world's biggest circle pit' in action they rocked the stage and as Whitney Houston serenades us on the way out, we will always love you too Zebrahead
It's time to Panic! At the Disco that is… Through 'Mona Lisa', 'Let's Kill Tonight'. '9 In The Afternoon', it's always good watching Panic! As they do play a very energetic set and singer Brandon Urie leaving it all on the stage, they look great up there and deliver one hell of a set and the screams from the girls can be heard, also the thud of a number of them fainting, that Brandon, he's so dreamy… Closing with 'I Write The Sins Not Tragedy' that was a given but it rocked the place and seeing how this band has evolved is something pretty cool.
My second favourite band of the festival and the reason for my massive hangover today are up next and from the second Bowling For Soup walk on the stage you know this will be fun, actually before they even come on as they even have their own intro song, testament to the genius of this band. The last time we saw BFS in Australia was 2008, and any worries of them being forgotten were shot down when the opener 'Almost' was sung back at them with gusto. What makes this band work so well is a little thing called timing, when you can stop flawlessly mid song to deliver a joke and jump straight back in without missing a note you know you've got it down. With crowd sing alongs for 'High School Never Ends', 'The Bitch Song' and 'Punk Rock 101' the greatest part of the set came during the 'musically enhanced photo opportunity' I mean who does that? These guys deserve more credit than they get, and speaking of credit, they play a song they've been given credit for for years 'Stacey's Mom' which is by Fountains of Wayne, but BFS nail it. Closing with their hit '1985' and cue the craziness, and once again, we get to sing as they drink beer and with that, one of, if not the best thing you'll see all day is done. I dare say we'll be seeing Bowling For Soup back sooner rather than later.
Making my way back to the arena, A Day To Remember are currently cutting up the main stage and there is so much love for this band in here right now, unfortunately I only got to catch the last couple of songs, but! 'All Signs Point To Lauderdale' was what the crowd needed and they are beyond pumped! That's a band I wish I'd seen the full set of.
Whoa. Alice In Chains. Opening with 'Them Bones' they waste no time in demolishing everything in their sight. Their trademark sound is so on point and this is a band that you just know it's them and they do it so well. The vocal balance between William DuVall and Jerry Cantrell is simply perfect and that's made so evident during 'Check My Brain' followed by song after song of rock goodness but when they get to 'Man In The Box' we got something special. Not only the use of a talk box for the second time today but a song that everyone rocked out to. Asking if we're ready to sing a little bit, we sure are with 'No Excuses' but of course a certain little song called 'Would?' well let's put it this way, if we were inside, the roof would've been blown off but as we're outside, we just have to settle for it being simply outstanding, as was the closer in 'Rooster' which still creeps me out and William does the song so much justice. Alice in Chains are still such an amazing band and if you haven't checked out their newest album 'The Devil Put Dinosaurs Here' then go now! It's killer.
Another of my favourite bands, Jimmy Eat World are up on the main stage and open with 'Pain' and instantly take any pain I had, but when 'Futures' is up next I'm even better, oh wow then to follow it with 'Work' and this could be close to the set of the day if this keeps up! Now it's time to dive into their new album 'Damage' with 'I Will Steal You Back' which slotted nicely straight into the set, then 'My Best Theory' keeps it going, with barely any gaps or chatter between songs they just deliver song after song and it's good. Oh yes! Off to 'Clarity' with 'Lucky Denver Mint' and then to 'A Praise Chorus' from Bleed American which is just perfect for the festival set. Slowing it down with 'Hear You Me' also from Bleed American which although a great song really didn't go down that well today. 'Appreciation' turns it back up a little and although a new track, it fits straight in to the set, although not for everyone as a new one thrown in didn't really get the liking of the guy next to me as he plays 'doodle jump' on his phone, he just got his high score though so I guess well done. Back to Jimmy Eat World, 'Big Casino' takes off, and oh now he's playing Temple Run ha ha. I think he's waiting for Green Day. 'Your New Aesthetic' sees the band bathed in red and yellow lights and it adds to the vibe of the song nicely as they merge it straight into 'Bleed American' which is frantic and fast and just what we needed, but as the cheers are heard for 'The Middle' and the subsequent sing along that went with it made this one a stand out. To then follow that with the standard closer for a Jimmy Eat World set 'Sweetness' is always a treat and tonight that was no different. Amazing set from a killer band.
Prior to Green Day's set we have 'Bohemian Rhapsody' pumping out which was genius as the entire stadium is singing along before the band has even come on. They run onto the stage and it's on like Donkey Kong, opening with '99 Revolutions' but instantly they have everyone here in the palm of their hands and it looks like everyone is settled in for the next three hours. 'Know Your Enemy' gives us the first 'hit' of the night and surely the first of many to come, pulling a fan out of the crowd to help sing it was a pretty cool moment I have to say. I have to give Green Day some props, they are one tight unit, musically these guys are on point and sound great! Awesome, another person pulled up on stage, so good and respect to the band for that! 'East Jesus Nowhere' followed by 'Stop When Red Lights Flash' and this is where we leave Green Day for today to go and catch a couple more bands! Although as I left I do stick around to hear 'Holiday' and get stopped again by 'Boulevard of Broken Dreams' and then 'When I Come Around' which was cool, stop it Green Day I have to keep moving…
I've headed off to check out Walking Papers and their bluesy style of rock and roll. Duff McKagan's new project seems him back for the second year running. Wow I wish I'd come over here earlier, this band is fucking amazing. This is bluesy, it's sleazy and it's rockin as hell and for this four piece to be able to make music this great is just perfect. I'll be checking these guys out immediately. You should too! NOW!
Back over to check out a little bit of Avenged Sevenfold as they come on to 'Back In Black' as a single guitar riffs out to open the set for 'Shepherd of Fire' oh yes!! PYRO!!!! Well that just wins everything!! Yeah this band deserves this slot, they are on fucking fire and as 'Critical Acclaim' is up second with fire stacks spurting flames everywhere and feeling like it's an 80's rock show this so great. This is the song I wanted to hear so I'm glad it's up early before Living Colour take the stage. See, harmony guitar solos are where it's at, loving it. 'Beast and the Harlot' is as heavy as you want it and melodic as all get up, but I have to go… Living Colour are here and they are a not to miss band.
Heading up to Living Colour stopped in to hear 'Wings of a Butterfly' by HIM and they sounded great in here! But our quest to stage 7 continues… 'Type' is the opener and they still sound as good as they did many many years ago when I saw them. As far as a band, this is the quintessential musicians band. The unit that is Living Colour is outstanding, and with Corey Glover out the front and the voice he has completed the band. Through a couple of funk ridden tracks including 'Elvis is Dead' including a little bit of 'Hound Dog' they showed again how tight they are. 'Cult of Personality' has that riff that is so well known and from the first second everyone here is loving it. This is a song that still stands up today and delivery tonight sounds like it did back in the day. 'Times Up' funked it back up with the eternal question of 'What's Your Favourite Colour?' getting a bit of 'Sex Machine' love in there, these legends of the rock world close their set and leave everyone walking away in awe. This is how it's done and I urge you to see these guys at the festival, who knows when they'll be back, so it's a gimme…
Walking back out to a shower of pyro from the end of the A7X set, it's a great way to end a great day. So… Brisbane, nicely done, today was a great day! Not looking forward to the early morning flight to back it up and do Sydney tomorrow, but let's see how we go… Soundwave, you just keep getting better, how do you do it?
Essential Information
Venue: RNA Showgrounds, Brisbane
Date: February 22, 2013
Website: www.soundwavefestival.com
Catch the Soundwave festival on these remaining dates:
FRIDAY 28 FEBRUARY – MELBOURNE, FLEMINGTON RACECOURSE
SATURDAY 1 MARCH – ADELAIDE, BONYTHON PARK
MONDAY 3 MARCH – PERTH, ARENA JOONDALUP
Photo by Andrew Treadwell – Hang Me On Your Wall Photography