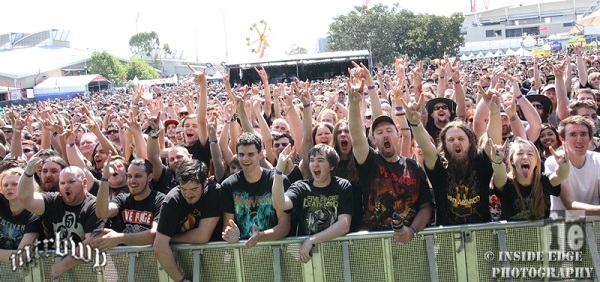 Welcome to day two, I just flew in from Brisbane and boy are my arms tired… thank you, I'll be here all week, try the veal… but here we are, Sydney Olympic Park for a much more familiar vibe for me. Thought I'd change it up a little today and check out some different bands today (besides a couple of favourites, but more on that later)…
First stop Amon Amarth, and look at that… there's a Viking ship on stage, that is amazing!! There's nothing wrong with this much heaviness this early in the morning that's for sure!! The crowd in Sydney are absolutely pumped!! Fists pumping everywhere and horns held high for these Vikings and I'm happy. This is going to be a good day!
Mushroomhead are up next and their blend of rap and metal is killing it. Today I feel may just be a metal filled extravaganza!! The more these guys play the more comfortable they look and the driving drums keeping the band in check work with the balanced group vocals but as the female vocalist kicks in on this track this one is wild. An 'Aussie Aussie Aussie oi oi oi' chant is always appreciated and the way they did it blending it in with one of their tracks, awesome! If these last two bands haven't got everyone pumped then I don't know what will…
Maybe a bit of Five Finger Death Punch will do that! Yeah and with the bang they started with, no doubt… in fact I moved away from FFDP after a couple of tracks, to ensure I make my way into the main arena to secure a spot for that Sambora guy…
Biffy Clyro ended as they did in Brisbane, amazingly, Alter Bridge delivered a louder (if that's possible) set than the day before, with Myles sounding better than ever up there vocally and on the guitar. Seriously, they are one of the bands of the festival and you need to check them out.
Richie Sambora changed us his set a little from Brisbane, this time he threw it back to the INXS classic 'Don't Change' as well as an amazing jam session between him and Orianthi on the old Jimi Hendrix number 'Voodoo Child' which just showed everyone how much of an amazing player Sambora is and Orianthi, but there's a certain style, a certain feel to Sambora's bluesy style and it works. Through the Bon Jovi classic again of 'Lay Your Hands On Me', 'Wanted Dead Or Alive' and 'Livin' On A Prayer' with Orianthi taking the first verse he proved again that he belongs up there, whether it's with the band he spent thirty years in or not, with some fine tuning I feel he can continue on rockin' and thankfully Sydney got to see him do just that today. If you haven't got a ticket to his sidewave in Sydney on the 26th at The Enmore, I suggest you do…
Testament are currently thrashing up the stage as you'd expect and after Newsted mysteriously cancelled their appearance at Soundwave, fill ins Red Bee are doing a great job entertaining the crowd. I saw these guys open for Fly Leaf and today they are doing an amazing job, and the size of the smiles on their faces shows me just how much they appreciated this opportunity.
Gwar. Wow. Ok… so it's after their set and I'm covered in a mixture of alien spunk, blood from a decapitated Tony Abbott and a de-breasted Queen and bright red at the moment but this was one of the best and most amazing things I've ever seen! I'd always heard this was a spectacle to behold, but actually witnessing this was unbelievable, in fact I almost forgot they were playing music at one point as there was so much to watch. Playing 'keepings off' from the Queen with the royal baby was a moment, as was a dinosaur eating one of them on stage… It's far too hard to put into words what Gwar are about but if you looked up entertainment in the dictionary, or on google if you don't know what a dictionary is, you should see a picture of this band. They win, they just win!
Back to Bowling For Soup (yes, again) and this time delivering a little bit of a different set, but opening with 'Girl All The Bad Guys Want' was NUTS. Never have I heard a crowd laugh as much at a live show and laugh because they're enjoying it, not due to lack of talent, as BFS are pretty much the greatest band you'll ever see live. Even when 'Since We Broke Up' from their newest album 'Lunch, Drunk. Love' gets a run the crowd are into it and that rules as far as I'm concerned, considering it was released via the Pledge music site. A guy in a tree made the best appearance of the day and BFS went away with another amazing set nailed and surely a pass to come back and see us very soon!
Crosses are tearing up stage 5 right now. Their dark and moody tracks are perfect for their set and those here but as Skindred come on to the imperial march from Star Wars but mix it up with some dance beats and they explode onto the stage and man, the people that have waited to see this band are bouncing and rockin' to every note! This set is polished, flawless in fact and I feel like I've just seen the best kept secret of the festival. This blending of rap, reggae and rock is one of the best I've ever witnessed and to get the majority of the crowd (including some ladies) to take off their shirts and spin them around like a helicopter, in terms of crowd participation was a site I won't forget in a while. The band's energy and just overall presence is something many on the festival can learn from. It's times like this I'm glad I listen to people when they suggest seeing certain bands.
Out for a bit of a walk to see Down kicking some ass during their set, and just hearing Phil Anselmo sing is a treat. Man, the dude was in Pantera, are you kidding me?! Looking at the crowd though, that's one pit I'm glad I was nowhere near.
Rocket From The Crypt were just finishing up as I headed back into stage 5 for some smooooth rock and roll with Eagles of Death Metal and as a front man, Jesse Hughes oozes it… his presence and his moves are pure rock and roll and it shows. Through track after track and his can't stand still attitude, the stand out for me was a bit of 'Cherry Cola' as well as 'The Boy's Bad News' and a cover of 'Stuck In The Middle' which was amazing. Stage 5 I tell ya, today was kicking some major ass!
Made it back in for Green Day who have already started their set but as 'Boulevard of Broken Dreams' started and the entire crowd took the first verse and chorus it was a pretty awesome moment to be a part of! Through songs like 'Wake Me Up When September Ends' that win over this already won crowd but to go straight into a twenty year old track from 'Dookie' in 'Burnout' and the excitement that happened  because of it was something pretty damn cool. Even better when 'Longview' takes its place in the set it's even bigger and just when it can't get any bigger it does, with 'When I Come Around' and if this place was a volcano, it just erupted, we'd all be dead right now! 'Welcome to Paradise' continues on and I just don't know if it'll slow down! '2000 light years away' takes it way way way back but then with a 1,2 a 1,2,3,4 they bring it back with 'Hitchin' a Ride' which of course got plenty of love.
A little bit of a riff mash up from Black Sabbath and some Metallica, Guns n Roses leading into some Led Zep, then some AC/DC with 'Highway to Hell' but all that was the intro to 'Brain Stew' after some T-shirt cannon work, 'St Jimmy' takes spot in the set and in an interesting move a song from Billie Joe's band 'operation ivy' called 'Knowledge' and making a girls dream come true getting her up on stage to play guitar and then giving her the guitar, amazing!
'Basket Case' was amazing!! Twenty years old and still killing it and without even stopping, a drum count in and a bass riff starts 'She' then a plethora of funny hats come out for 'King For a Day' and a bit of fun with the song and Tre Cool who by the way is too cool with his matching sock, pant & drum combo has just made his way to the front of the stage for a sing before Billie Joe returns to throw out 'Shout' mashed with a little 'Jessie's Girl' for good measure. Whoa a nice little cover of 'Who Can It Be Now?' by Men At Work before jumping back into 'Shout' and that worked so well!  'Waiting' rocks it back up but 'Minority' does it better as the band leave the stage only to return for 'American idiot' and yeah I think they like this one, I mean how could they not? As they do with 'Jesus of Suburbia' which is as epic as it is on record.
Slowing it way down with 'Brutal Love' a fake goodbye yet again and a return for surely what must be the end. Of course it's 'Good Riddance' and you know what Green Day? You don't have to hope that we had the time of our life, you can rest assured that everyone in the last three hours of your set did just that and they thank you. Green Day are truly that headline style band, they put on a rock show, they sounded great, they sang great and well, they were just great!
Yet again, the Avenged Sevenfold pyro woke up anyone that was a little tired on their way out, and with that Soundwave 2014 is done for me. Two cities this year, should we try for three next year?
Essential Information
Venue: Olympic Park, Sydney
Date: February 23, 2013
Website: www.soundwavefestival.com
Catch the Soundwave festival on these remaining dates:
FRIDAY 28 FEBRUARY – MELBOURNE, FLEMINGTON RACECOURSE
SATURDAY 1 MARCH – ADELAIDE, BONYTHON PARK
MONDAY 3 MARCH – PERTH, ARENA JOONDALUP