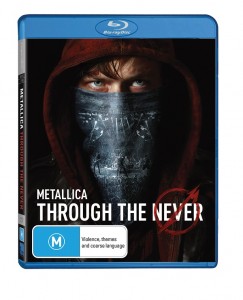 Thanks to our friends at Entertainment One Hopscotch, we have five Blu-ray copies of Metallica's 'Through The Never' to give away to five of our lucky readers, For over three decades, Metallica has been a dominant force in rock 'n' roll, continually pushing the envelope to create mind-blowing musical experiences for their legions of loyal fans. Metallica Through the Never is one of the most epic concert films ever produced you check out what it's all about here and in the trailer below.
Award-winning filmmaker Nimród Antal (Predators, Kontroll) and one of the biggest bands in the world, Metallica, combined to produce Metallica Through the Never – a bracing, raw and visceral entertainment experience, which seamlessly weaves an out-of-this-world narrative with Metallica's spectacular live performance. Featuring dazzling pyrotechnics and the most elaborate live-performance stage ever built, Metallica Through the Never is mind-bending, ear-shattering and features many of the bands most iconic songs.
So, would you like a copy? Well you can by simply sending us an email and being one of our lucky winners.
To win one of five copies, simply send us an email to mtrbwy@maytherockbewithyou.com with the subject line of 'Metallica Through The Never giveaway' and include your name and address and answer this simple question… 'Who plays drums for Metallica?' we will then randomly pick the winners who will be notified via email.
Entries open:  Monday 20th January
Entries close:  Friday 31st January
METALLICA 'THROUGH THE NEVER' OUT ON 3D, BLU-RAY, DVD AND DIGITAL HD – 29 JANUARY
Entry is only open to Australian residents this time around, sorry!