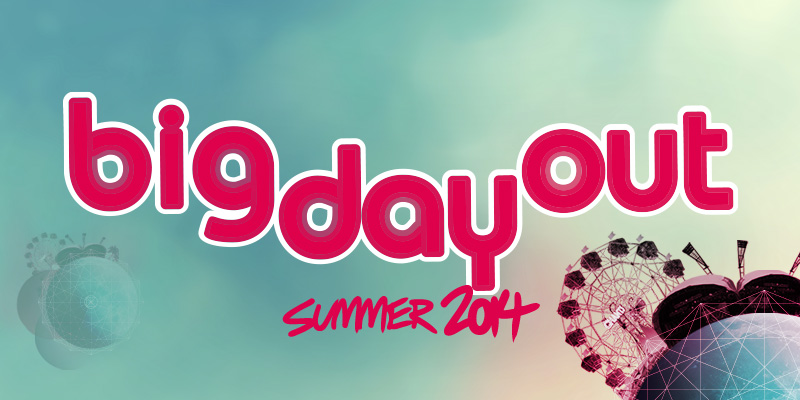 My how quickly these come around! It feels like only a few months ago I was on the way out to Olympic Park for this event and now 1, 2 skip a few, BDO 2014 is upon us. This year sees Pearl Jam headlining the show and I can't wait…
It's an early start today as I head out as I wanted to make sure I was there in time to catch Tiffany Britchford & The Reckless Abandon who won their chance to play BDO on the Headspace stage, and as they've just been featured on the site as one of our Best Things You've Never Heard, it was a certainty that I start my day here. With a few here checking them out, they delivered a set of catchy rock songs with a combination of keyboard driven and guitar driven numbers, they kicked off the day nicely and closing with the title track to their new EP 'Things You Didn't Say' which PS: you can download for free from their website (insert site) was the best way to finish today, it's a shame that more people only started coming in towards the end of the set, maybe to get out of the rain but at the same time they liked what they heard. Great start to the day!
Oh man the rain is coming down but seeking shelter I've caught the end of the DZ Deathrays set in the hope that this rain stops soon. The two piece rock it out as always and testament to them because as soon they finish, the crowd disperses to find shelter also. Ahhh summer, this time last year it was 46 degrees, today, rain… But in what is sure to be a heap of fun, Bluejuice and their pop rock goodness are about to take the stage and here they are… Wow. Gold leotards and all… If Freddie Mercury were still alive, he'd most definitely approve of Bluejuice's attire today. Energetic, fun and just a damn good time is what Bluejuice embody, and when 'Vitriol' kicked off so did many in the crowd. The rain is not stopping a constant feed of people making their way onto the stadium floor and that's so cool to see. These guys know how to hold a crowd and even with newest single 'S.O.S' it's obvious that this band is loved by many. Ha ha promoting the use of any drugs you currently have or to throw them on stage 'just pretend it's Snoop' for me to turn around and see five police officers right behind me with scowls on their faces was priceless as I feel they may not agree with what Bluejuice requested. The obligatory Australia Day and Tony Abbott bashing got a giggle but I have to say, this set has been extremely enjoyable and a perfect slot for these guys as they're keeping everyone pumped. With only a couple more to go, they bust the clap happy 'Act Your Age' which is funny as Jake and Stav are now parading around in very, very short shorts and g-string. Of course closing the set with 'Broken Leg', you know, the song that is catchier than the common cold, and a perfect way to send off a main stage set. Well done Bluejuice. You're fucking fun.
Kingswood are up to deliver their blend of Aussie Rock and with a truly impressive crowd here to check them out, they have such a great sound as they belt out 'She's My Baby' followed by an frantic almost Sabbath-esque track and it's on. This set isn't going to slow down… and these guys are tight, this is a great sound! Their ode to Wolfmother, 'Wolf' was a treat and as the band truly rock up there they are a unit that know what they're doing. 'Sucker Punch' is outstanding, what a track and perfectly suited for the stage, I'm ashamed that I don't know more about this band, but now know that I must delve into their music further! Oh there we go, a tambourine, I'm sold.
Doing a runner to catch some of The Naked & Famous it's great to see how the stadium has started to fill up. So many are here early and it's really becoming a Big Day. These guys (and gal) are tops! In what I'd say was the first ballad of the day 'Rolling Waves' was amazing, as they flick between pop, rock, electro and more, they are a band I knew not much of before but am glad I made the walk over to see. This is what I love about Festivals, the ability to find new bands, to discover new music and to truly get into what music is all about. Making you feel good. Today, this is what's happening as song after song from this band is impressing me today, vocally singer Alisa Xayalith is outstanding. Oh hang on I know this song… 'Young Blood' evidently so does everyone else.
The Drones are up on the red stage at the moment and killing it, an impressive set with catchy songs makes them a perfect festival band but making my way back into the Essentials stage to catch the last couple of songs from The 1975 and annoyingly those two songs were super impressive and with a promise of a return back to our shores I for one need to hear more from them. Again, a major downfall of festivals for me is being one person and trying to see what I can, you find gems but find them too late… next time The 1975, next time…
Primus are legends of the industry and here today to give us their funky tunes. This three piece are no strangers to a festival in Australia having played here many times before as early as Soundwave a few years ago. Les Claypool's signature bass is for me what makes Primus what they are. There are no hooks, no choruses, this is a musicians band. Song after song of musical at sometimes impossible compositions, even giving an accordion a run at one point, they impress those watching but in particular when 'Winona's Big Brown Beaver' makes its way into the set at the end. Just listening to and watching Primus jam is something you need to see at least once.
With a 1,2,3 and a 4 yes, everyone's favourite band, The Hives are here and dressed to the nines in their suits and opening with 'C'Mon' and let the madness begin. What I love, nay, adore about The Hives is these songs are just so damn catchy and when you're told that today is going to be the best Hives show ever and we're going to be a part of that, you believe them and 'Go Right Ahead' proves that, as does a crowd lead rendition of Happy Birthday to Hives guitarist Niklas. 'Try It Again' takes it to another level, then as we're told there are two types of music, rock and roll we are treated to much of both. 'Wait a Minute' has everyone bopping and clapping along and 'Walk Idiot Walk' has a sea of fists being thrust back towards the stage with passion. But when 'Hate To Say I Told You So' kicks in, there is a renewed cheer and sense of energy that fills the stadium. Even the band introduction is of epic proportions with this band and it's purely amazing. With that their set is over. Was it the best thing we've ever seen? Well, I wouldn't like to be the band following them. Good luck Beady Eye…
Amazingly three quarters of the crowd has dispersed and left some Beady Eye faithful here, maybe they're Oasis hangers on, but regardless there's no real energy or excitement here for the band, and unfortunately I had a super hard time getting into them, whether it was the sound and not being able to hear Liam Gallagher, or if these songs simply didn't hold up to what I may have expected, but I thought it was time to go and see what was happening around the grounds…
Vista Chino came to rock and rock they are doing!! The band formerly known as Kyuss Lives! recently released their debut album 'Peace' and today are playing songs from it and live these are absolute rockers!! This is by far the best sound for a band I've heard all day, the drums are amazing! Throwing in some classic Kyuss 'Thumb' is so good. So glad I made my way here today and so glad they fit the schedule to not clash with Pearl Jam. 'Green Machine' is a rifftastic song of goodness!! Vista Chino, well played. Stoner rock is alive and kickin' now where's the pizza…
So on my way back to the main stage to see Pearl Jam, I'm in to hear the last twenty minutes of Arcade Fire's set, not knowing much about the band other than everyone loves them for some reason, I still don't get the fuss, but hey that's just me. But they get points for the use of steel drums and confetti cannons.
Now even though we may not have been able to shoot Pearl Jam tonight for our photo gallery there was no way I was missing reviewing them tonight, and with the promise of a full 2.5hr headline set coming up for us, this is what my day has been building to and from all reports in other cities it's well worth the wait.
Opening with 'Do The Evolution' this is going to be awesome! Vedder sounds better than ever and not sure how but he does it, straight into their newest album 'Lightning Bolt' with 'Mind Your Manners' and oh sweet, time for 'Animal' and I'm hoping tonight is one of those sets that's hit after hit and here we go again, 'Hail Hail' and through 'Getaway' after an Australia Day address and admission of having a few beers today and now onto the wine (noticeably) but here's 'Corduroy' and this sounds so good in here! Another new one in the title track from their newest album 'Lightning Bolt' followed by a random track in 'In Hiding' by request from Australian surfing legend Mark Richards. Oh finally 'Even Flow' and this is sped up and sounding insanely good complete with drum solo from Matt Cameron, this song was great back in 1991 and tonight still sounds good. Scary to think its 23 years old this year… I guess that's testament to a good song that still stands up. Following up that classic with 'Severed Hand' and a lot of attention lost by those around and with another new one 'Sirens' oh and thank god, tempo restored to a faster pace with 'State of Love and Trust' which almost got the best reception of the evening. 'Unthought Known' followed by 'Insignificance' as Vedder gets more intoxicated he rambles as he intros 'Let the Records Play' and as per the set so far, a few off and one on, with a song like 'Spin The Black Circle' this is the Pearl Jam we want, the aggression, the passion, keep this up and you may actually keep us here! They must have heard me as 'Rearviewmirror' gets a well-deserved run and with a musical outro that was outstanding.
A short break and then throwing it way back with 'Footsteps' even seeing a harmonica get a go… but a nice little sing along with 'Elderly Woman Behind the Counter in a Small Town ' and then a curve ball with some old Mother Love Bone in the way of 'Chloe Dancer / Crown of Thorns' and throwing in a cover for Australia Day in the guise of 'Throw Your Arms Around Me' by Hunters and Collectors. This is still such a good song to this day, as is the next one 'Better Man' with an awe inspiring crowd sing along and pause for effect as the band rejoin the solo Vedder to belt out the song and give it the performance it deserves. Back to 'Ten' with 'Porch' and as per the last track, it became an epic!
Off for an encore and back and BOOM 'Jeremy' I thought we may not get this one but here we are. Oh my god, another unexpected source of amazement in 'Black' also from 'Ten' and again, this late in the set is so unexpected. I love this song, man 'Ten' was and is still such a great album, these songs are truly timeless and in saying that, here's the one that started it all… Hang on, I'll be back after a sing along. Ok, 'Alive' you are where it's at.
The stadium lights have turned on, but that doesn't stop them as the band is joined by a couple if members of Mudhoney as they 'Kick Out The Jams' the old MC5 song. Wow they just don't want to go! This has to be the last one, their always outstanding cover of 'Rockin in the Free World' The end to an epic two and a three quarter hour set… Unheard of for most bands these days, let alone at a festival. Pearl Jam, I have seen you play better, but tonight you were awesome!
So that was the Big Day Out in 2014… a good day full of some cool bands, and let's hope we'll be here again next year…
Essential Information
Date: 26th January 2014
Venue: Sydney Olympic Park
Website: http://www.bigdayout.com
Pearl Jam Setlist
Do the Evolution
Mind Your Manners
Animal
Hail Hail
Getaway
Corduroy
Lightning Bolt
In Hiding
Even Flow
Severed Hand
Sirens
State of Love and Trust
Unthought Known
Insignificance
Let the Records Play
Spin the Black Circle
Rearviewmirror
Footsteps
Elderly Woman Behind the Counter in a Small Town
Chloe Dancer (Mother Love Bone cover)
Crown of Thorns (Mother Love Bone cover)
Throw Your Arms Around Me (Hunters & Collectors cover) (Eddie Vedder solo)
Better Man
Porch
Jeremy
Black
Alive
Kick Out the Jams (MC5 cover) (with Mark Arm and Steve Turner of Mudhoney)
Rockin' in the Free World