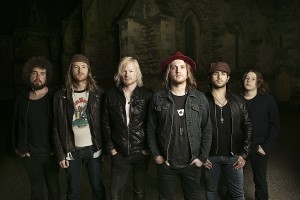 Many doomsayers are writing rock's obituary. But if you're under the impression that rock is dead, just check out Palace Of The King's second EP – Palace Of The King II: Moon & Mountain.
Rock lives! And you can see it come to life when Palace Of The King launch Moon & Mountain at Cherry Bar on February 1st, 2014. This is rock like it used to be; loud, proud and featuring big riffs and even bigger grooves. But this is no grave-robbing retro trip. These young guys have got their own thing going on, with their focus fixed on the future.
It's been a huge 12 months for Palace Of The King. At the end of 2012, they approached Tim Henwood after seeing him sing with former Kiss guitarist Bruce Kulick. The band needed a singer but Tim had no intention of joining any other bands and so he offered to help them find a frontman. Then he heard the instrumental versions of the songs that ended up on the first EP.
Tim liked them so much that he felt compelled to get involved with the band. "When I heard the tunes, I thought, 'I'm not gonna help anyone else get this gig!'" Tim added his vocals and returned the songs with a simple message: "I'm in."
Soon after the release of their self-titled EP, Palace Of The King hit the road with Airbourne. "Now, it's rare that an opening band has the entire crowd rocking on from their first song, but Palace Of The King came out swinging," raved website May The Rock Be With You after the Sydney show. "Palace Of The King absolutely killed it. Look out for these guys!"
Electric Mary's Rusty Brown ended up producing the self-titled EP after catching the band live. "Three songs in and I'm a believer," Rusty recalls of that Cherry gig. "Everything I love about music has been packaged in these guys. I'm both excited and jealous – it's like watching your best friend open these amazing Christmas presents when all you got were undies and socks."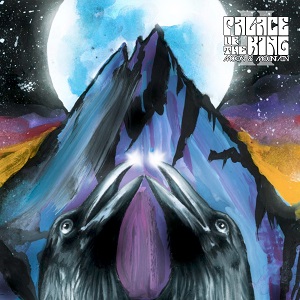 This time around, the EP is self-produced. But the approach is the same, with the band plugging in and recording live – capturing the vibe. From the blistering blues-based rock of opening salvo, "Black Heart", to the climactic closing cut, the 9-minute bender "Howlin'", this is an EP that will keep you coming back for more.
Turn it on, turn it up. Palace Of The King … Rock like it used to be. Rock how it will be again.
PALACE OF THE KING II: MOON & MOUNTAIN
LAUNCH DATE: FEB 1ST 2014 @ CHERRY BAR, MELBOURNE, VIC