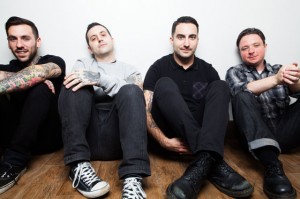 Monday, January 13, 2014 – If there's one thing to be said about NYC's BAYSIDE, it's that they are fiercely true to themselves and to their art. In their 13 years as a band, they've weathered their ups and downs without changing who they are or their sound. The four rock stalwarts mark their return with a new label and brand new album 'CULT' to be released on February 21, 2014 in Australia and New Zealand via Hopeless/Unified. Bayside fans can pre-order 'CULT' for only $9.99 on iTunes for a limited time between Jan 17-Jan 23 – the digital album will be out on February 18, 2014.
With their trademark sound intact and embracing their past as strongly as their future, 'CULT' is the sound of a band re-energised and raring to go. Borne from an emotionally tumultuous year that saw both extremes of tragedy and joy, 'CULT' is a very personal record. "The year that we spent making this record was both the most difficult and most exciting time of my life," Anthony recalls. "I lost my grandfather, stepfather and stepbrother in a four month span during the making of this record. As a counterbalance, I also got married, had my first child, and built my first home. The whole year was an example of how hard and wonderful life can be, and how quickly your world can change."
While the events that unfolded in their personal lives could have tinted the album with a melancholic pall, 'CULT' is anything but melancholic ("the record just flowed that way. We weren't in a very mellow mood I guess")… and their hard work and intense labor shows. From the anthemic opening track "Big Cheese" to the seething first single "Pigsty" to the introspective "Something's Wrong", 'CULT' shows the band at their ultimate best. Clocking in at a frenetic and breakneck punk pace, the album sears with Jack O'Shea's blistering guitar work, Nick Ghanbarian's thumping bass lines, and Chris Guglielmo's muscular drumming, while anchored by Anthony's unique vocals and rhythm guitar. "We worked incredibly hard on this record," he explains. "We wrote and re-wrote songs over and over. Jack was re-writing solos three and four times. I was fine tuning lyrics in the vocal booth making sure they were perfect. All four of us lost a lot of sleep over every decision that we made on this record. This is really our opus. We labored over this record more than ever before.
Formed in 2000 in Queens, NY, Bayside has previously released five studio albums (2004's Sirens and Condolences, 2005's Bayside, 2007's The Walking Wounded, 2008's Shudder, 2011's Killing Time) and numerous EPs and a live album (2008's Live at the Bayside Social Club). The band has toured the world and played on multiple Vans Warped Tours. With the release of 'CULT', the breadth of their history seems to have culminated in this sixth studio album. "CULT, in a way, is the Bayside discography without using any old songs," he says rather elliptically. "To me, it is every characteristic of every Bayside record all mashed into one. It is the earnestness of Sirens, the riskiness and creativity of our self titled record and Walking Wounded, the quirkiness of Shudder and the experienced solid songwriting and aggression of Killing Time."
All in all, the band has never lost sight of why they are a band. "I think that Bayside is exactly what Bayside is supposed to be," Anthony explains. "For years, we haven't tried to reinvent ourselves or define ourselves. All that we try to do is get better at being Bayside."
BAYSIDE is Anthony Raneri (guitars/vocals), Jack O'Shea (guitar), Christopher J. Guglielmo (drums) and Nick Ghanbarian (bass).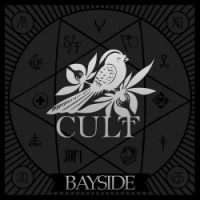 'CULT', produced by Shep Goodman and Aaron Accetta will be out digitally on Tuesday 18 February and available in Australian and New Zealand stores on Friday 21 February via Hopeless/Unified.
PRE-ORDER CULT
http://www.jbhifionline.com.au/music/pop-rock/cult/696174
https://itunes.apple.com/au/album/cult/id738158861
Pre-order 'CULT' for only $9.99 on iTunes – special offer starts Jan 17th and ends Jan 23rd
BAYSIDE's searing first single "Pigsty" is available on iTunes now!
WATCH the "Pigsty" lyric video onYoutube:
FOR MORE INFO: